The beauty of a large yard is that it has almost unlimited possibilities for what you can do with it. Unfortunately, that is also the challenge of having a large yard, since choosing from these unlimited possibilities can be tough to do. If you're having trouble finding inspiration to help spruce up your home's exterior, there are plenty of ways to use your large yard to your advantage.
Install a Pond
A pond, especially one with a waterfall, provides a place of tranquility and serenity that your entire family can enjoy. If you have a large yard, you can go all out and create a true masterpiece of a pond that can support large, beautiful fish and other aquatic wildlife. If you have children, be sure to install appropriate safeguards so that they stay safe around the water.
Add a Deck
With a deck on your home, you can have a place to entertain friends and family even when the yard is wet. Decks of all sizes can also be customized so that you can block sunlight, mosquitoes, and other types of outdoor inconveniences. Depending on your house's size, you may be able to add a multi-story deck, which provides the ultimate party destination that you can utilize for a long time to come.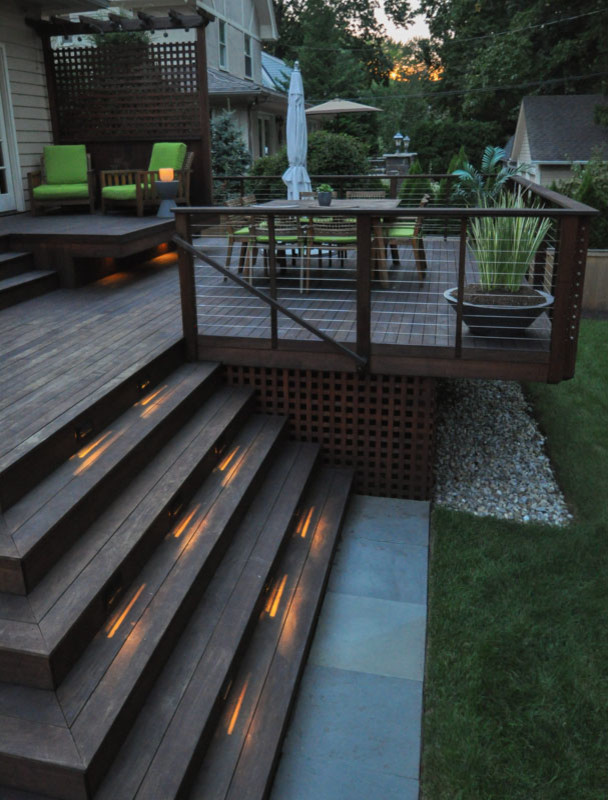 Add Some Light
One downside of having a large yard is that it can look rather drab and foreboding at night. By adding some light fixtures around your yard, though, you can have an eye-catching home exterior no matter what time it is. You can use light fixtures to highlight trees, architectural elements on your home, or a variety of other features. By installing low-power LED lights, you will be able to use small electrical cables that are easy to bury.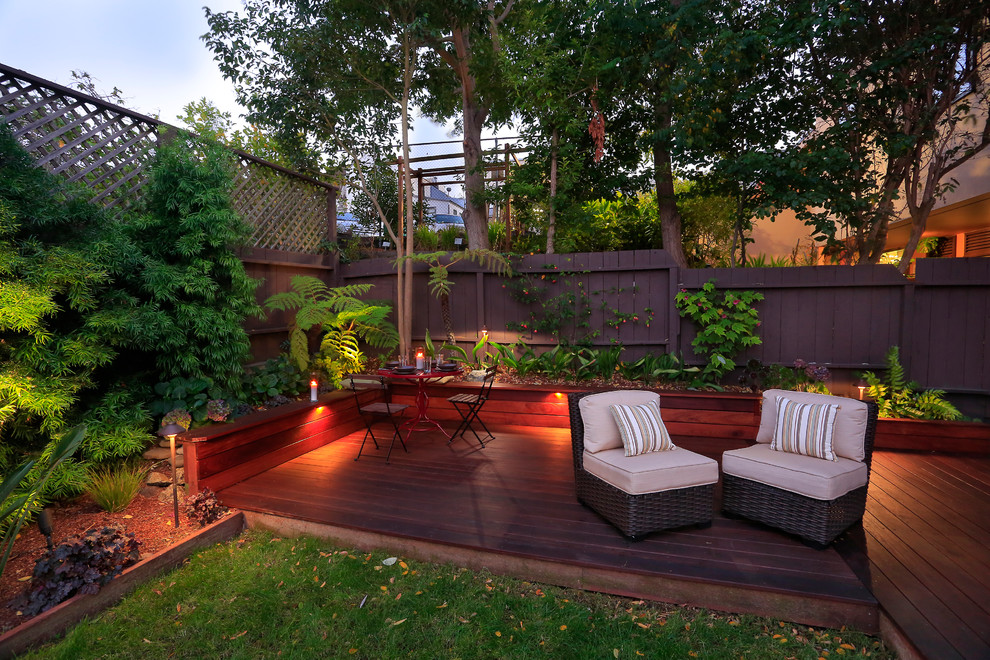 Photo by Paul English Landscaping
Add a Pool
For the ultimate in summer relaxation, you can devote part of your yard to the installation of a pool. Even a small pool can provide a great way to stay cool on the hottest summer days. To avoid the inconvenience of applying sunscreen every time you want to go swimming, you can install sunshades over your pool so that you can enjoy it throughout the day.
Photo by Pool Environments, Inc.
If part of your large yard has an area that is growing wild, it's a great idea to leave this area alone. By mixing landscaped areas with wild areas, you can create a unique look that friends and family will love. Plus, this area will provide a convenient location to place your yard debris so that the rest of your yard can look perfect.
Author Bio
Meghan Belnap is a freelance writer who enjoys spending time with her family. She loves being in the outdoors and exploring new opportunities whenever they arise. Meghan finds happiness in researching new topics that help to expand her horizons. You can often find her buried in a good book or out looking for an adventure. You can connect with her on Facebook right here and Twitter right here.