6 Creative Solutions for Having a Perfectly Decorated Backyard
The backyard in any home is essentially an extension of the interior living space, making it one of the areas in the home that require furnishing. When most people think about backyard makeovers, they picture expensive backyard furniture and fixtures. However, fixing up your backyard does not have to be expensive. There are simple, affordable ways to do this.
Adding value to an outdoor space is much more than simply maintaining an amazing lawn. A landscaped backyard adds appeal to the space, making it an ideal space for the whole family and for entertaining guests on those Saturday nights or Sunday brunches.
Sometimes all the backyard needs is nighttime lighting, a few DIY projects and ideal patio furniture to become a dream yard. Here are simple ideas you can use to turn your backyard into your dream outdoor living space.
Enhance Privacy with Privacy Panels
The first thing you need to do when decorating your backyard is to enhance your privacy. This is especially important if your neighbors' houses are close.
Privacy panels are wood fencings that enclose backyards, giving them a more intimate vibe. They also add architectural interest while enhancing the privacy of your outdoor space. With them, you can turn your backyard into a private retreat to enjoy some downtime.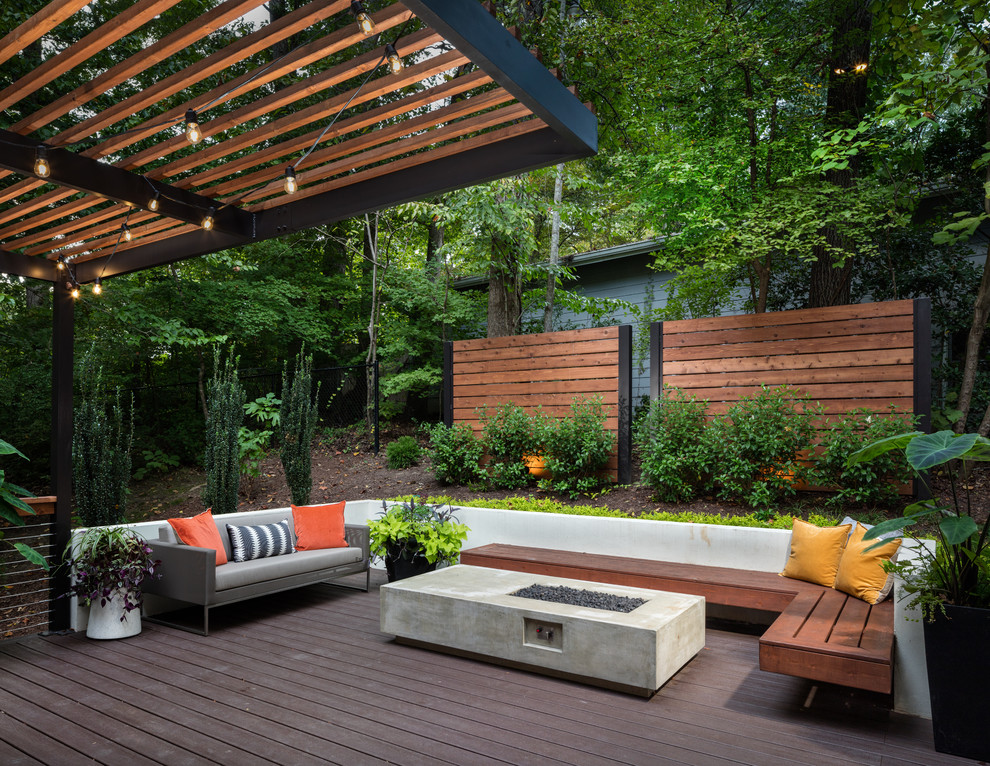 Photo by Boyce Design and Contracting
There are numerous product guides and recommendations on improving the privacy of your backyard, and adding privacy panels is one of the best ones.
Privacy screens are also an ideal way of adding privacy while blocking out excess light. You can use basic store-bought home improvement materials to create a stylish, herringbone-design screen or any other patterns that interest you.
Building a Front Patio around a Tree Instead of Cutting It
If you have a tree in your backyard, consider building a patio around it to make it part of the aesthetics. Utilizing the tree in your backyard adds more living space without disrupting nature.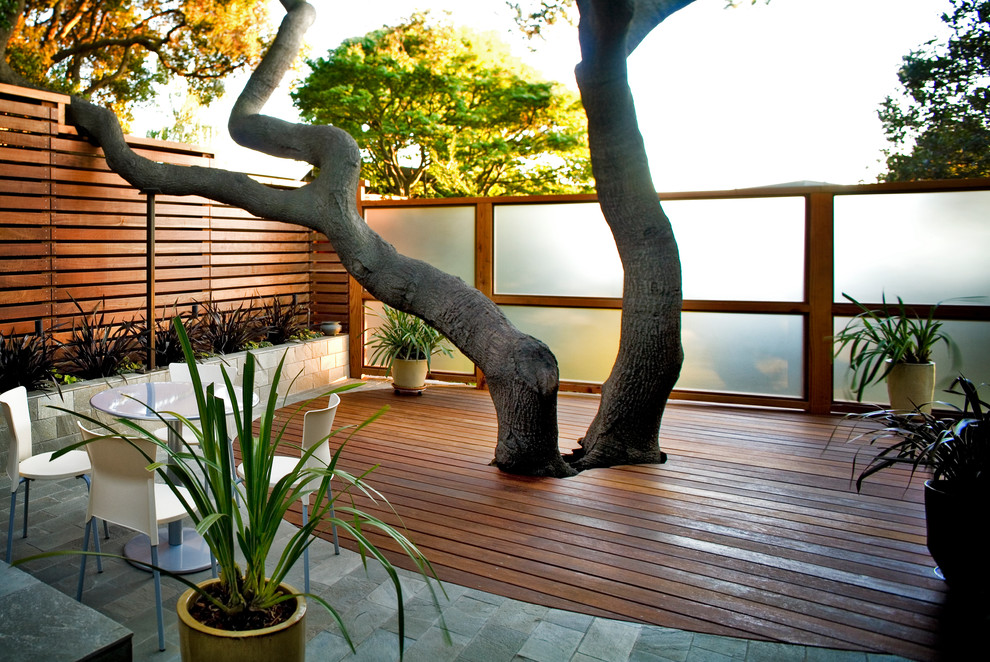 Pruning the tree will reveal its sculptural branches. If the branches are too long, you can make them rest on the patio walls to give a shaded effect. On the foot of the tree, you can build a deck around it to match the patio walls. Building around a tree will allow natural lighting into your patio while adding nature to your aesthetics.
Think about Creating Your Perfect Path
If you have a pathway in your backyard, one of the ways to enhance the look of your path is by lining the sides with flowers. Creating a flower-lined path is an ideal way of adding color to your backyard. If you have a large space, you can also include small trees along the pathway and separate the pathway from the plants using concrete curbs.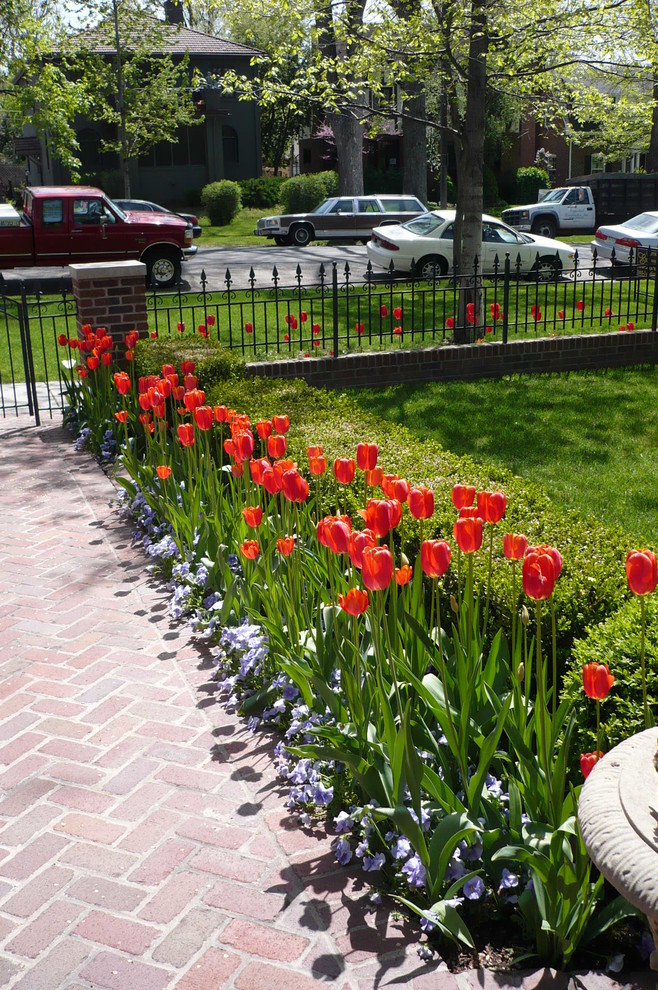 Concrete curbs are versatile and attractive. You can go for concrete curbing that looks like tumbled stone as low-cost alternatives to real stone borders.
If you do not have a defined backyard path, stepping-stones are the easiest way to add a walking path in your backyard. This process involves minimal digging and will preserve the green along the walkway. Some of the green you can plant along the path include blue star creeper, creeping thyme, sedum, creeping mazus and brass buttons.
Add Some Water Constructions
Sometimes all you need is the sound of trickling water in your backyard after a long day's work. Water fountains and waterfalls in your backyard are an irresistible way of adding beauty to your outdoor space. Water is also an amazing way of diffusing sound and noise while replacing it with trickling water.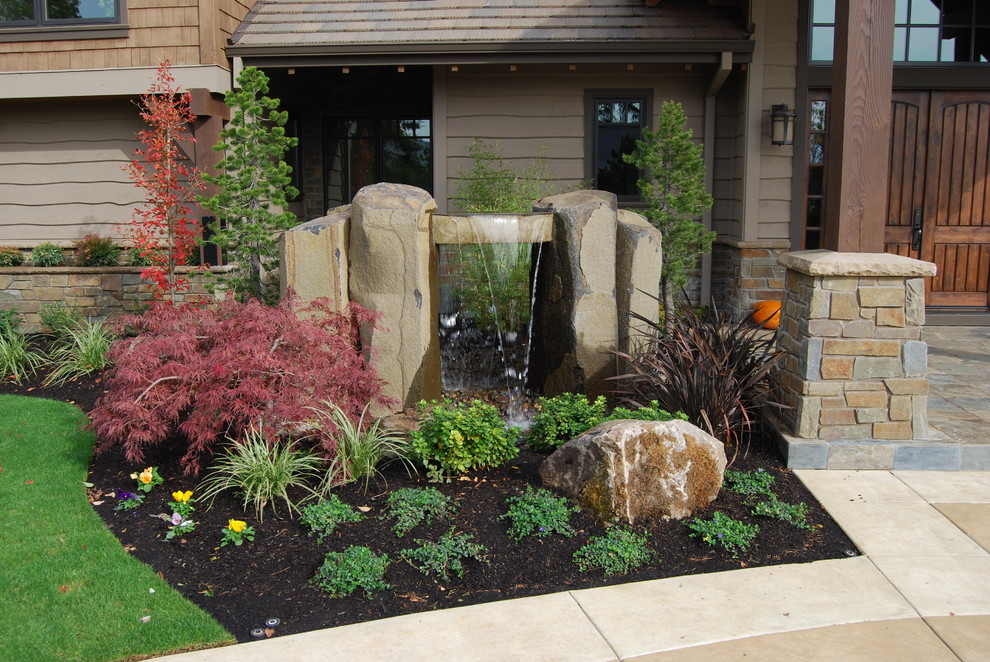 Photo by All Oregon Landscaping
Waterfalls or fountains range from off-the-shelf options to plug-in units for tabletops and small fountains that can hang on a wall. When installing a waterfall or fountain, remember that the amount of sound produced depends on the distance the water falls. Therefore, use distance to determine how loud you want your water fixture to be.
Succulents as a Perfect Wall Art
Plants can be perfect when you need to decorate your backyard walls. You can use succulent plants to create green art along your walls or create a complete green wall. Succulents are an easy way of giving your backyard year-round green appeal while saving on water.
This is especially ideal if you want to avoid creating a stone or wooden fence. Use tall shrubs, large plants and small trees to cover the view into your backyard. Bamboo trees, cypress trees and boxwood shrubs can also be ideal quick growth options for green walls.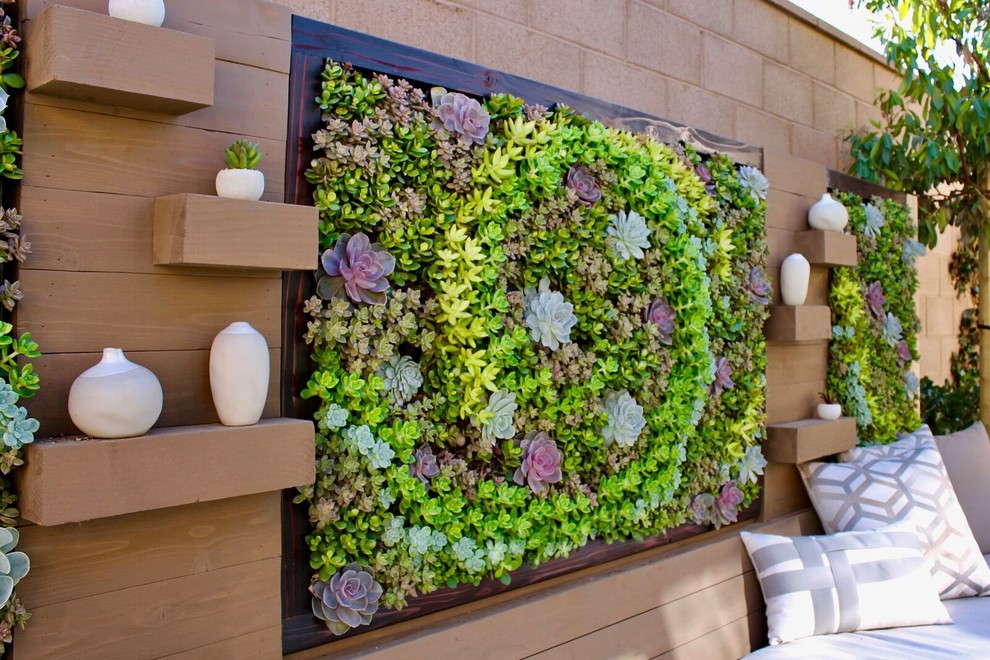 Photo by Interior & Exterior Environmental Designs
It is also possible to create beautiful living walls using fabric pocket planters. Consider hanging a group of them on the walls of your deck or patio to turn an average outdoor space into a secluded, lush oasis.
Come Up with Creative Shade Ideas
If you are interested in something more than just the usual umbrellas, you can custom your own outdoor shade using wood leftovers or creative fabric readily available in your home.
You can flex your creative muscle by stringing up patterned, colorful lengths of sheets or fabrics to create a stylish backyard shade. This is the best way to make a bold statement without overspending on a backyard shade. It also gives your backyard a unique design. The best part is that fabric shades can easily be uninstalled when the weather changes.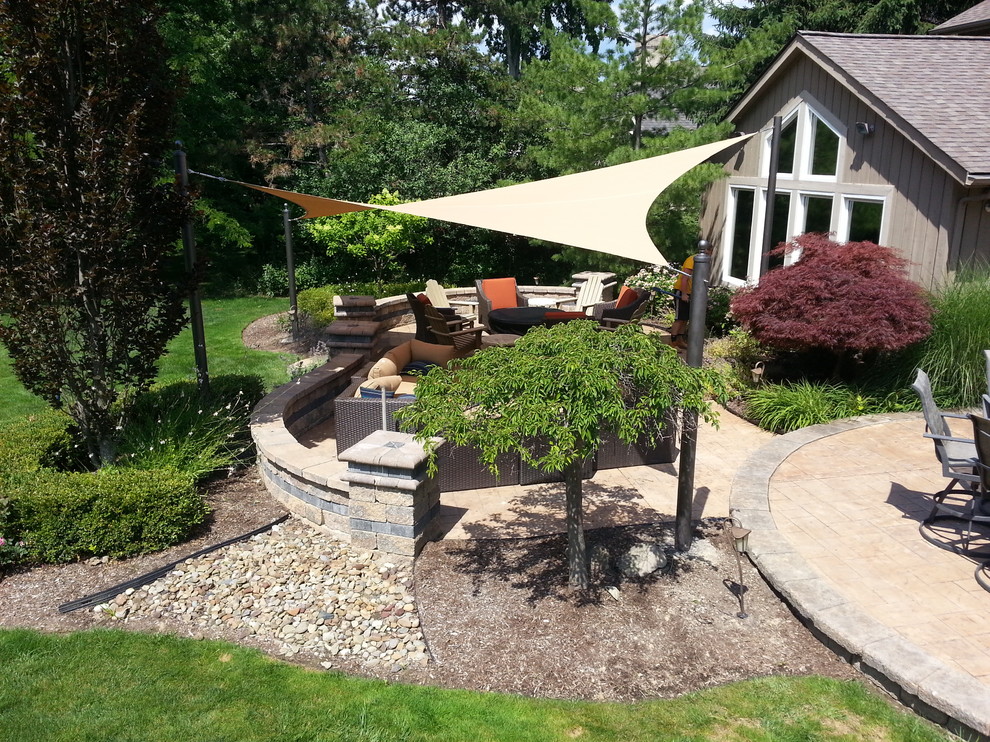 You can also design geometrical shapes and install them on a flat roof surface to give your outdoor space a 3D shade effect.
Embellished sail shades are also a unique idea to consider. They are especially ideal for over-exposed patios that can get too hot. An embellished sail shade can turn your patio into a shady, relaxing zone.
With any of these ideas, you can transform your backyard into a favorite living space for everyone.
2013 © YourAmazingPlaces.com
All materials, unless otherwise noted, were taken from the Internet and are assumed to be in the public domain. In the event that there is still a problem or error with copyrighted material, the break of the copyright is unintentional and noncommercial and the material will be removed immediately upon presented proof.
Back to Top ↑