6 Home Renovation Projects That Pay Off
Adding more value to your home has become increasingly important, especially with the real estate market still in a slump. Whether you're trying to sell right away, or you're thinking about making investments for the future, it's good to know which improvements you should make, in order to get the best recoupment.
Some renovation projects really pay off, while others can even detract from the asking price when or if you decide to sell. In order to not only add value to your home but improve your family's quality of life, we're going to talk about some revamping tips that are going to positively affect both of these categories. Overhauling your house can be a rather serious undertaking that often gets too stressing and overwhelming – that's why you need to make sure to upgrade only in those areas in which you can expect to recoup your investment almost completely.
The kitchen makeover
Experts speak nearly in unison when it comes to the idea of remodeling the kitchen. If you're thinking about making improvements in this area of your home, we strongly encourage you to go for it. Some reports indicate that you can expect to recoup up to 120 percent of your investment, which is a pretty staggering number, all things considered. Of course, this percentage varies greatly, and not everyone's going to recoup this percentage, but even if it gets around 60-80%, it's still a decent percentage.
The only thing you should keep in mind is not to go overboard with the kitchen makeover. It's one thing to make some small or moderate investments here, but it's a completely different pair of shoes if you blow off your entire savings on this. It's recommended not to make your kitchen any fancier than the rest of the house (or the neighborhood, for that matter). If you end up doing this in any case, just be wary of the fact that a lot of people won't want to pay for a deluxe kitchen, and you'll definitely end up losing money.
Paint both the interior and exterior of your home
This is something that immediately makes your house more aesthetically appealing and pricey at the same time. When you think about it, how many times have you walked through a neighborhood and thought to yourself just how prettier/better everything would look only if there was a fresh coat of paint on some of the houses and buildings?
Photo by Princeton Architectural Press
In case this is something that happened to you before, then you should be fully aware of the importance of keeping both the interior and the exterior of your home freshly painted. What's best about this renovation project is that you don't even have to spend too much money in order to make your home shine in a completely new light. If you're skilled and confident enough, you can even try doing this yourself – making it your little personal DIY project that you do in your spare time. And in case you pull this off, imagine the gamut of your potential savings. Talk about recouping your investment, huh?
Installing the retractable roof system
While we're on the subject of upgrading your home exterior, it's absolutely paramount that you make sure to overhaul your outside area so that everyone can enjoy it all the time. It's simply unacceptable that you let bad weather conditions ruin your weekend friends and family gatherings.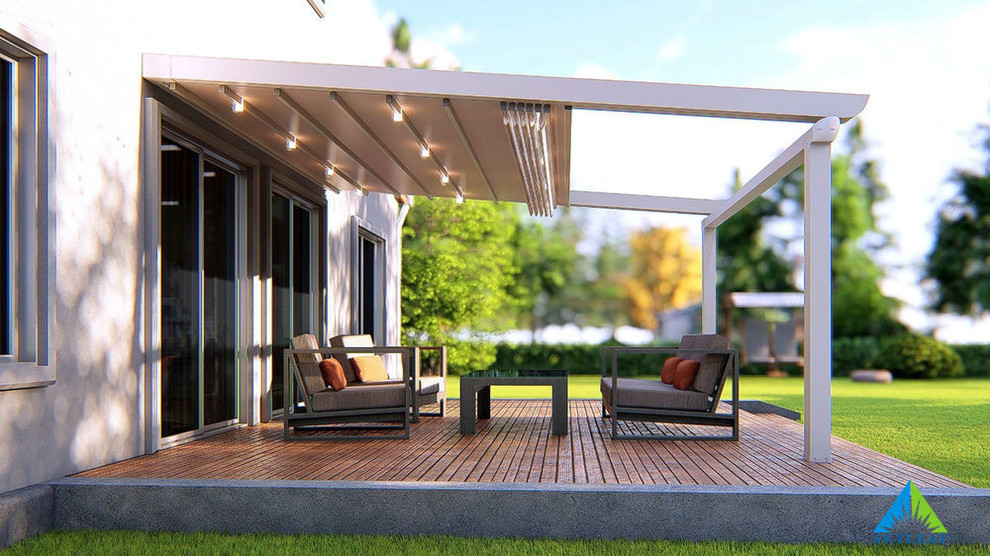 Photo by SKYLEAF Innovations Pvt Ltd
Just imagine everyone relaxing, chatting to each other over a beer and nice barbecue, when a sudden change of weather conditions quickly erases this idyllic picture. To avoid this from happening to you, it's paramount that you install a retractable roof system. If you want to be sure that the roof is properly installed, opt for consulting professionals like Oztech. You'll no longer have to worry if a rainy cloud or two is going to affect some memorable times in the making, and stop you from enjoying with your loved ones.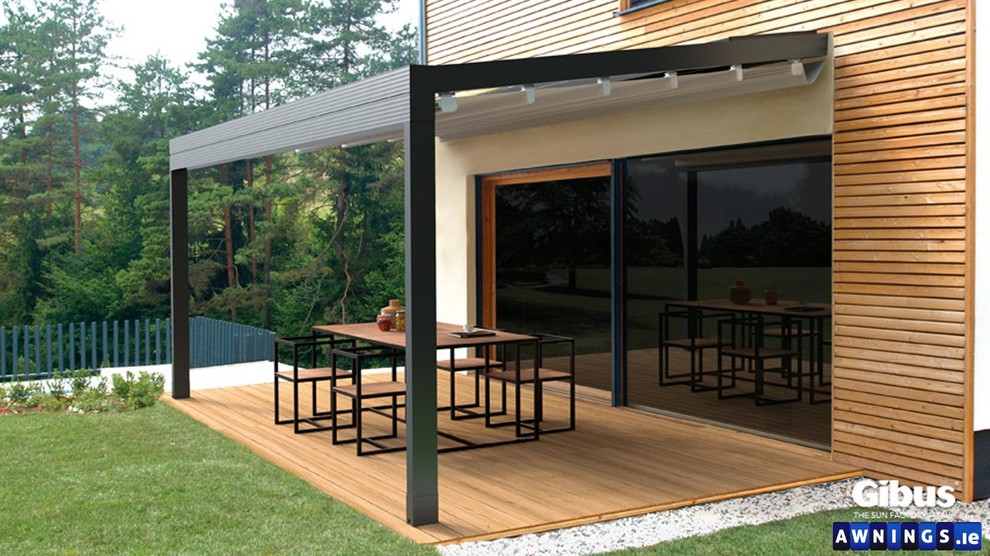 On top of this, we shouldn't even mention that a renovation project as such will only increase your entire property's value. Every potential owner just loves to see these kinds of things in her or his prospective home – and everyone envisions the exact same picture that we've just 'painted' for you.
Add Another Bathroom
Speaking of recouping a large chunk of your investment, a bathroom addition is something that's going to positively affect your property's value, as well. This is especially the case with houses that have only one bathroom.
Every single one of your potential buyers would like to see that a house has at least two rooms where you can unwind after a long, stressful day at work – either by taking a hot shower or relaxing in a bathtub. We shouldn't even mention the fact that this is something which makes your life significantly more comfortable, in case you're not trying to sell at the moment.
On the other hand, we're fully aware that finding the right space for adding another bath can be a bit of an issue. Nevertheless, we still encourage you to try to find a way to make this happen. Just look for any extra rooms or underutilized spaces that could serve this purpose. You can even consider turning a closet or the area under the stairs into an extra bathroom – this is something that's definitely going to pay off in the long run.
Room Reinventing
One thing naturally leads to another, so why not reinvent a room, if you're already thinking about reinventing a bathroom? But this is the renovation project that you really ought to be extra careful about. If you do this the right way, you can recoup anywhere between 50 and 80 percent, but in case the project spins wildly out of control, you could end up losing a significant amount of money here. Running into more and more unexpected problems gets very easy if you don't plan everything through.
Photo by Bella Luxe Home Design & Interiors, LLC
On the other hand, if you can design a good plan in advance, you'll increase your home's value in no time. If there are certain spaces in your house that are underutilized, such as the basement, garage, or the attic, you should definitely consider reinventing those spaces. Even though this is something that is going to require significant resources, it's still worth investing in.
By doing this, you can get a whole new living room, bedroom, game/playroom, or a craft room where you can do your hobbies. And if you can reinvent this space and make a small apartment out of it, you can also rent out and regain back some of the money before you even sell the place.
Aim at Being Energy-Efficient as Much as Possible
Building an energy-efficient home has become essential in today's day and age. It's crucial that we try to reduce the carbon footprint as much as possible and that we become more environmentally conscious, in general. If your house needs to be remodeled or renovated in any form or shape, it's strongly advised that you make these upgrades in an eco-friendly manner.
This means that you should opt for the so-called 'green' materials. Not only are you contributing to saving our planet, but you're also increasing the chances of selling your property quicker. Many new homeowners are buying houses with energy efficiency in mind. For instance, you can invest in energy-efficient doors and windows. This way you can recoup between 60 and 90 percent of your costs.
Apart from this, you're also eligible to receive a green energy tax credit which is 10 percent for this particular upgrade. Energy star-rated doors, windows, and other home appliances will also help when selling – if you manage to renovate your home to be almost net-zero energy-efficient, you'll definitely sell much faster.
Photo by Barclay+Phillips Architects
On top of that, you should also opt for energy-efficient insulation, HVAC system, cool roof, and so on. And even if the new owner isn't that interested in being environmentally conscious and saving the planet, every potential buyer out there would still be glad to see that she or he doesn't have to spend a fortune on utility bills each month.
The Bottom Line
Whether you're thinking about selling your property right away, or you're waiting for the market to completely get out of a slump, it's of utmost importance that you keep your house in impeccable condition all the time. Not only are you going to make the place more enjoyable for your family and friends by doing so, but you'll also significantly increase the home's value.
Making updates to your house is something that should be done rather carefully – not all home renovation projects are expected to recoup the same percentage. That's why we've made a list of home revamping options that are usually considered to be prudent both comfort and market-wise. It's pretty safe to say that if you remodel the kitchen, paint both interior and exterior of your home, install a retractable roof system, add another bathroom, reinvent a room (or even an apartment), and aim at being energy-efficient as much as possible – you'll most definitely add value to your property.
2013 © YourAmazingPlaces.com
All materials, unless otherwise noted, were taken from the Internet and are assumed to be in the public domain. In the event that there is still a problem or error with copyrighted material, the break of the copyright is unintentional and noncommercial and the material will be removed immediately upon presented proof.
Back to Top ↑