9 Ways to Modernize Your Kitchen
The kitchen area is an integral part of every home. This is where you can prepare a meal, grab a snack, or act as a hanging spot for family and friends regardless of the time.
To be a cozy and comfortable space, you can make a few changes to make it modern. Your serveware, worktops, kitchen decor will need attention to modernize your kitchen.
A comprehensive kitchen remodeling can be expensive. But changing a few tiny things can help modernize your kitchen without breaking the bank.
Here are a few ways you can go about modernizing your kitchen:
1. Add a Backsplash
A kitchen backsplash is an excellent addition to add a dash of color to your kitchen. You can use tiles with neutral colors and simple shapes to add pop and color to your kitchen.
Moreover, linear glass tiles and ceramic tiles, among others, can add elegance to your backsplash. To ensure the design remains uniform and classy, you can extend the tile material on your countertop up the walls.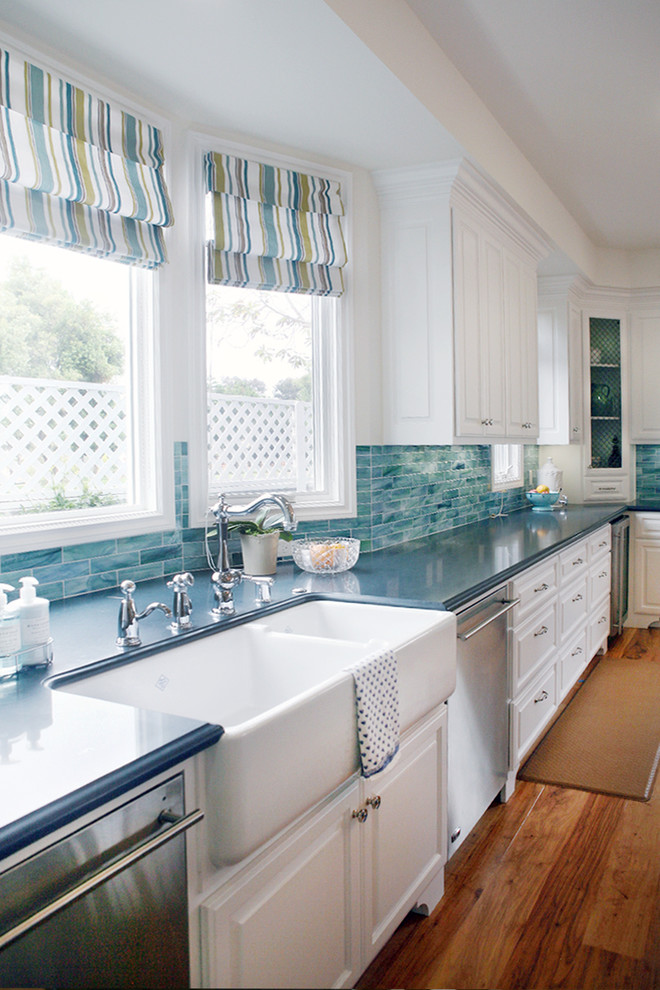 Besides, if you have beautiful epoxy resin serving boards, they can blend in well with the neutral tiles in your backsplash.
2. Display Your Dishware
For a long time, elegant cabinets have played a significant role in modernizing a kitchen. But open shelves allow you to practice the art of display.
Imagine having beautiful kitchenware displayed in the cabinets instead of them staying hidden. For instance, Nicki Minaj is one of the celebrities who does a good job with her glass-fronted cabinet to display her beautiful dishware.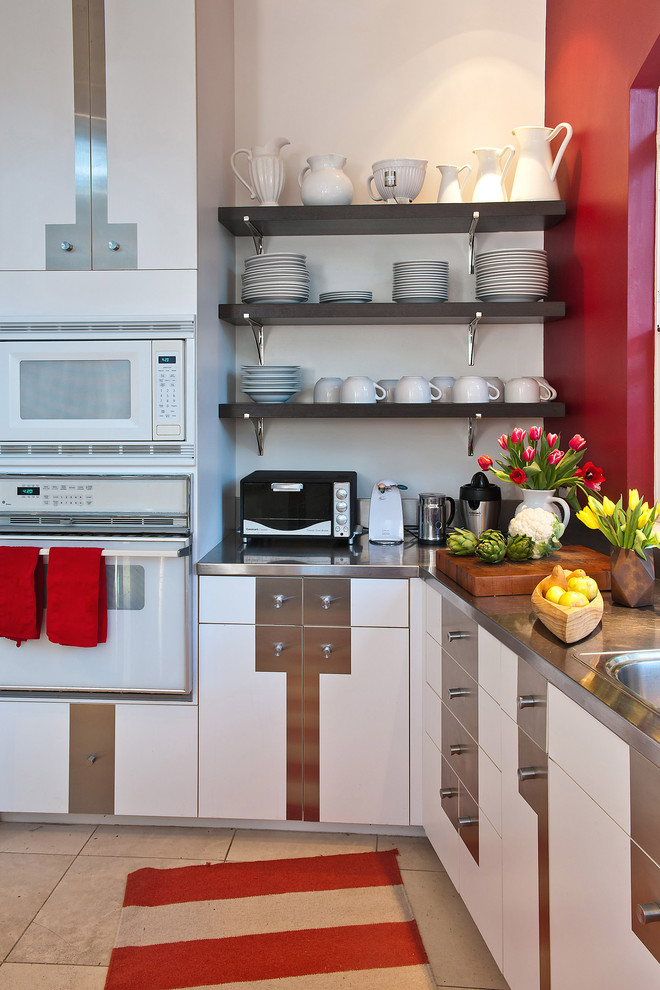 You can further upscale your dishware game by displaying customized Lynnliana cheese boards. The cheese boards will have a touch of elegance in your kitchen besides modernizing it.
If the primary color of your open shelves is white, you can break the monotony with unique serveware. For instance, your preferred color of epoxy resin serveware, bamboo serving trays, bread boards, and resin charcuterie boards among other dishware to enhance your kitchen into a modern look.
3. Replace Your Kitchen Serveware
The type of serveware in your kitchen plays a significant role in elevating your kitchen look. You can replace your old glasses, dinner trays, cheese boards, plates, bowls with modern ones. With elegant cheese boards, you can create a lasting impression on your family and friends.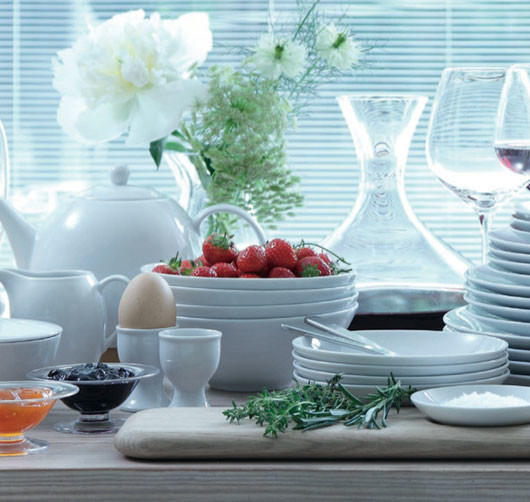 A new resin cheese board is elegant and affordable, so you need to take advantage of it to modernize your kitchen. When placing your resin charcuterie boards on an open shelf, your kitchen can look more luxurious and inviting.
4. Experiment With Wood
Most people love the country vibes, but they want to accessorize it with a modern touch. When you experiment with warm wood, you can perfectly achieve both worlds. Playing around with wood will give your kitchen a rustic feel.
You can combine diverse textures to give an exciting visual effect to a customized island and retain the clean and fresh air. For instance, metal can be used to give drama to a custom island, while a marbled backsplash and any countertops will give a pleasing look to your kitchen.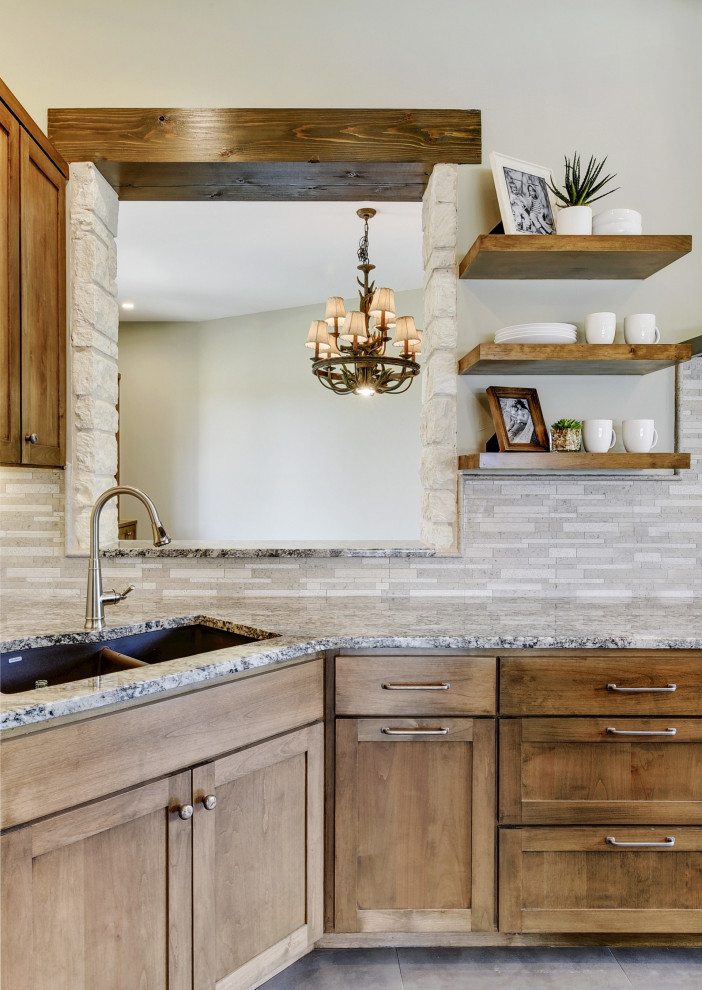 Using elegant countertops can combine well with your wooden serving boards, breakfast trays, and cheese boards.
5. Update Your Kitchen Appliances
To modernize your kitchen also means you're conscious of the environment. And to play your role in maintaining the environment, replacing your kitchen appliance is the best place to start.
Update your kitchen appliances with energy-efficient ones! For instance, smart fridges can be a valuable addition to your kitchen. They'll not only upgrade your kitchen to modern standards but help in conserving energy excellent for the environment and energy bills.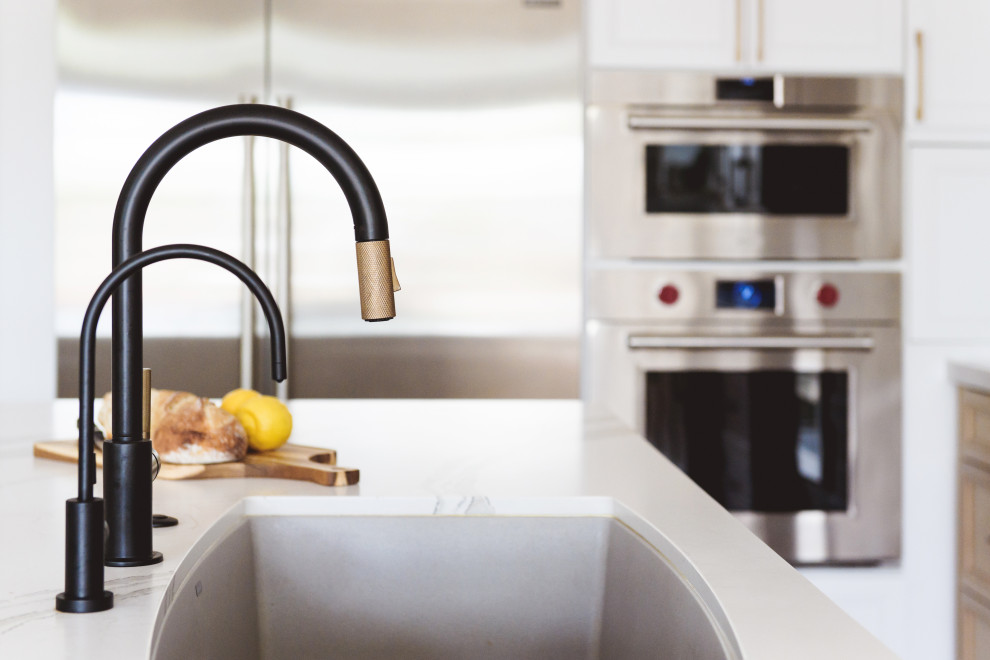 Photo by Savvy Interiors/ inSIDE by Savvy
Appliances like low-flow kitchen faucets are valuable with their saving water capacity. You can also consider updating your plumber fixtures to help save on water and bills. Besides improving the appearance of your kitchen, updating your kitchen should help to save money and other natural resources.
6. Modernize Your Countertops
Countertops play a significant role in adding a touch of elegance and modernity to your kitchen. The older kitchen countertops can feature ugly tile and grout or some cheap vinyl work surfaces. But you can replace them with a myriad of beautiful and durable countertops.
Depending on your budget and style, you can find limitless options for your countertops. They range from natural stone variants like granite and marble to solid surfaces like resin and polymer-based.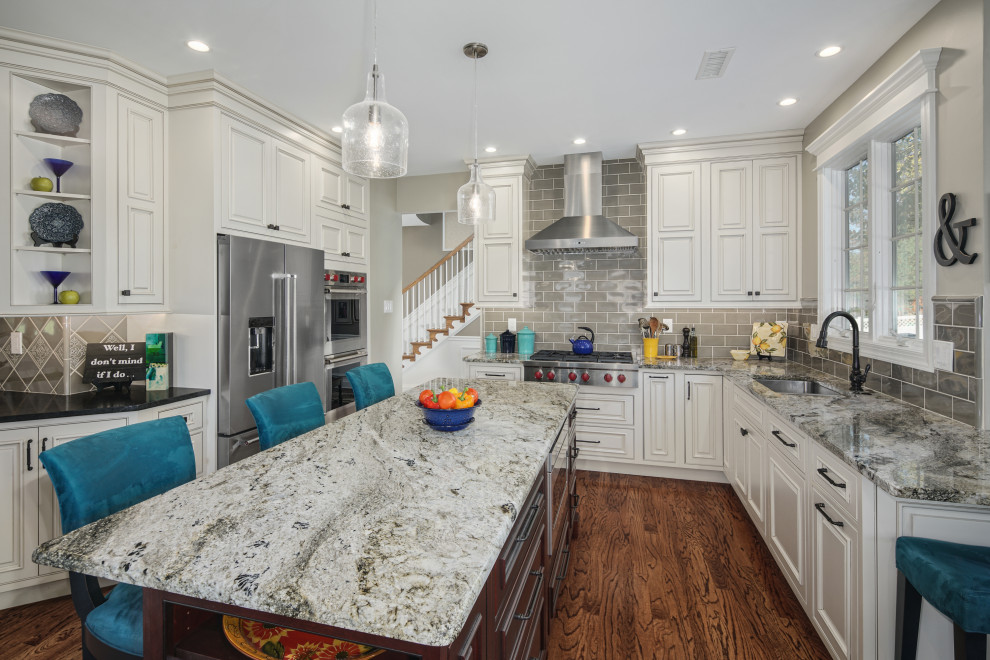 Photo by Integrity Kitchens and Baths
The design industry is quickly evolving with creative and innovative ideas like using heavy-duty structural materials for countertops. So when looking for options for your modern countertop, brick, concrete, and tile should not miss on your list.
7. Add Decorative Accessories
Most people are not aware that they can play with art pieces in their kitchen. The kitchen area is perfect for incorporating aesthetic pieces that reflect your lifestyle and personality.
You can use plant shelves to add plants, artwork, and other home decors to beautify your kitchen area. Moreover, you can use the built-in display shelves below your kitchen island to display your valuable Kitchen serveware.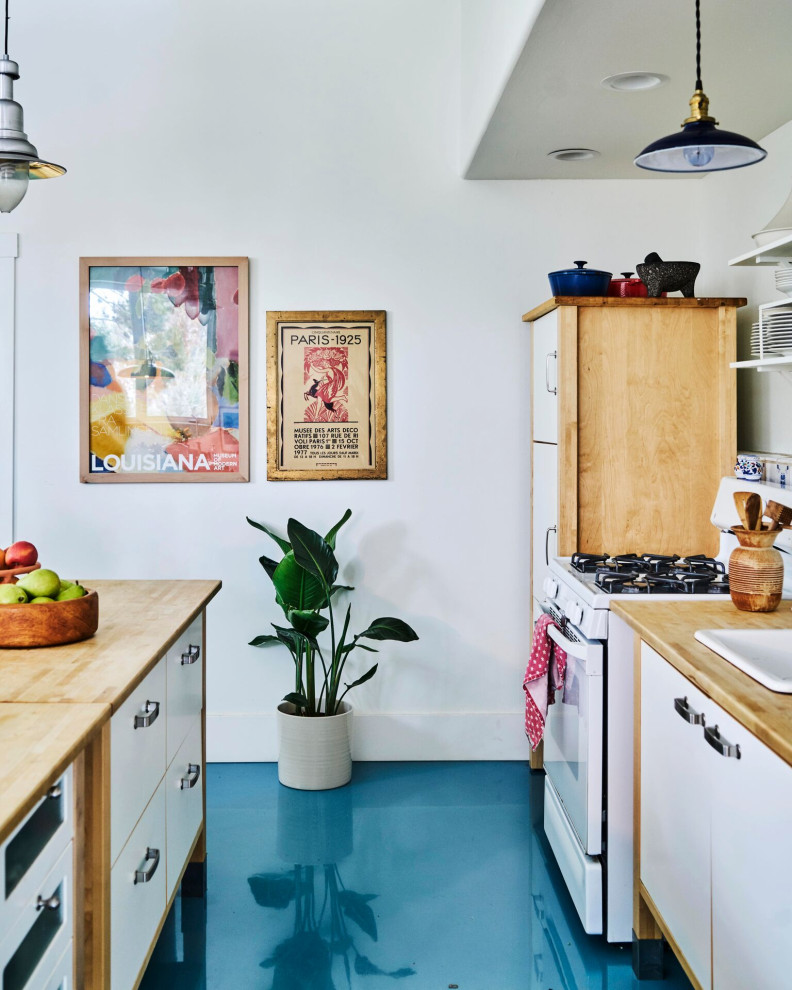 For instance, you can display bamboo serving trays, resin serveware, cheese boards, outdoor trays, favorite cookbooks, and vintage heirloom china. Fresh flowers and a bowl of lemons are an excellent addition if you're looking to add a pop of color to your kitchen area.
8. Maintain a Minimalist Look
Most modern kitchens tend to practice the minimalist look. Design modification could be effective, but you can accomplish a modernized look by reorganizing your kitchen and disposing of what's not needed.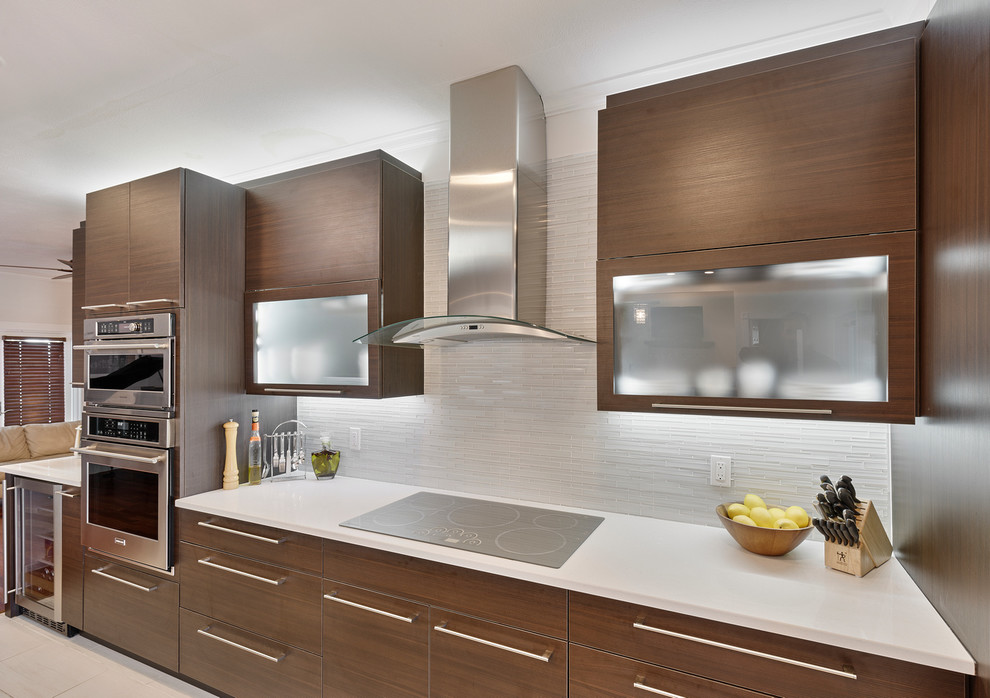 This makes it easier to relocate stuff that can fit in cupboards and cabinets and make more space in the kitchen. Since the place will be tidy, you can achieve trendy minimalism for your kitchen.
9. Paint Your Kitchen Cabinets
It is surprising how simple paint can do in your kitchen. Painting kitchen cabinets is one of the easiest and quickest ways to enhance your kitchen into a modern look.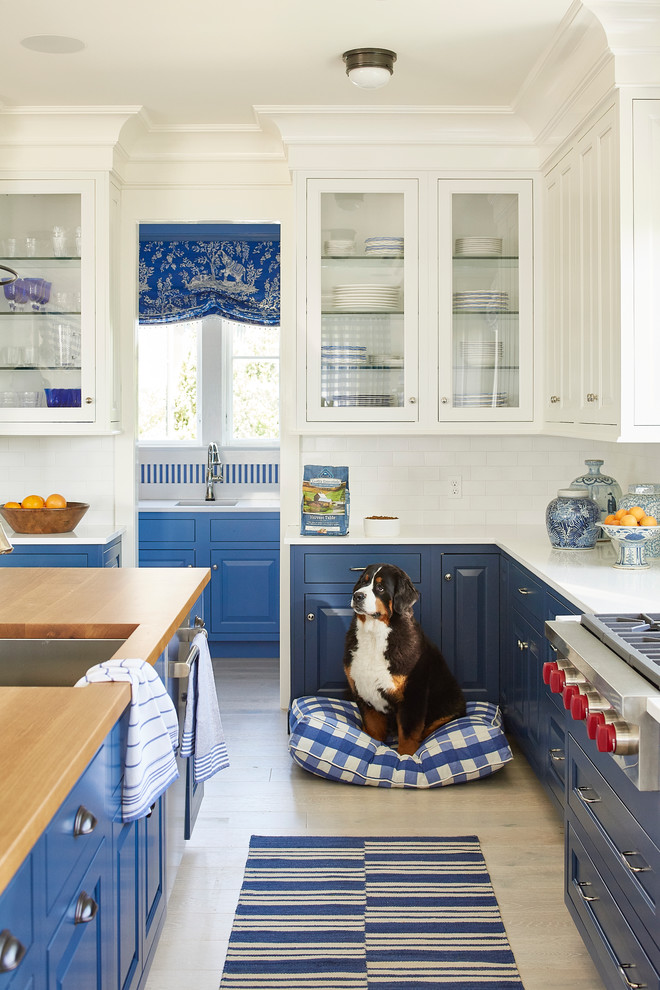 Some of the most popular modern color schemes for kitchen remodeling are cool and inviting colors like cream, soft blues, and greens. Minimize using bright colors if you want to achieve an elegant look. Most bright colors may make the room look busy.
Take Away
You have several alternatives when it comes to modernizing your kitchen space. To establish a modern style, you can add a beautiful backsplash, display your dishware, modernize your countertops and experiment with wood.
You can keep it simple with a minimalist look, add decorative elements, upgrade your kitchen appliances, and paint your cabinet. Alternatively, you can go all out and replace your kitchen serveware with challah boards, cheese boards, resin coasters, bamboo trays, and other beautiful designs of serveware to achieve the modern kitchen look.
2013 © YourAmazingPlaces.com
All materials, unless otherwise noted, were taken from the Internet and are assumed to be in the public domain. In the event that there is still a problem or error with copyrighted material, the break of the copyright is unintentional and noncommercial and the material will be removed immediately upon presented proof.
Back to Top ↑