There are architectural marvels across the world but not all projects can be replicated, especially in residential structures. However, modern architecture does provide a guideline for creative homeowners on how to beautify their backyards through inspiring landscaping solutions.
The right space for the right plants
No backyard is complete without a garden, even it were a single flower bed. The state of the plants is indicative of the state of the whole backyard, so you should ensure plants are verdant and fit inside the architecture and the exterior decor of your home.
Photo by Wood Landscape Services, Ltd.
Use only local plants that have adapted to the climate of your region. Exotic plants might look better but what good is a plant that withers because of the extremely arid climate.
Walls that don't divide
In traditional culture, walls have always been a symbol of division. Architecture is no different, especially when it comes to the plain fences and walls that separate respective properties in residential districts. However, if you're on good terms with one of your neighbors, then you can break this mold.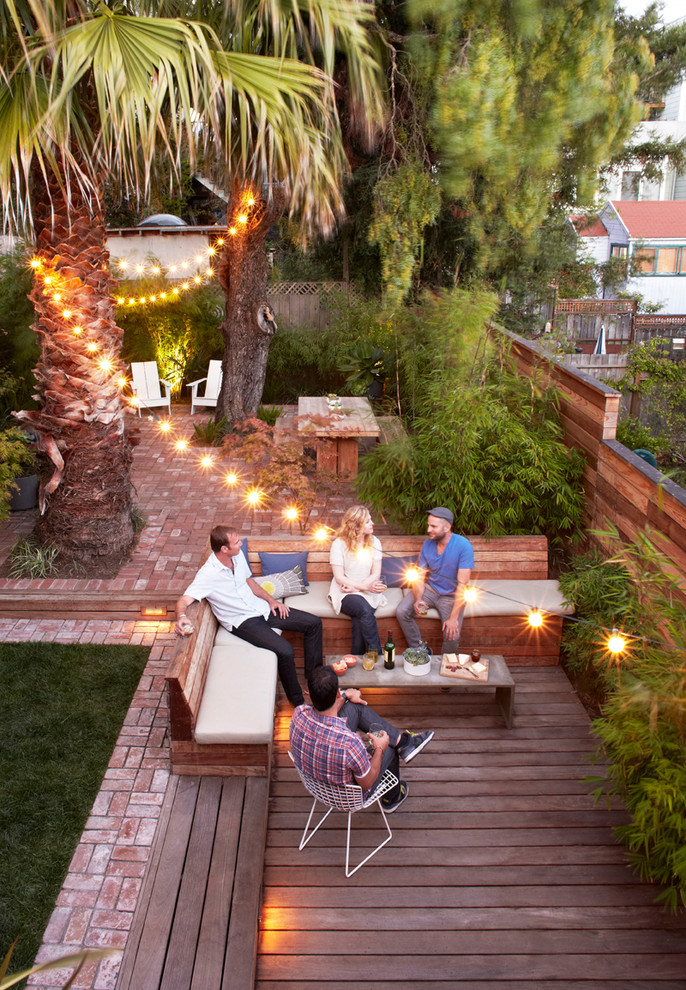 Photo by Growsgreen Landscape Design
A long curving wall will turn around both yours and your neighbor's outdoor living area. Such a layout is more organic, as straight lines are a rare sight in nature. The idea is so good, that you can use low walls along pathways that can double as seating areas.
The importance of garden furniture
Speaking of the seating area, the most logical location is near the house, on the deck, or the patio. However, you need to take care that the style of chairs and tables matches the house's overall architectural style. For instance, rattan furniture is ideal for opulent residencies.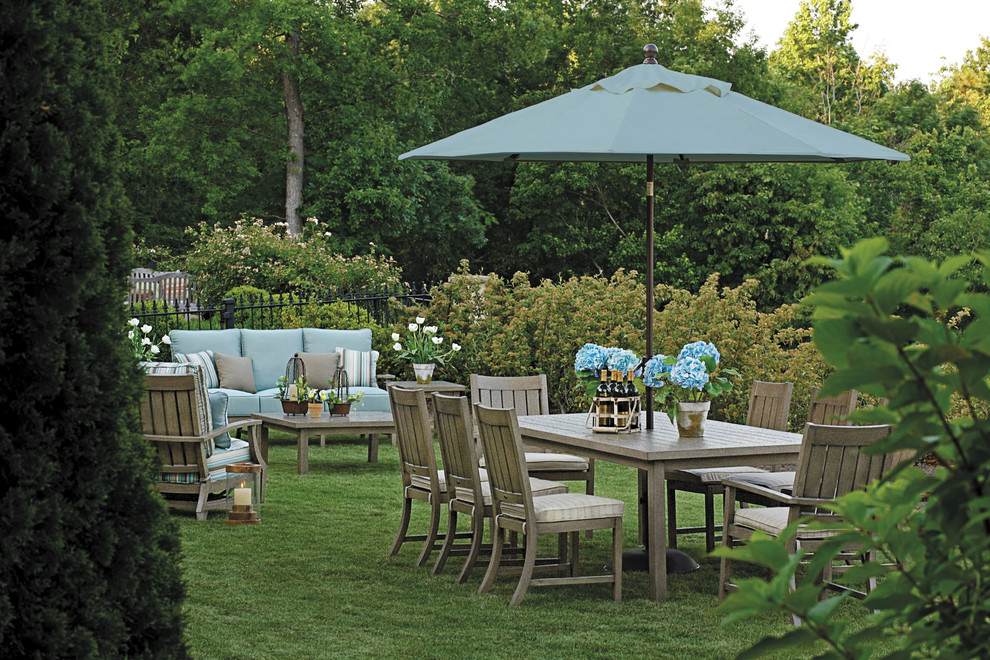 Covering the patio
You can purchase the most luxurious furniture on the market but unless the patio has protection from above, the upholstery will get ruined after the first rain. For this reason, installing an alfresco roof to cover the patio is something most homeowners opt for. Opening roofs are growing in popularity nowadays, so much that builders often struggle to find a roofer that's available.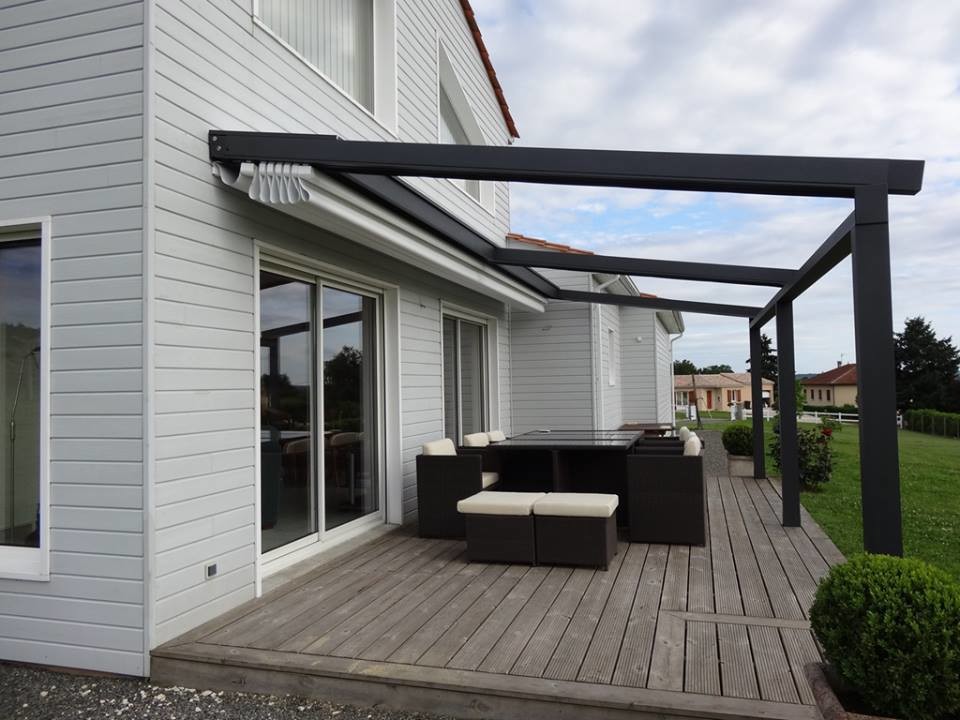 Photo by Armadillo Convertible Room Solutions
Stone is a great material
Whether you are looking to extend the fence or to build a fire pit, stone is a material you can outsource from your property. After a bit of stonemasonry, blocks are ready to be placed in the backyard. You can build pathways, erect low walls, or add vertical layers to the lawn.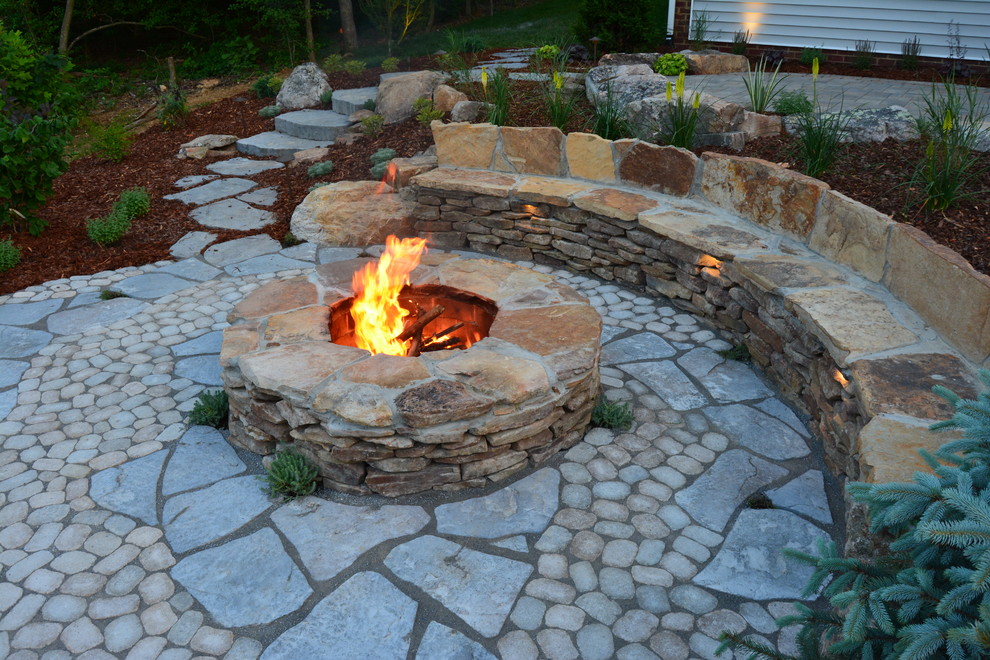 Vertical layers: Terraces
Homeowners whose backyards are situated on a slope or uneven terrain often give up on landscaping, thinking they can do little to amend this downside of their property. Quite the contrary, the history of architecture teaches us that vertical layers have been used for agriculture millennia ago.
Photo by Cipriano Landscape Design & Custom Swimming Pools
From the slopes of Machu Picchu to the rice pads of China, terraces have been used to hold back erosion and create fertile land in the most inhospitable places on the planet. Adding layers will increase the amount of usable land in your garden, so you can plant new species or set up a patio.
Filling holes in the ground
Apart from hillocks, an uneven backyard can be ridden with potholes of all sizes and depths. Instead of rending a dozer to fill these holes with earth, you can leave them as such and throw vegetation, wood, and stone inside them.
Photo by The Garden Concierge, Inc.
Hook up the interior walls to a light source and add planks over the hole to serve as a promenade of sorts. A hole that was once an eye-sore and a trip hazard is now an attractive space rich in textures and colors. If possible, the hole can be elongated and turned into a moat to encompass your house as it were a Medieval European castle.
A glass corridor
You know how large water parks have those long tube-shapes glass walkways you can observe the marine life through? Well, you can build a similar corridor on your property to connected two different structures.
Photo by Remick Associates Architects + Master Builders
Even if you don't own two houses, you can still build a glass corridor to connect the shed or the playhouse to the main building. These interactive corridors are fun because they fuse the exterior and the interior of your house as if you had a greenhouse.
It only takes one look at stunning pieces of modern residential architecture to get inspiration for landscaping your own yard. From alfresco roofs to glass corridors, there are countless ideas you can draw from the global architectural marvels of today.