Home Decoration Guideline for Autumn 2019
Just as you want to prepare your wardrobe for the fall, you also want to give your home some sprucing up. They say the autumn season is the best time to update our homes. From eye-catching wreaths to artisan fittings, beautiful curves, and floral patterns – there are some interesting home decoration trends that you should watch out for this year.
Don't skip the Fall Garlands
Wreaths are beautiful additions to your home this fall season. You can hang one on your exterior door or even inside your home. You will find many beautiful ideas on the web, from chic feather garlands to leaf garlands, crochet and pumpkin garlands.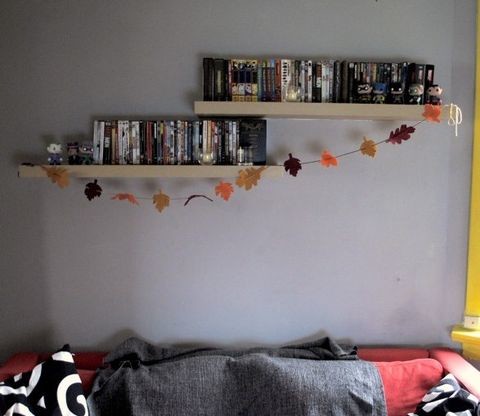 Potted plants and brass candlesticks bring an outdoor vibe
Fall is a great season to enjoy the outdoors. Bring in some floral arrangements that embody the season to your home. Be sure to include brass candlesticks and potted plants for a beautiful twist.
Concrete accents are captivating
This 2019, concrete has totally changed the game in home interior design. From accent walls to floors, centerpieces, and countertops – there are many ways to incorporate concrete in your home design. This autumn, geometric concrete tiles will become increasingly popular.
Photo by Jason Thomas Architect
Fill your home with autumn colors
Don't forget to add touches of the autumn colors – red, yellow, and orange. For a trendy twist, incorporate copper accents and other metals. With their rustic feel, they make the autumn colors really stand out. In addition to the calming earth tones, you can add some bold colors like nature's leaves, berries, and wood accents. Classic hues are still part of the trend, such as neutral browns paired with golden yellows, creamy beiges, and sage greens.
Photo by moment design + productions, llc
Don't forget your cozy home decorations
When it comes to fall home decoration accessories, there will always be a preference for things warm and cozy. To celebrate the beautiful season, throw some decorative cushions, velvet accents, stylish rugs, and a curved sofa. Drape your dining chairs with white faux fur throws for a luxurious look. And to complete this fall-inspired design, place a rustic centerpiece in your dining table, featuring a mix of colorful flowers and fruits backed by tree branches. You can also also decorate your wall with autumn inspired Prints on Canvas and transform it from white space into eye-catching point.
Floral patterns are the highlight
Autumn is the season for blooming flowers and all things beautiful. What could be a better way to celebrate the season than fill your home with beautiful florals? There are so many ways to incorporate florals in your home design. Put some fresh flowers in a vase, hang curtains with floral prints, come up with a floral accent wall, and take out your favorite floral tableware.
Geometric designs are still "in"
Geometric designs are still in and expect to see more of them in 2019 home designs. Some ways to incorporate geometric patterns in your home are with tessellating tiling, wallpaper, and home accessories. You can have it in small doses (such as in throw pillows and displays, or go big with zigzag wall patterns or floors. Up to you.
Photo by Bronwyn Poole of Touch Interiors
Spruce up your outdoor space too
Don't forget your outdoor space. It deserves some enhancing too. Fall is a great season for family celebrations. Make your porch an extension of your living space by putting together fall-inspired furniture and décor, including orange-and-brown throw pillows, a colored coffee table, and some books. Make this area a beautiful place for entertaining or relaxation.
Patterned blankets
Blankets spell warmth and comfort. It's time to get colorful this fall season. Choose blankets in vivid colors and patterns (stripes, geometrical, and spots, and blocks) for a festive flair. For your bedding, look for coverlet covers in jewel tones and with a unique texture.
Artisan Décor
Artisan home décor is one of the biggest trends this year. More and more people are turning into handcrafted pieces – from lighting fixtures to furniture, and decorative pieces to give their home a personal touch. Handmade home décor is more expensive because it requires time, artistry and skills. Artisanal crafts bring a sense of authenticity and originality in your space. The best thing about them is that they are timeless and are not constrained by different interior design styles and eras.
Photo by Gordon James Construction
With these amazing home decoration tips, you can make your home looking gorgeous throughout the fall season.
2013 © YourAmazingPlaces.com
All materials, unless otherwise noted, were taken from the Internet and are assumed to be in the public domain. In the event that there is still a problem or error with copyrighted material, the break of the copyright is unintentional and noncommercial and the material will be removed immediately upon presented proof.
Back to Top ↑