Keep These Invaluable Tips in Mind When Designing Your Outdoor Patio
An outdoor patio is a paved area usually adjacent to a house and used as a recreational space.
In the past, homeowners didn't pay much attention to patio designs. Some did not see their patio space as a significant aspect of their homes.
Despite this, many homeowners today place great importance on their patio areas. Patios can provide many benefits for homeowners, all of which contribute to quality of life and a home's value.
If you are thinking about redoing your patio designs, here are some important things you should keep in mind.
1. Plan as per your purpose
Though it is normal to see pictures of neatly done patio designs and get influenced by them, you need to ask yourself if that will serve your purpose. If you have small kids, you could create a small play area for them. You need to plan accordingly by avoiding hard surfaces which could hurt a kid if they fall.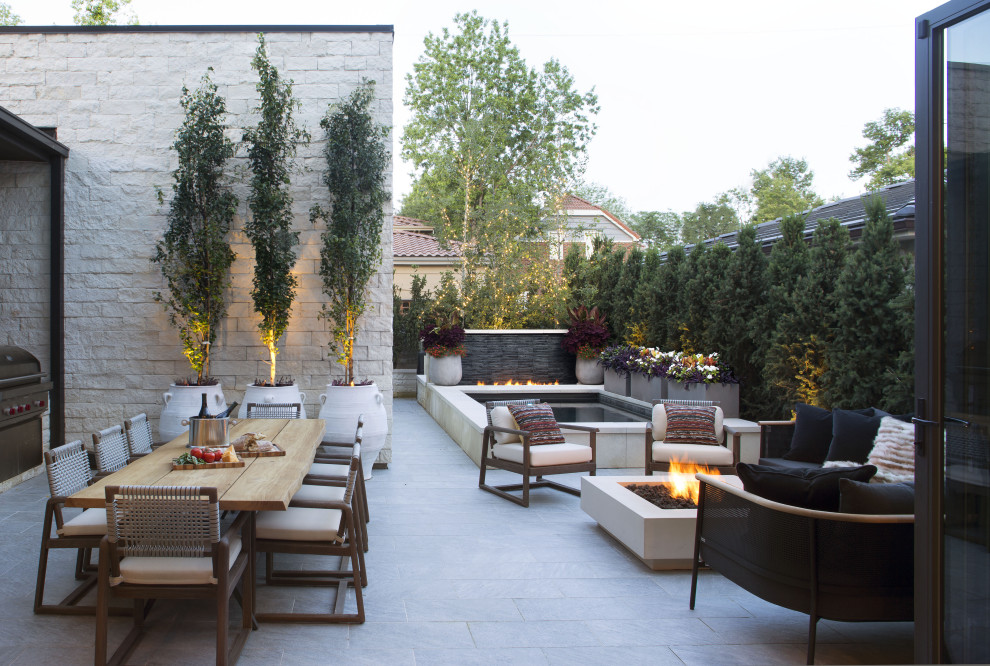 Similarly, if you intend to entertain your friends and family outdoors, you could opt for a dining patio. The outdoor kitchen and cooking area layout should be determined accordingly, with safety in mind, as you wouldn't want the grills close to where the guests would likely be.
2. Keep it realistic
You need to work up a good plan, budget, and design. Decide on the essentials and create space for them. Would you like to entertain guests? Do you want to include a pool? Would you like to maintain privacy?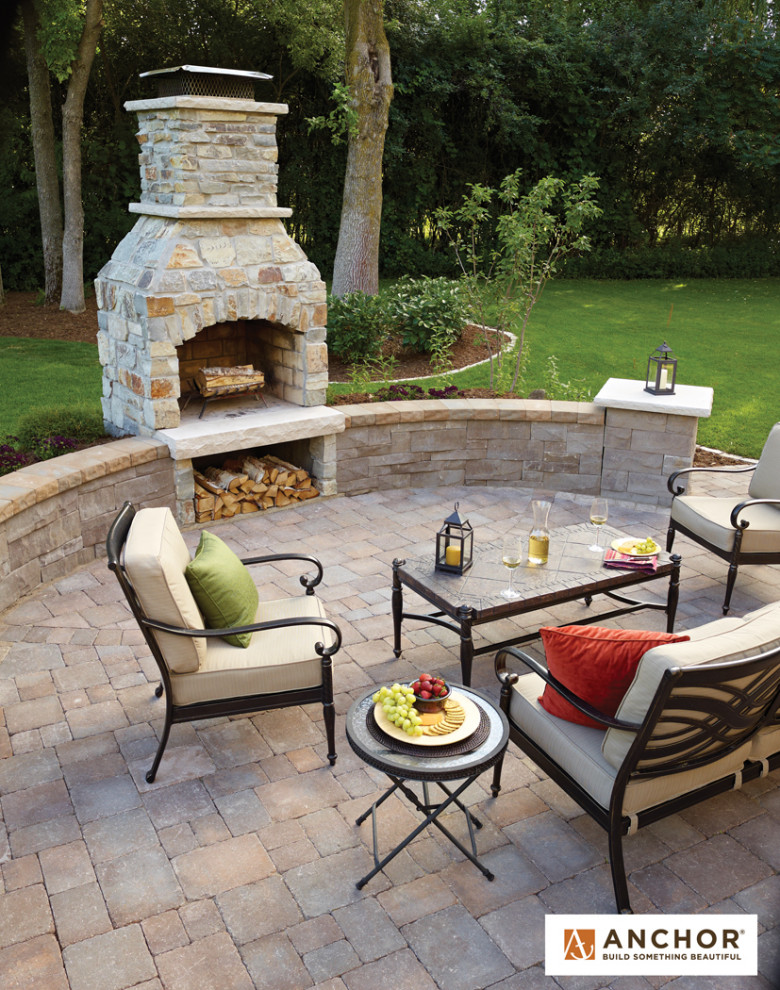 If you have space constraints or are low on budget, or maybe both, try to build an outdoor area that you will be using rather than one you would want to rebuild the following year again. Rather than going for trendy design, try to create an area that can offer practical uses.
3. Play around with color and styling
The outdoor patio area can be anything you want it to be, and it should represent your taste. Sofa cushions in lively colors can brighten up a space, and if you live in the city, a few potted plants may help you get that natural vibe.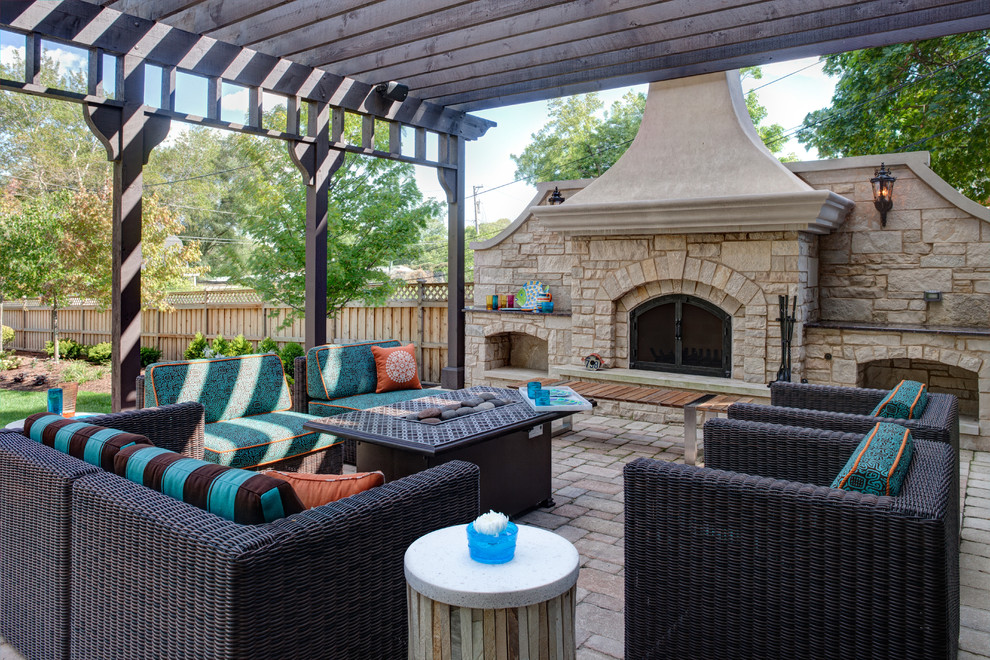 Another key factor with which you can have some fun is lighting. Lighting is a crucial aspect of the design and function of your outdoor patio. If you need power outside, many wonderful solar-powered choices are simple and effective.
4. Plan for the winter climate
Depending on where you live, you might intend to close down the outdoor patio when the winter season arrives, but you need not throw in the towel that easily. A well-placed fire pit and outdoor space heaters can make your patio comfortable all year.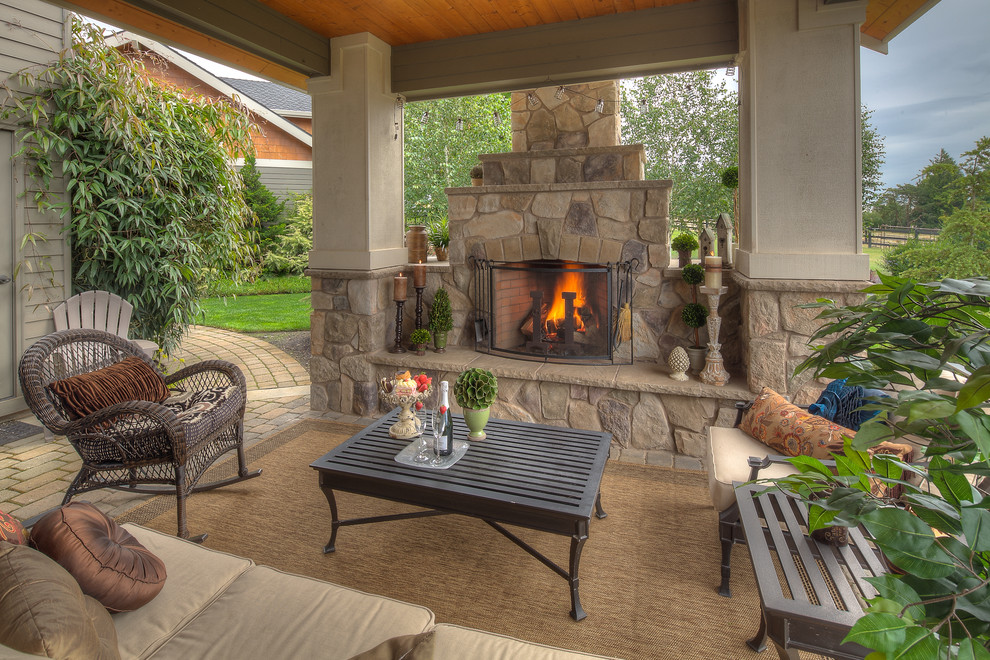 Photo by Paradise Restored Landscaping & Exterior Design
Snow has you worried? Radiant heating components can detect snow and be integrated into your patio floor to melt snow automatically.
Consider these four patio styles
When designing the patio, you can style it according to your taste and keep in mind the purpose you are using it for. These are the four most popular styles of patio designs.
1. Living room patio
Outdoor living spaces are enormously popular. An outdoor living area in your backyard will provide you with a place to relax with friends and family. A fireplace or fire pit, deep-seating patio furniture, and a shade structure are common features of this style of patio.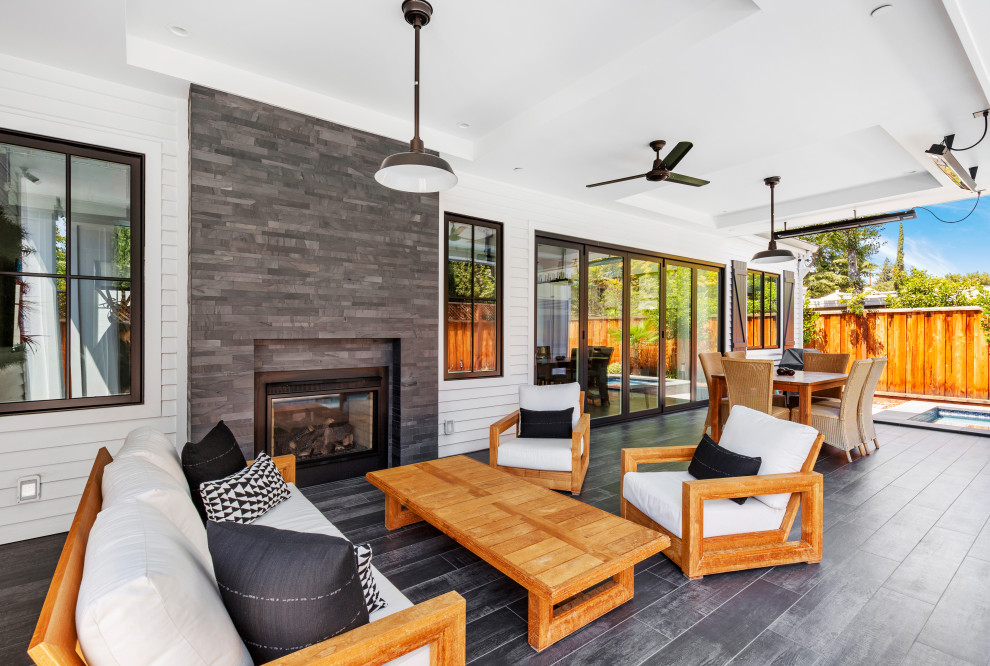 Photo by Greenberg Design Gallery
A 16-foot-by-18-foot outdoor living room is recommended. Remember to leave enough room for people to stroll around the furnishings.
2. Sundeck patio
A sundeck patio is intended to be a relaxing and enjoyable location to spend time in the sun. Sundeck patios are typically found beside a pool or on a vantage point. A sundeck's furniture of choice is outdoor chaise loungers with comfy cushions.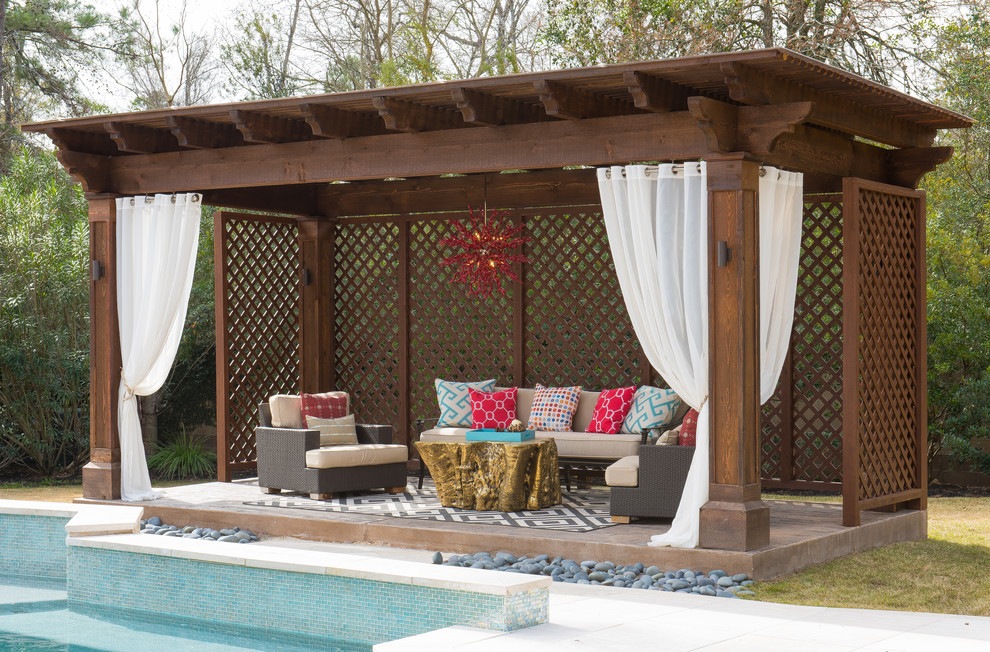 Keep in mind that a normal chaise couch is 2 feet by 6 feet when deciding on the size of your patio.
3. Outdoor dining patio
For those who prefer dining in the open air, outdoor dining patios are a great choice. There's nothing like sharing a meal with friends and family on your patio. A dining table and chairs must be able to fit on an outdoor eating patio. In general, you'll need a space of at least 12 feet by 12 feet. To make delivering food to the table as simple as possible, a dining patio should be located next to an outdoor kitchen or near the backdoor of your home.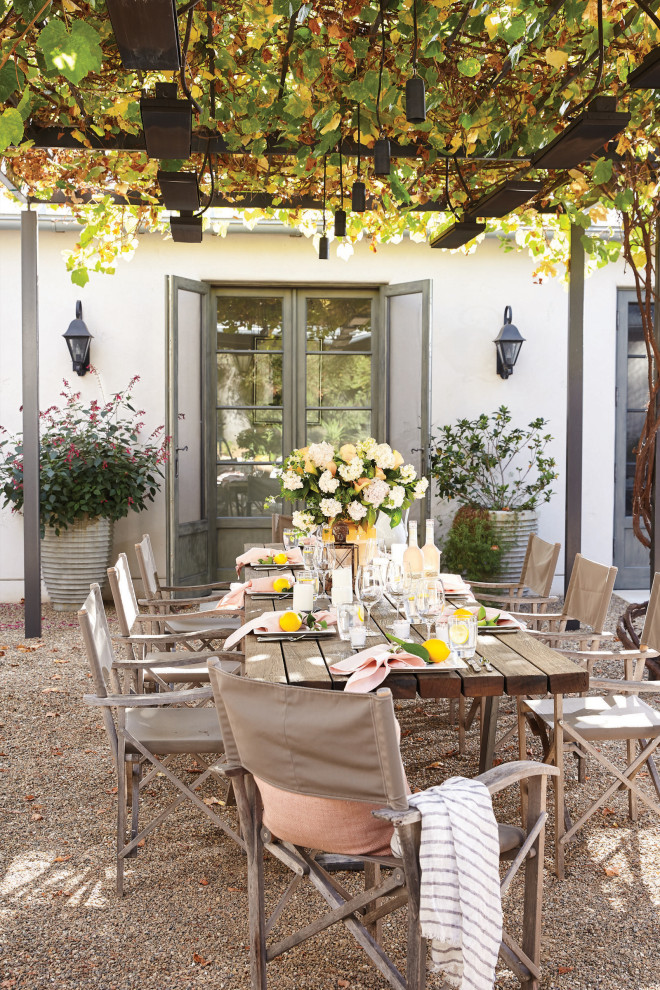 Photo by Fergus Garber Architects
4. Bistro patio
If you search for patio design tips for a compact garden, you could consider a bistro patio. You can easily fit in a small table and a couple of chairs on a bistro patio.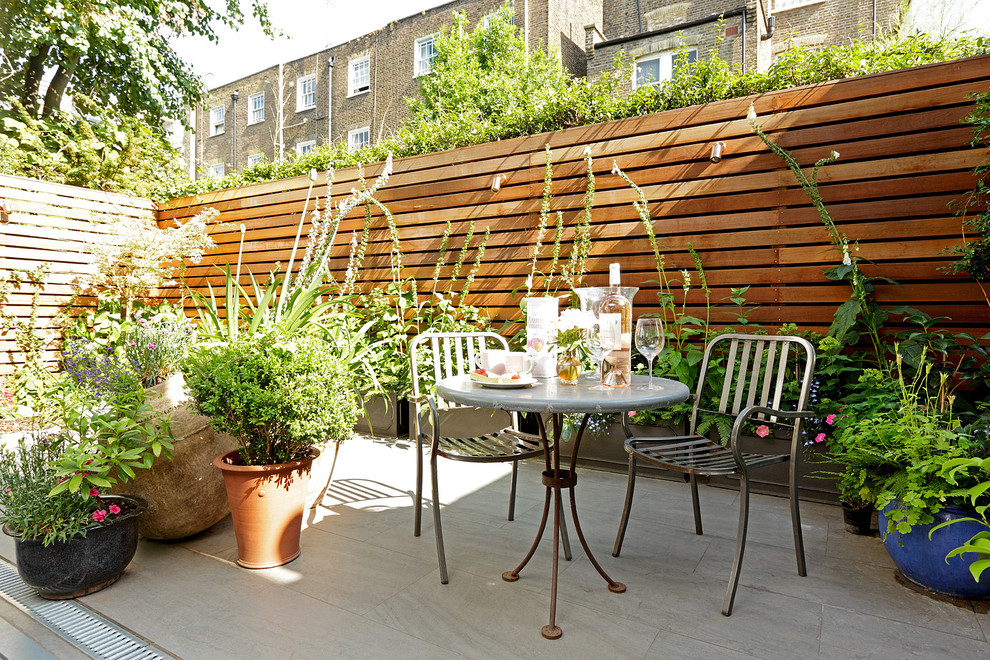 Photo by Cue Group of Companies
A patio of this type can offer you the ideal spot for an outdoor breakfast. You can add a focal point to your bistro patio in a small space with the addition of a wall fountain. You would require a minimum area of 6 foot-by-6-foot to create a bistro patio.
5. Rooftop decking
Rooftop decking is a great way to expand your outdoor living space and add value to your property. It provides a unique and comfortable area to entertain guests, relax, and enjoy the view. You can choose various materials and designs to customize your rooftop deck, from traditional wood planks to modern composite decking. Building a rooftop deck can be a worthwhile investment with the proper permits and professional guidance.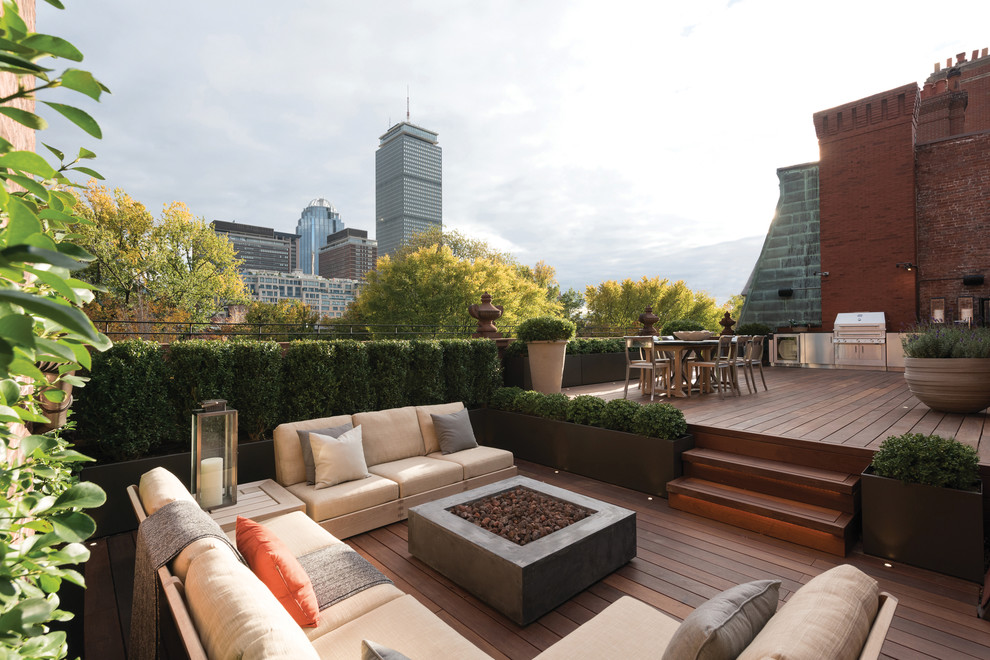 Photo by Jacalyn Gould Landscape Architect
Conclusion
Most people endeavor to create lovely interiors for their homes but overlook the importance of creating well-designed outdoor areas. A thoughtfully created outdoor living space can provide additional functional space to your home.
Patio designs do not only give you outdoors a visual appeal; they are excellent investments that can add value to your home. If you wish to get your patio area designed to reflect your taste and style, please connect with Walnut Ridge Landscape and Design.
2013 © YourAmazingPlaces.com
All materials, unless otherwise noted, were taken from the Internet and are assumed to be in the public domain. In the event that there is still a problem or error with copyrighted material, the break of the copyright is unintentional and noncommercial and the material will be removed immediately upon presented proof.
Back to Top ↑