Kitchen Makeover: 5 Trending Designs That Will Make Your Kitchen a Chef's Haven
Are you ready to take your kitchen from drab to fab? If you're looking for some inspiring and trendy kitchen design ideas, look no further! Whether you're starting from scratch with a full remodel or just looking for ways to spruce up the space, we've got all the tips and tricks to make your kitchen a chef's haven. Read on to find out how!
Open Shelving
Open shelving is becoming increasingly popular in modern kitchens. This type of shelving allows you to store plates, utensils, cookbooks, and other items in plain sight—creating an airy and inviting atmosphere. Plus, open shelving can help save on costs as it eliminates the need for expensive cabinets.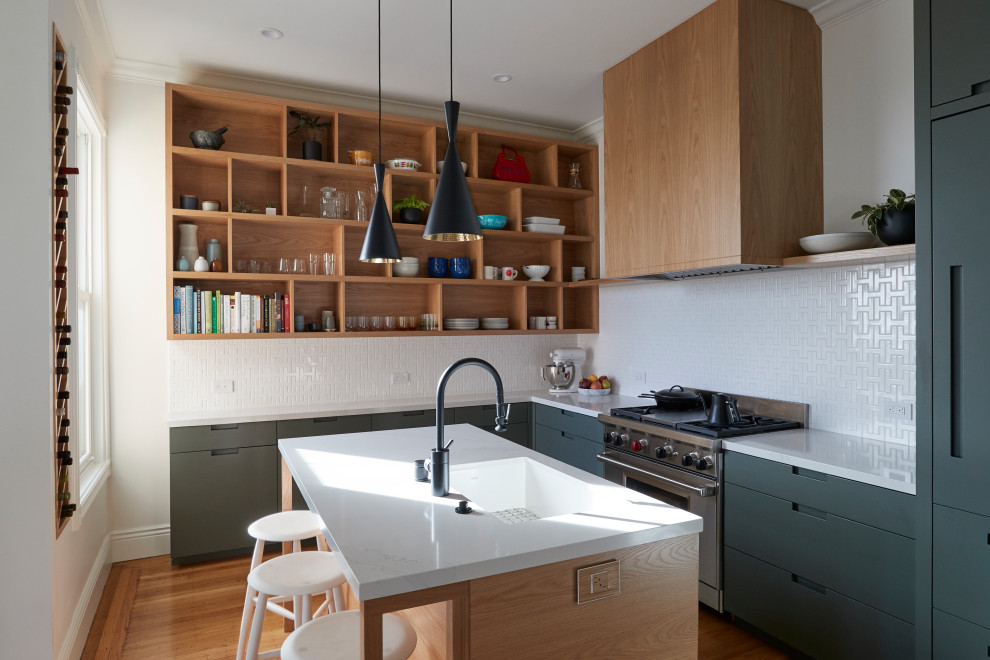 When budgeting for open shelving, it's important to consider the cost of materials and installation. If you plan on DIY-ing the project, take into account the tools and supplies needed as well as your own time investment. However, open shelving can be a great way to cut down on costs since it requires fewer materials and labor than traditional cabinetry.
Additionally, you can often find great deals on second-hand shelves or repurposed materials to further reduce your costs. With careful planning and a little bit of creative thinking, you can make open shelving work with any budget.
Statement Lighting
Lighting is one of the most important elements in any kitchen. Good lighting can add warmth and ambiance while also providing functional lighting for cooking and prep areas. Consider installing statement lighting fixtures such as pendant lights or chandeliers over islands or dining tables. These fixtures will not only provide plenty of light but will also add a touch of style and sophistication to any kitchen.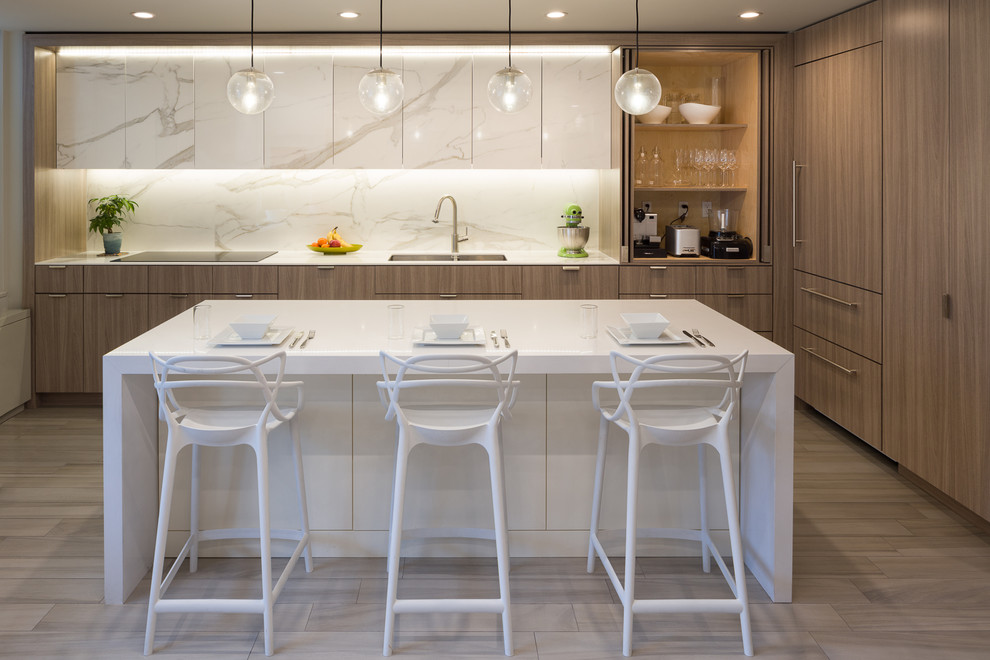 Photo by Alexander Butler | Design Services, LLC
When choosing statement lighting for your kitchen, it's important to consider both the size of the room and the style of your space. Lighting fixtures come in a variety of shapes, sizes, and materials, so you should select one that will fit properly in the area without overwhelming it. Additionally, take into account how much light you need and what type of mood you want to create. Bright overhead lights are perfect for task lighting, while softer warm lights can add a cozy ambiance. Be sure to also consider the style and finish of your fixtures; these should complement the other elements in your kitchen design.
Smart Storage Solutions
The most important aspect of any kitchen design is making sure that it is organized and easy to use. Smart storage solutions like drawers with organizers or pull-out shelving can help maximize every corner of your cabinets while keeping everything neat and organized. Adding baskets or bins can also help with storage while adding a touch of rustic charm. For larger items such as pots and pans or baking sheets, pot racks are both attractive and functional options when it comes to storage.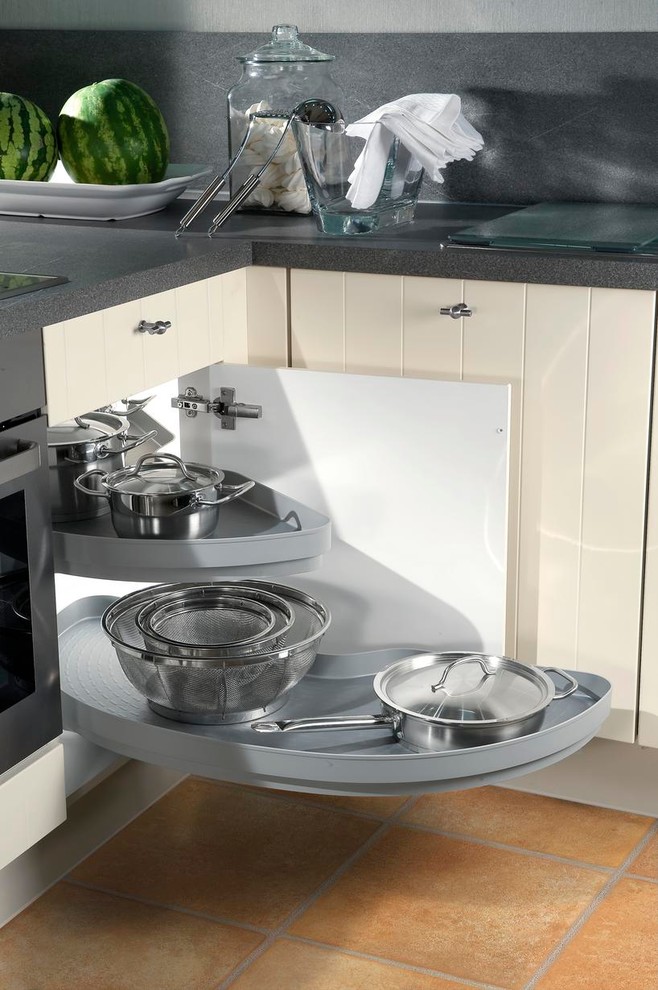 Wooden Countertops
Wooden countertops are a timeless option for any kitchen design. Natural wood adds warmth and texture to the space while also being durable and easy to clean. For a modern take on this classic look, consider dark walnut or mahogany countertops. Wooden countertops can be paired with both lighter or darker cabinets, making them an ideal choice for any style kitchen.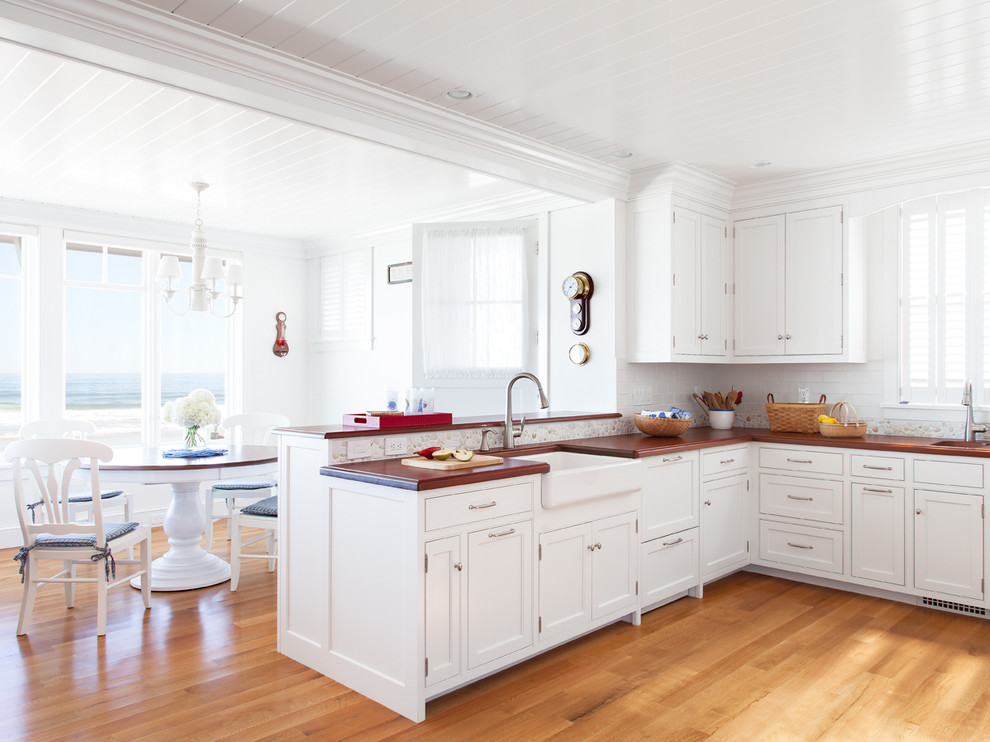 Photo by Maugel DeStefano Architects
Wooden countertops are a great option for any kitchen design, and should be available at any countertop distributor you contact. The best kinds of wood to use in a kitchen countertop depend on several factors, such as the desired look and level of wear-and-tear. Popular choices include walnut, mahogany, and oak due to their strength and durability—but other options like maple, cherry, and teak also bring a beautiful richness to the space. For an eco-friendly choice, bamboo countertops are also an option. No matter which type of wood you choose for your kitchen countertop, it's important to consider how well it will wear over time and how much upkeep is needed for regular maintenance.
Bold Colors and Patterns
If you're looking to make a bold statement in your kitchen, consider adding pops of color or using bold patterns on walls or backsplashes. You can also try mixing colors and textures to create interesting combinations that are unique to your space. From painted cabinets to colorful tile backsplashes, there are endless options when it comes to making a statement with colors and patterns in the kitchen.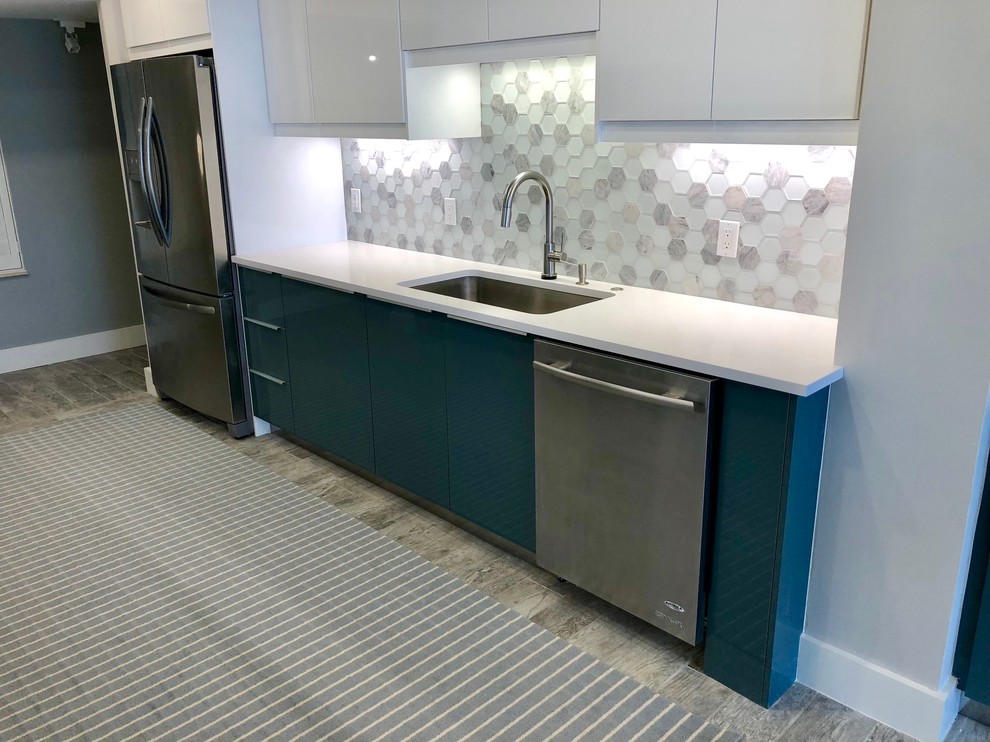 Photo by Dietz & Associates Inc.
Integrated Appliances
Integrated appliances are another popular design trend in kitchens this year. Instead of having bulky appliances sticking out like sore thumbs, integrated appliances blend seamlessly into the overall design aesthetic of your kitchen by hiding behind walls or cabinets with concealed hinges and panels. This makes them easier on the eyes while also helping reduce visual clutter in smaller kitchens. Plus, it can give your kitchen a sleek, sophisticated vibe that has become increasingly popular among homeowners who are remodeling their kitchens.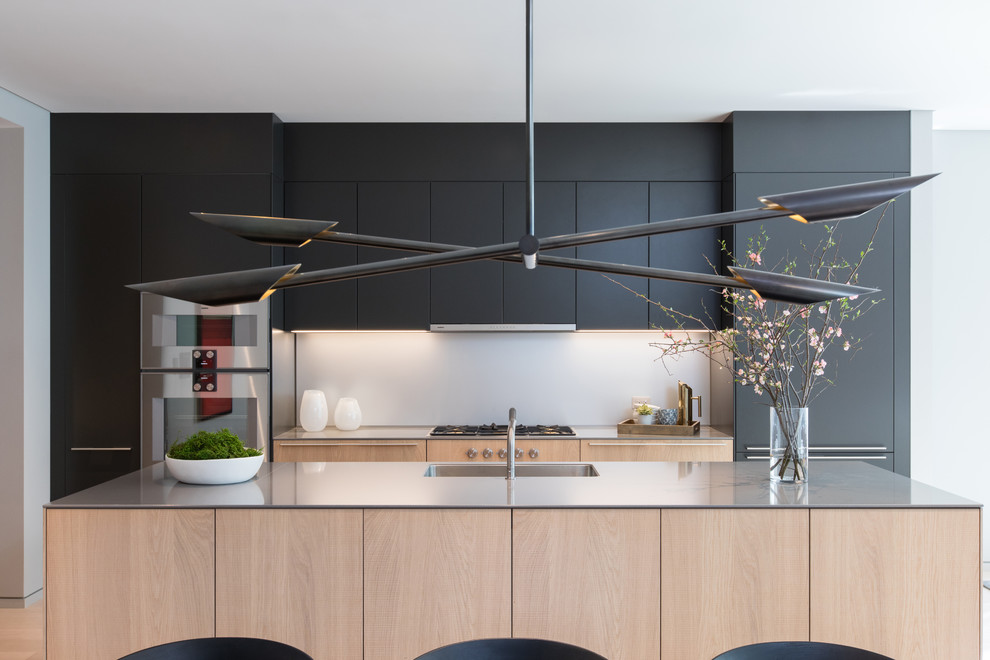 Multi-Functional Islands
Kitchen islands are nothing new—but multi-functional islands sure are! Not only do they provide extra countertop space for food prep or serving meals, but they can also double as a bar area or even seating if you add stools around them. If you're short on storage space in your kitchen, adding additional cabinets underneath the island can help maximize its functionality and really bring the whole room together aesthetically speaking. The great thing about multi-functional islands is that they provide flexibility when it comes to design; you can choose from a variety of materials and finishes based on what works best with your existing decor scheme and budget.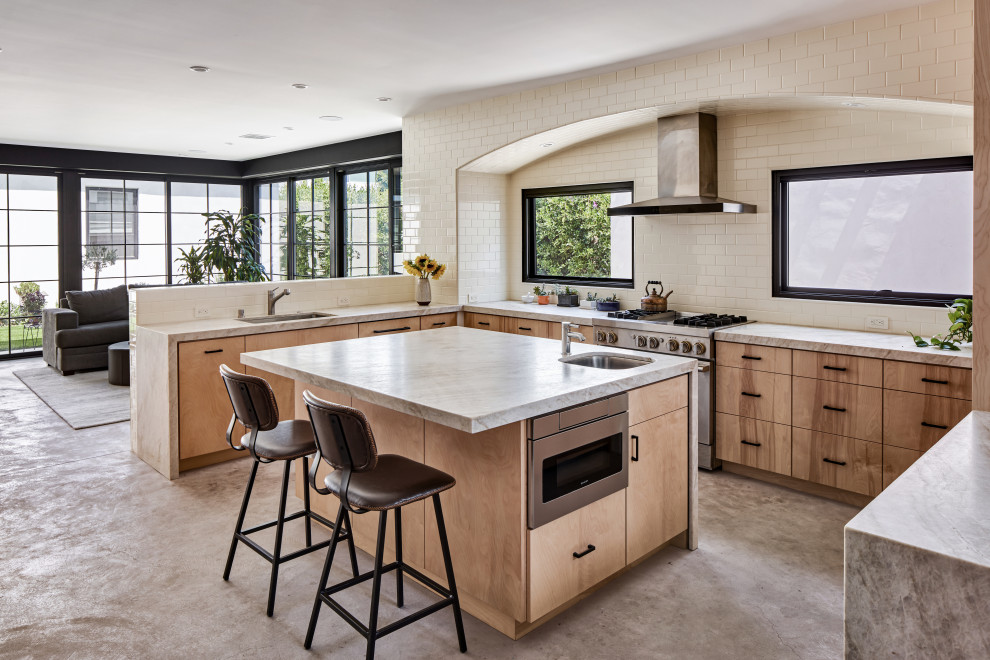 No matter what kind of budget you have or what style you're going for, these trendy design ideas can help turn your kitchen into a chef's haven! Open shelving, statement lighting fixtures, bold colors & patterns; these are just some of the elements that will transform your space into something truly special. With these ideas in mind, you'll be well on your way towards creating a beautiful and functional space that will be perfect for entertaining family and friends alike—all while making cooking more enjoyable than ever before.
2013 © YourAmazingPlaces.com
All materials, unless otherwise noted, were taken from the Internet and are assumed to be in the public domain. In the event that there is still a problem or error with copyrighted material, the break of the copyright is unintentional and noncommercial and the material will be removed immediately upon presented proof.
Back to Top ↑