Kitchenette storage solutions to minimize clutter
Kitchenettes are great alternatives to full-sized kitchens if you live in a studio unit, and they are great if you have a granny flat for guests or in-laws or rent out a room in Airbnb. The challenge with kitchenettes is how small they are, making them devoid of clutter critical. This article will share with you some fantastic storage solutions you can consider during your next home renovation if you want a clean and clutter-free kitchenette.
Multi-purpose dining sets
Space is precious for kitchenettes, and a dining set can make your kitchenette too cramped for comfort. Instead of tiptoeing your way around a space-hogging dining set, get rid of it entirely and replace it with a space-saving dining set.
A drop-down table is an excellent replacement because it won't take up space when you're not using it. Now, if you want to take it to the next level, you can maximize the use of your drop-down table by installing hooks under it where you can hang pots, pans, and other cooking utensils. Eye hooks will do great because they can keep your cookware in place after pulling down your table. Your drop-down table can also double as your pantry or cabinet door when you have it in the upright position to make it dual-purpose.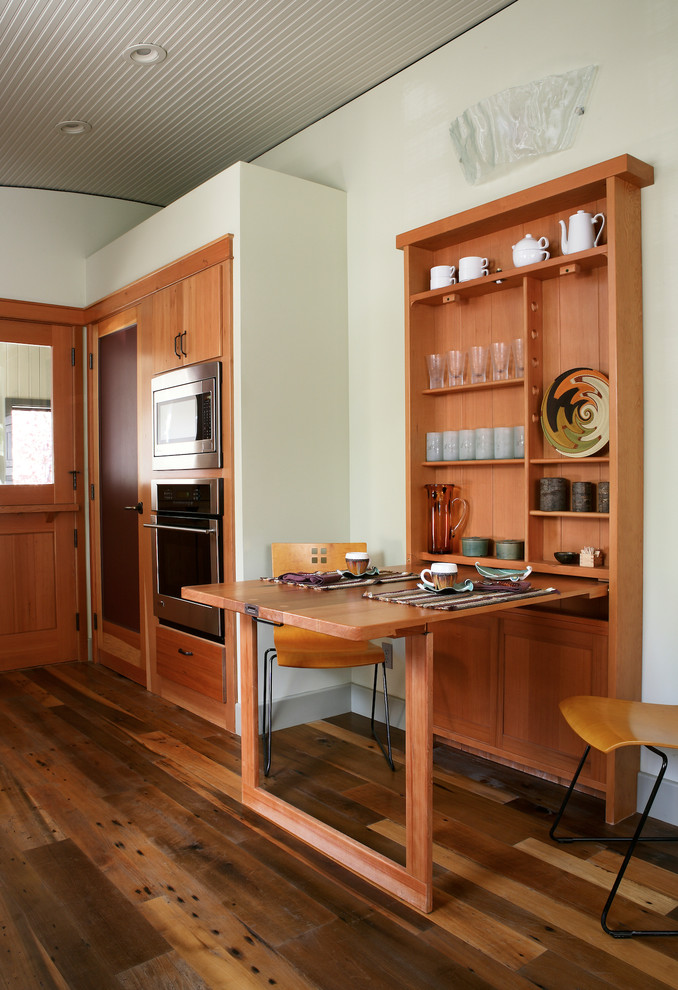 You can partner it with drop-down benches to have a complete dining set. If drop-down benches are not your thing, an excellent and unique alternative is installing swing-out stools. Swing out seats can swivel out of your walls and take up minimal space. Drawers within shelves, or vertical slots, drawer organizer.
A bar cart is another useful implement in your kitchenette. You can use a bar cart as your makeshift pantry or storage space for your dishware. Keep the top portion of the bar cart clear so you can use it as a makeshift table for two. It may be a bit cramped, but it takes up less space than a full-size table. What's even better about a bar cart is you can move it around to change the configuration of your kitchenette. You can also use the bar cart to serve breakfast in bed or if you want to enjoy a movie while eating dinner.
Pull out devices
Taking advantage of wall space is an excellent way to maximize space and minimize clutter in your kitchenette. The best way to accomplish this is to install pull-out devices for your next home renovation. A pull out pantry is one of the most popular options, and for a good reason. Pull out pantries provide you storage space for cooking supplies, utensils and dishware. A pull out pantry is preferable over a cabinet because it lets you see everything inside quickly when you slide it out. With cabinets, it can be difficult to see items on the rear.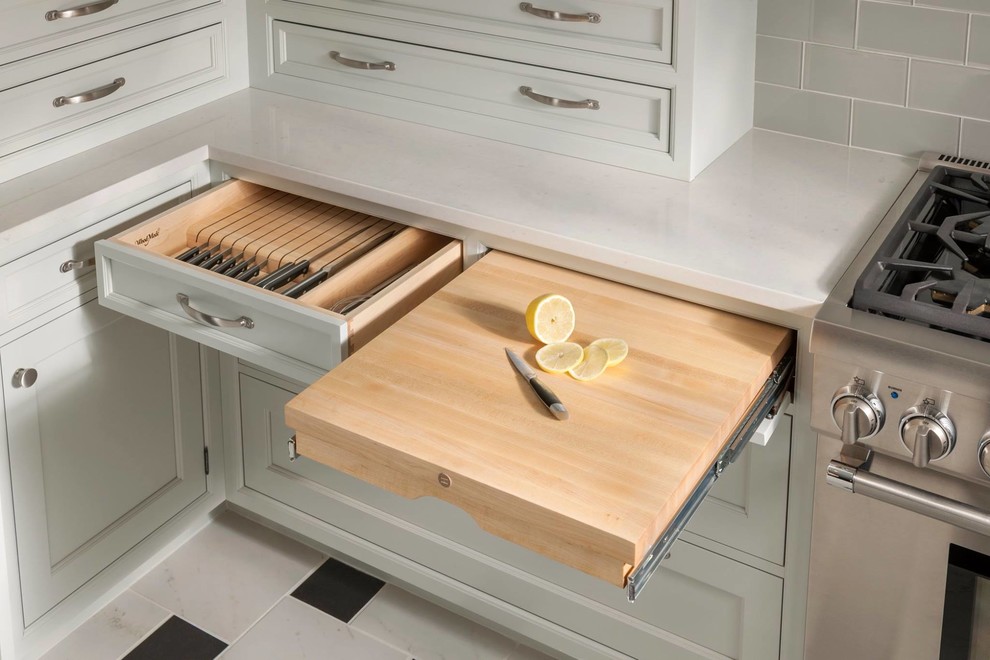 Photo by K&N Appliance Gallery
Aside from pull out pantries, you can also install a pull out cutting board on your kitchenette. Kitchenettes are notorious for having limited countertop space, and a pull out cutting board can provide you with the countertop space you need. You can install your pull out cutting board above your rubbish bin so you can direct vegetable or fruit peelings directly to your bin. You can also use your pull-out cutting board as a makeshift table if you want to make it multi-purpose.
Hang everything
Kitchenettes often just have a cabinet or two, so you end up with minimal storage options. The best way to counter this is just to hang everything. Eye hooks can provide you with enough space to hang pots, pans, and other cookware. What's great about this home renovation idea is you can place hooks just about anywhere in your kitchenette. You can even install hooks on your cabinet doors to maximize space and that is also how draftsman maximize a small space.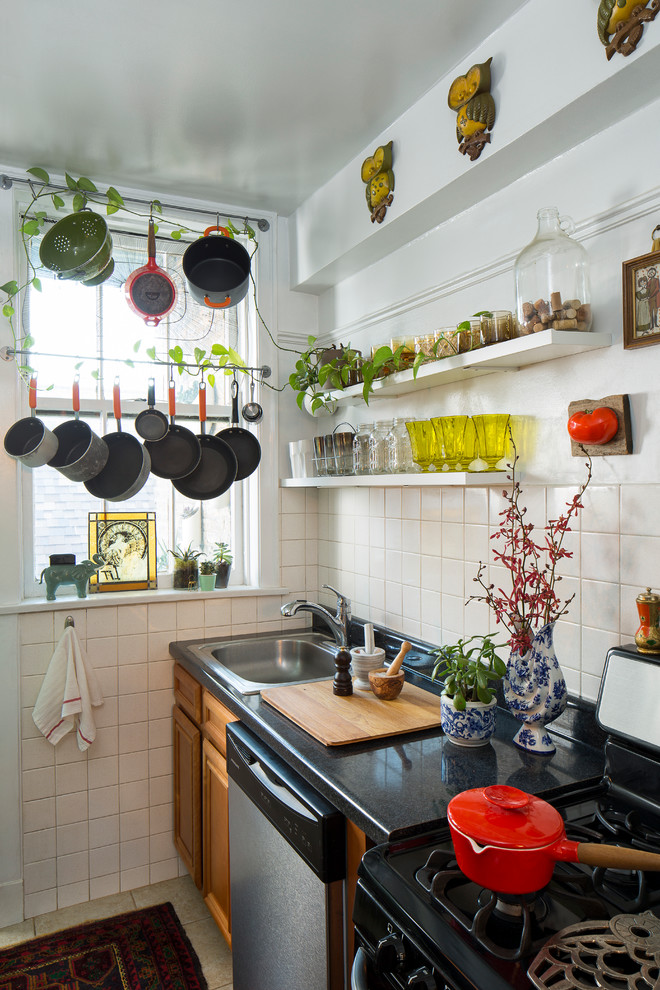 Aside from hooks, you can also install a hanging spice rack so you can keep your spice containers organized. Just because we call it a spice rack doesn't mean you can only use them to store spices, though. You can use a spice rack to store small utensils like spoons and forks, drinking glasses, ladles, tongs, kitchen scissors, etc. You can even use hooks to hang items under your hanging spice rack. Just be sure to secure your spice rack properly to prevent it from falling from too much weight.
Utilizing the ceiling of your kitchenette is also an excellent way to increase your storage options. You can install hooks on your ceiling to hang items. You can use the ceiling to hang things you don't frequently use, so retrieving items won't be too bothersome.
Maximize your shelves and cabinets
Shelves and cabinets are our primary storage options, but we often fail to maximize our spaces to their full potential. We stuff them to the brim and end up with a cluttered jumble of assorted items. Using drawer organizers can make your shelves and drawers, well, more organized. Drawers look better if your items are properly stored and not crowding each other. It also makes it easier to search for items when you have a system of organizing things.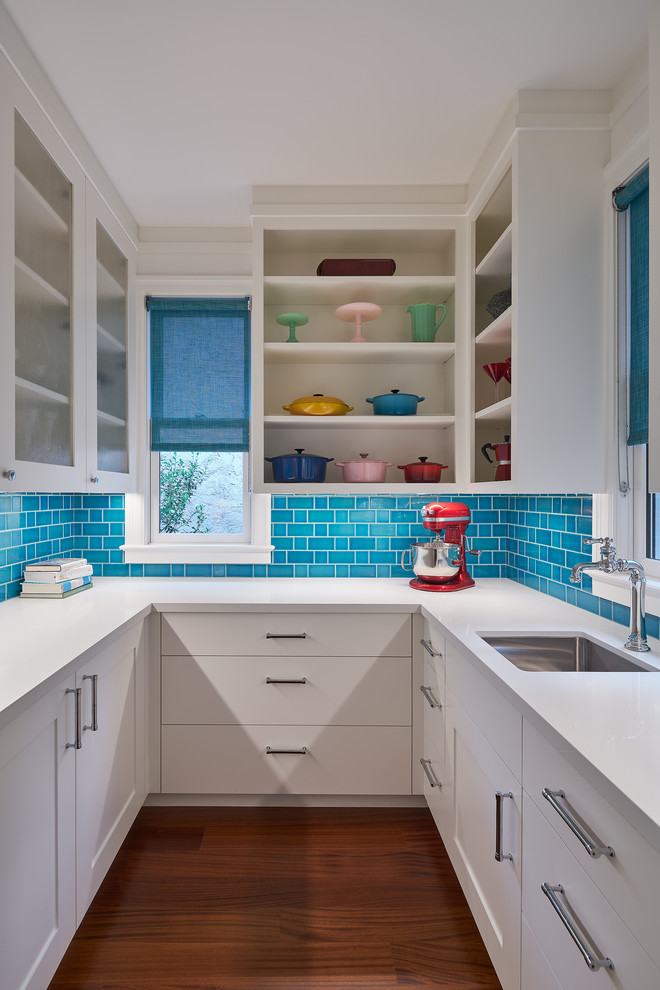 Photo by Rasmussen Construction
Aside from drawer organizers, you can also install vertical separators on your cabinets or drawers. This is a simple home renovation project, and you can use simple pieces of plywood as separators. You can store cutting boards, pans, and even plates upright inside your cabinet with vertical dividers in place.
Use uniform containers
Containers are excellent aides in organizing your kitchenette. You can buy several mason jars, plastic containers or even glass ones and use them as storage devices. You can use them to store spices, cereals, coffee, sugar, cooking oil, condiments and just about anything. They can go a long way towards making your kitchenette clutter-free because you can get rid of oversized boxes or plastic packaging. Containers of uniform sizes and shapes are also stackable, so you can store them on top of each other to maximize space. Aside from having more storage space, uniform containers look great and give your kitchenette a more organized look.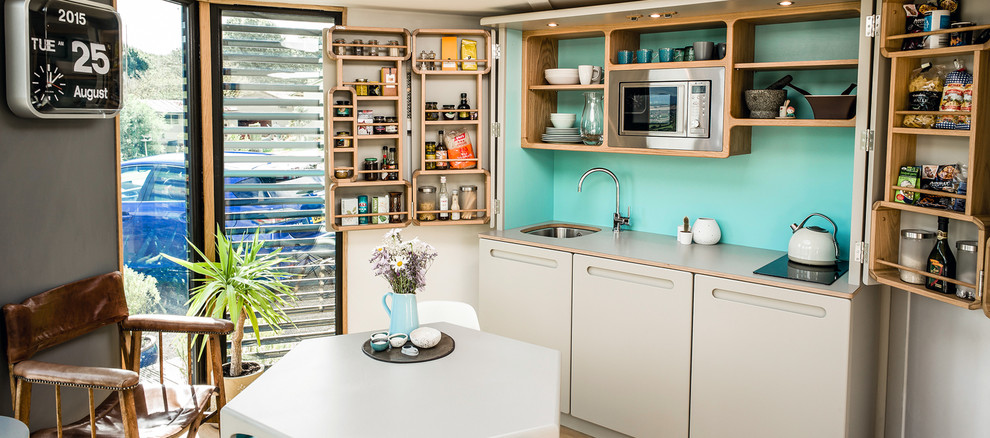 Photo by Culshaw Kitchen Makers
Final thoughts
If you're looking for a worthwhile home renovation project, challenge yourself to make your small kitchen design more organized and purposeful. With the home renovation ideas above, you can prove that you don't need much space to ensure that your kitchenette can serve all your cooking needs while looking fantastic and clutter-free.
If you want to learn about other home renovation projects to transform your home, be sure to follow our blog.
2013 © YourAmazingPlaces.com
All materials, unless otherwise noted, were taken from the Internet and are assumed to be in the public domain. In the event that there is still a problem or error with copyrighted material, the break of the copyright is unintentional and noncommercial and the material will be removed immediately upon presented proof.
Back to Top ↑