Retrofits for a Truly Energy-Efficient Home
In recent times, humanity is becoming more and more aware of the need to preserve the planet and alleviate the negative influences that have been piling up for decades and even centuries. Eco-consciousness has found has found a way into every aspect of our lives, including nutrition, hygiene and architecture. The best thing about it is that not only the planet is benefiting from our increased need to be eco-friendly, but we too, especially when it comes to energy-efficient upgrades in our homes. Besides reducing the carbon footprint we leave, those retrofits are reducing our energy bills and making our lives easier. Here are some things you can do in order to become the part of the change.
The Importance of Having a Plan
Upgrading your house into a truly energy-efficient property might sound as a simple task – you just need to read a few DIY articles and see what is IN this year, and you are good to go, right? Well, no. Before even starting with plans, you have to get an energy audit (an inspection of energy flows) to see what you must do, and what is not necessary. You can do it on your own, if you have the time, patience and persistence, or you can hire a professional to do it for you. Use the results to determine what to do next. If you cannot do it all at once, make a list of priorities.
Photo by NZ Builders Ltd – More contemporary exterior ideas
Prevent the Energy from Leaving Your Home
The basic rules of thermodynamics are pretty simple – if you do not allow the energy to leave your house, you will not have to spend large amounts of money to renew it. You can additionally lower your needs by preventing heat exchange between outdoors and indoors. Obey these rules while upgrading your home. Remember that you should mostly focus on insulation, windows, sealing and ventilation.
Insulate the House
The first, and the most efficient, step towards energy-efficient home is insulation. It will be your barrier both to heat loss and heat gain, and also to enormous energy bills (proper insulation can cut down your energy bills up to 40 percent). It is particularly important to insulate the roof, ceilings, walls and floors. Additionally, insulation can reduce condensation, mould and damp. Depending on the climate, you can opt for one of the two main types of insulation: bulk (cooler climates) and reflective (warmer climate).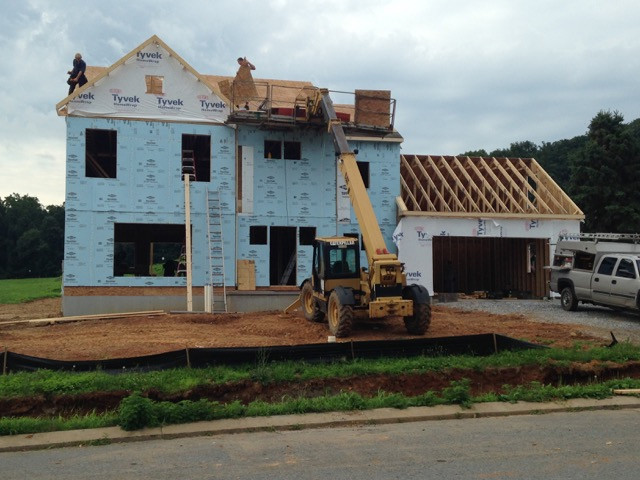 Photo by Norman L Graham Inc – Discover exterior design inspiration
Do Not Forget about the Windows
If you live in an older house, you probably have the traditional single glazed windows which are wasting you a lot of money from your wallet, along with the energy waste from the nature. Replacing them with quality double glazed soundproofing windows is a wise decision which will keep your house cool in the summer and warm in the winter and considerable reduce noise while simultaneously cutting down your energy bills and saving the planet – and you thought Superman is a superhero.
Photo by Jace Architecture – Search beach style exterior design ideas
A Good Ventilation System
Although not as frequently mentioned as windows and insulation, a proper ventilation system is very important for an energy-efficient home. Ventilation controls moisture and prevents mold and structural damage, but it also reduces air leakages. There are three typical kinds of ventilation: natural (cracks and small holes in the house), spot (exhaust fans) and whole-house ventilation (more fans and duct systems exhausting stale air and supplying the fresh one instead).
Photo by Summit Design Remodeling, LLC – More living room ideas
Choosing Between the Benefits
We have already mentioned above how an energy efficient home can improve your life – reduced bills, increased comfort, financial gain, and in the end the increased value of the property. If you cannot invest in all the retrofits at the same time, you must determine which of these benefits is your top priority. If you want to save money on bills – insulation is your best option. If however you value the comfort of a warm/cool house, investing in energy-efficient windows is a better decision.
Photo by Arkin Tilt Architects – Discover rustic exterior design ideas
All of these projects might sound too demanding and expensive, but if you do them one at the time and plan them well, soon enough you will be able to sense the comfort and see visible results on your energy bills.
2013 © YourAmazingPlaces.com
All materials, unless otherwise noted, were taken from the Internet and are assumed to be in the public domain. In the event that there is still a problem or error with copyrighted material, the break of the copyright is unintentional and noncommercial and the material will be removed immediately upon presented proof.
Back to Top ↑