Unusual Home Furniture and Fittings You Probably Didn't Know Existed
The furniture industry has come a long way from the days of wooden tables and chairs. There are now various intriguing designs and furniture that come in all different shapes and materials that can fit into any style of home or space. To create something really special, it is vital to distance ourselves from the typical furniture options and expand our horizons a little bit into the land of unusual furniture. There are many gasp-worthy creations out there which are both functional and aesthetically exciting.
The furniture designs presented here are not only beautifully eye-catching but also multifunctional. Here is the most unusual home furniture you probably didn't know existed.
Reclining Armchair
How many times have you sat in a comfortable armchair wishing you could raise your legs and rest? Well, reclining armchairs do just that. The experts from ChairInstitute.com explain that this type of armchair can recline when you lower the chair's back and raise its footrest. It offers perfect comfort as it features an adjustable headrest, lumbar support, and a footrest that adjusts with the weight and angle of your legs. Modern recliners offer a wide range of selections from models with motors to different shapes and fabrics. A reclining armchair is a classy piece to add to your home office or living room.
Matti Blume / CC BY-SA
Staircase Storage Solution
If your house is always cluttered with toys and things that you don't use every day, then staircase storage is an ideal choice for you. This staircase features a series of drawers stacked together vertically while allowing you to step on them just like regular stairs or a climbing ladder to reach higher compartments. These special staircases offer plenty of room for storage and help to save space without sacrificing the interior design. For your safety, staircase storage always comes with a side rail as well, so there is no risk of falling down the stairs.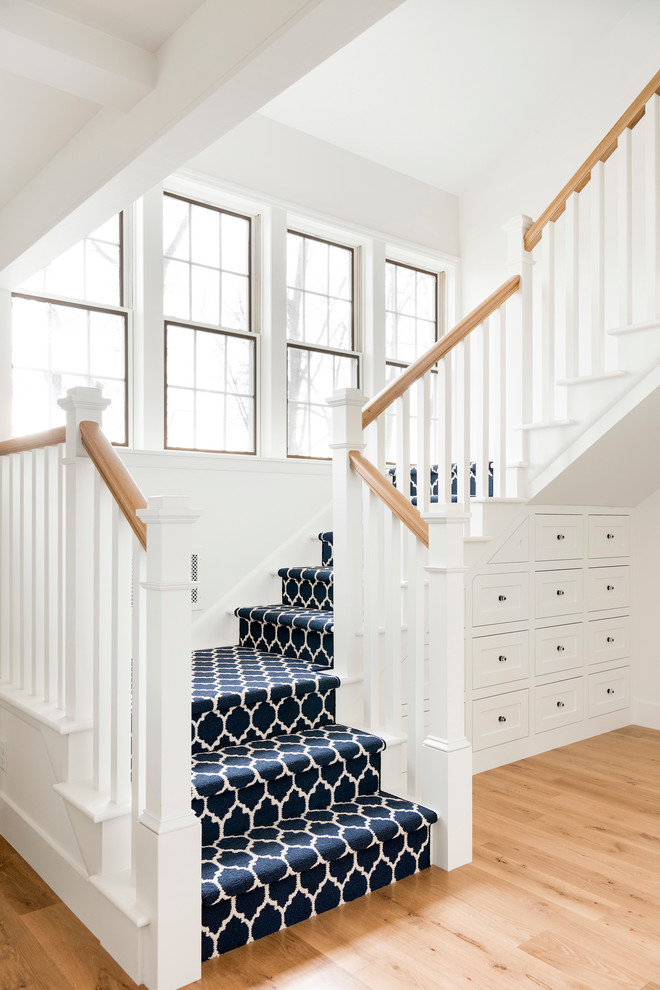 Photo by Beautiful Chaos Interior Design & Styling
Multifunctional Sofa/Dining Table
For modern houses, especially city homes and apartments, there is often not enough room for all the furniture pieces you need. That is why multifunctional pieces like a sofa/dining table are very much appreciated. You can use it as a sofa to chill with a book when you are by yourself and convert it into a dining table with padded stools when your family or friends come over for dinner. They usually come in modern, simple designs that fit into smaller living rooms.
Expandable Mobile Dining Table
You may have a big family or a large circle of friends, but they don't come over every day for dinner. That is why many people are investing in expandable mobile dining tables for when their guests stop by. These elegant tables can expand to accommodate anywhere from two to eight guests depending on how much you expand them. Now you don't have to struggle to find a place for your guests to sit when they unexpectedly come over.
Expandable Capstan Table
An expandable capstan table will be sure to fascinate your family and friends. Who would've thought a simple and classy design hid a marvelous secret. Like the mobile dining units, capstan tables can expand from a small coffee table to a much larger one while still retaining their circular design. We are always looking for ways to maximize the potential of our furniture whilst minimizing the amount of storage it takes up so these tables are ideal.
REK Bookcase
These bookcases look like they have come straight from the future. The simple and modern REK bookcase grows as you add more books to your collection. You don't have to worry about bigger or smaller books that won't stay in your bookshelf, because this bookcase was made to fit any book sizes. We are not all lucky enough to live in a mansion with a grand library, but a REK bookcase is the next best thing.
Ping Pong Door
If you are a big fan of Ping Pong but your partner doesn't want a table in the house, show them this genius invention and you may just change their minds. These beautiful doors can instantly transform into a ping pong table which is perfect for small apartments or homes which cannot accommodate a full-size table. All you need now is a couple of balls and paddles!
These unique pieces have proved that furniture and home fittings don't have to be boring, they can be a true extension of your personality, whilst also offering multifunctionality. When guests to your home see some of these pieces, your home will be the envy of all your friends and neighbors.
2013 © YourAmazingPlaces.com
All materials, unless otherwise noted, were taken from the Internet and are assumed to be in the public domain. In the event that there is still a problem or error with copyrighted material, the break of the copyright is unintentional and noncommercial and the material will be removed immediately upon presented proof.
Back to Top ↑