5 Essentials for Your Makeup Vanity
There's something special about having a vanity area. The space has always been associated with glamour and self-care. Women who do their skincare and get-ready makeup routine here become even more beautiful and confident.
Everyone has the right to feel this. By having a dedicated vanity, you'll be able to carve out some time for yourself and work on your self-love. If you're interested in creating your own makeup vanity, here are the essentials.
Vanity table and chair
Your vanity area should feel cozy so that you're excited to sit and spend your time there. A comfy accent chair can do just the trick! You can go for a small bench or stool or one with a back for extra support.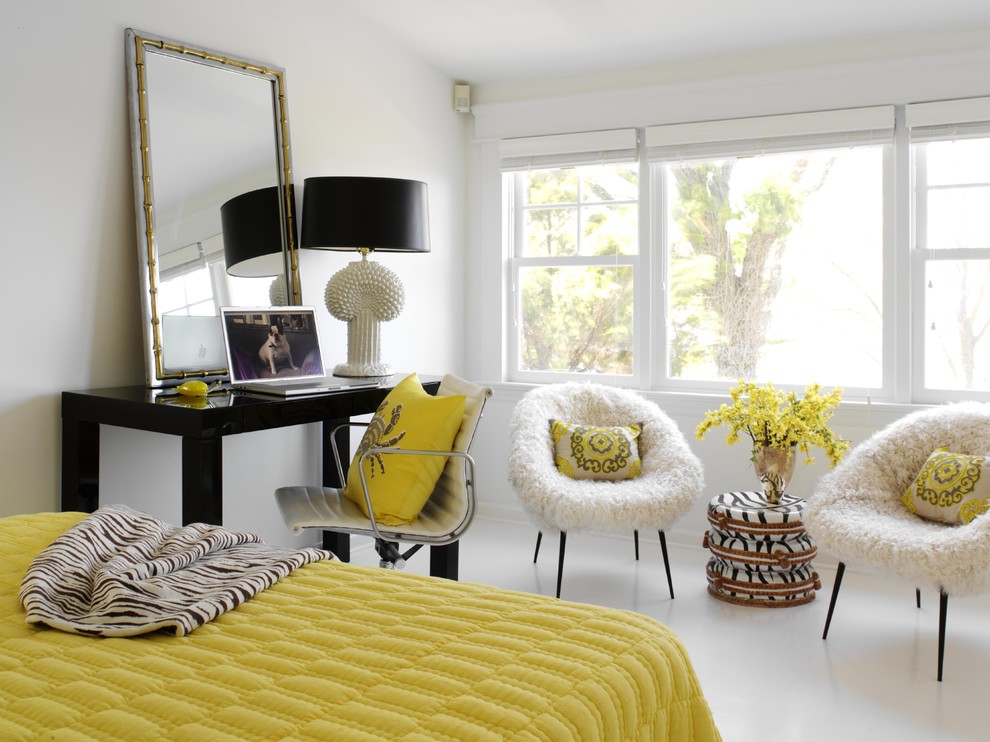 Photo by Tara Seawright Interior Design
Together with a chair, a vanity table is just as essential. From traditional to contemporary, vanity tables come in all shapes and sizes. When choosing a table, look for one that has ample surface space for displaying and storing your hair care products and cosmetics. However, you don't want your items piling up in your vanity area, so get a table with some drawers to help hide things you don't feel like displaying.
Lighted mirror
A vanity isn't a vanity without a gorgeous mirror. You want a mirror large enough to reflect the light in the room. While not all rooms are well-lit, you can always go for a lighted mirror. There are old-school Hollywood mirrors with LED bulbs around them and high-tech lighted mirrors with advanced settings such as light adjustments and magnification.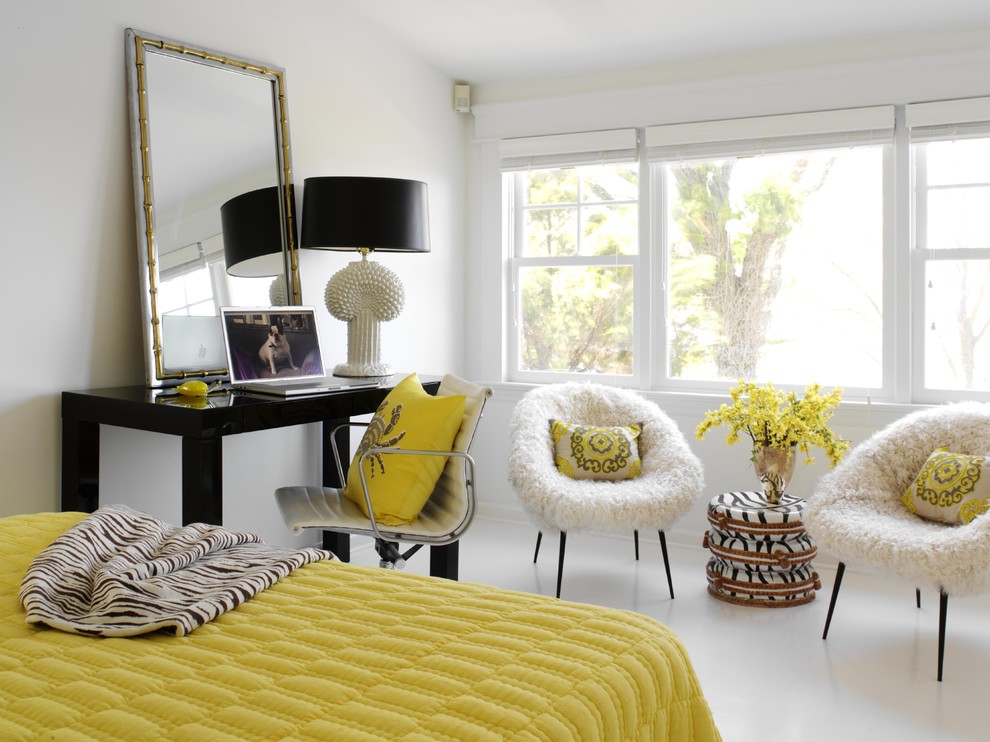 Photo by Tara Seawright Interior Design
Whether the style of your vanity is a dramatic antique or sleek and modern, there is a mirror that fits your style.
Organizers
A cluttered vanity area isn't pleasing to the eye nor a calming presence. Organizers and storage are essential in keeping your makeup vanity neat. You don't have to buy new organizers as you can find items in your home that can store your beauty items.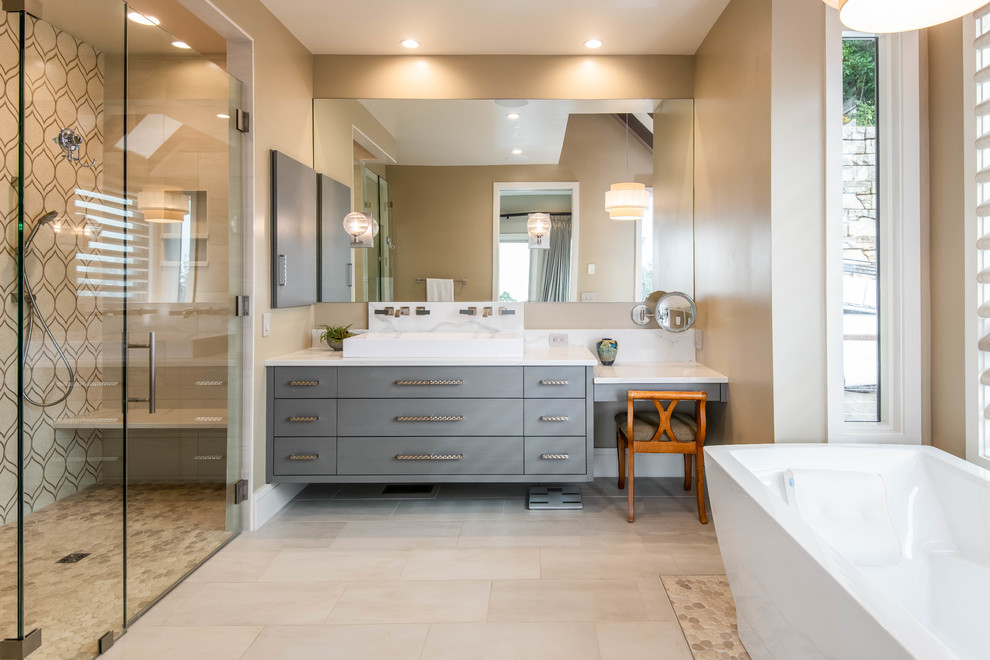 Photo by Living Stone Design + Build
If your vanity has a boho style, rattan storage boxes and baskets are perfect for bringing in a natural touch. Mason jars are great for holding hair accessories and makeup brushes. At the same time, small boxes and trays can store some of your tools and cosmetics.
Skincare and makeup products
What's a vanity area without your skincare and makeup products? This is where you can store all of your skincare to get clear skin, like cleansers, facial sprays, and face masks. From concealers to lipsticks, your beauty vanity is home to your makeup products.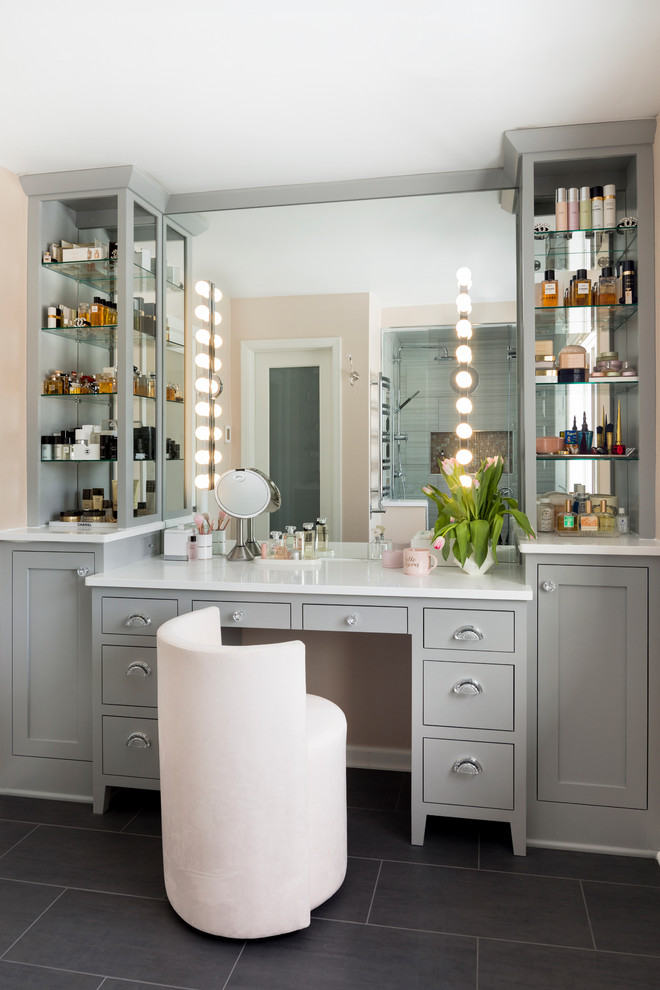 While you're getting ready, all of your products must be within reach so that you aren't going around and scrambling for your eyeshadow or night cream.
Cotton pads
A makeup vanity is known as a place to doll up and get ready, but it's also an area for getting unready. It would be best to have cotton pads in this area. Used with an oil cleanser, they're the easiest way to take off your makeup and get rid of all the grime that's been on your face all day. Get a pack of reusable cotton pads for a more sustainable alternative.

Treat Yourself to an Exquisite Vanity
By taking the time to apply makeup and do your hair, you're already carving some time for self-care. It's best to do these tasks in a dedicated area where everything you need is within your reach. For some, a vanity with extravagant Hollywood mirrors and numerous products stored in it may be a childhood dream, but a makeup vanity doesn't have to be so fancy.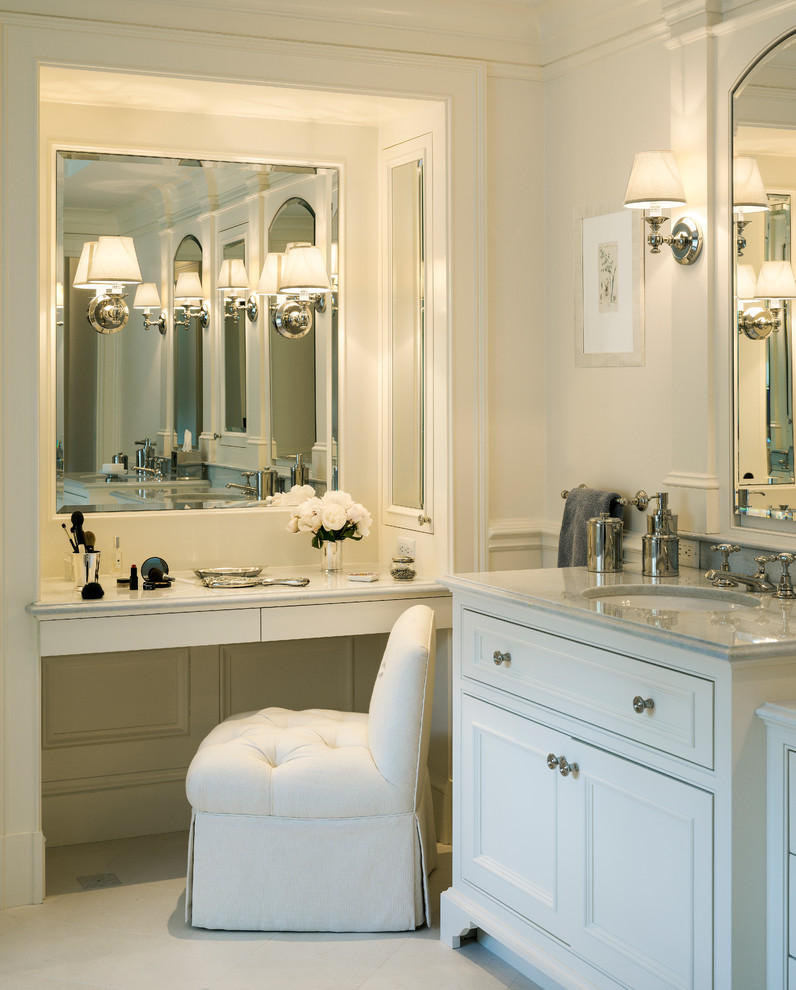 Photo by Jan Gleysteen Architects, Inc
You can start by simply having a mirror on a table and chair set up in a well-lighted place with all your products in baskets, and that can be your vanity as a beginner. As time goes on, you can slowly build your dream vanity and feel pampered to the fullest.
Penelope Martinez is a content marketer for Garnier Philippines. She's a beauty enthusiast and an advocate of sustainability. Penelope enjoys traveling, listening to music, spending time with friends, and discovering new skills in her spare time.
2013 © YourAmazingPlaces.com
All materials, unless otherwise noted, were taken from the Internet and are assumed to be in the public domain. In the event that there is still a problem or error with copyrighted material, the break of the copyright is unintentional and noncommercial and the material will be removed immediately upon presented proof.
Back to Top ↑