7 Compelling Ideas to Decorate Small Places
We think that only large houses with fancy furniture and a huge investment can look enchanting. However, there are ways through which we can turn the outdated look of our cottages and houses into a luxurious home setting. I have outlined some most amazing ways to transform your small places into mesmerizing and modern spots. There are many fun-filled interior practices, which you should implement to do wonders with your owned furniture. Apart from replacing old furniture, you can be a little crafty to alter its usage completely. However, small places are not that difficult to renovate and optimize.
Take a look below and treatyourself with successful ideas.
Use Smaller furniture
There is no need for you to tolerate that outdated sevenseater when you have a family of five. Get away from unwanted furniture and try to bring small items- items that take up less space. Modern furniture are designedhaving such intricacy and artwork which makes them able to acquire lesser space and enhance the look of the room altogether. You should ditch your wardrobe and go for lower beds and light fixtures.
Photo by Lisa Petrole Photography
Incorporate Bold Colors
There is a psychology with every color you mind. Light colors portrays a dull look and bold colors exhibits a modern feel. No matter how much tedious your furniture could be but a well-painted wall having vibrant color theme will ultimately uplift the overall feel of the room. Hence,for your bedroom and kitchen try to paint the walls or texture them using blue's, orange or any shade of violet.
Photo by Mandeville Canyon Designs
Use Mirrors To Enhance The Look
Mirrors work well with small places. You can place large or small mirrors at the end of the doorway, in the bathroom or in the living are. It will enhance the look of your room and give it an expanded feel. Just back splashing you small living area or kitchen will help to create wonders. It will double the space and creates an illusion of more space.
Photo by CWB Architects
Use Organizers
Organizing the small spaces of your room is truly a challenging and tiring task. Nevertheless, it can become easier by having organizers fitted across your room or around your house. Small sections, drawers or places to keep the tinny objectives will help you greatly in keeping the house neat and well maintained. Buy products like key holder, shoe shelves, cutlery stand and hangers to put away stuff at the proper places.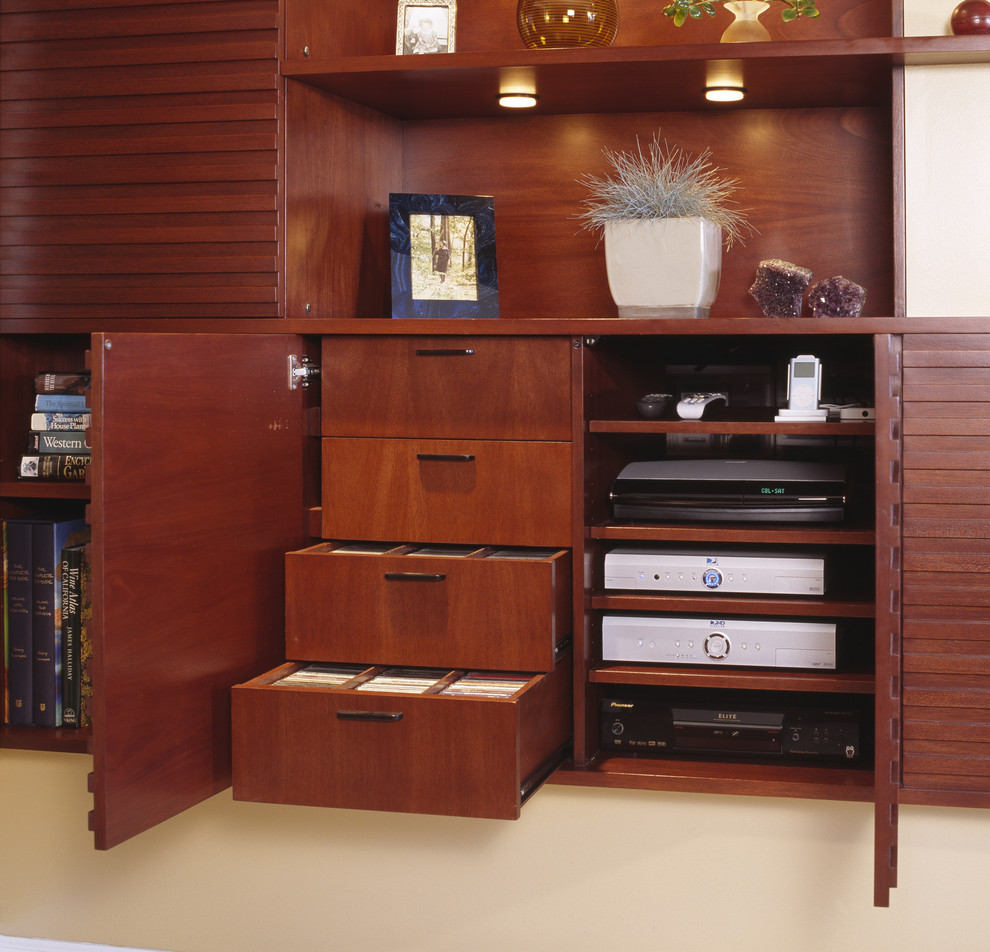 Photo by InHouse Design Studio
Use Every Possible Storage Place
Try to use every possible storage area of your house. Use as many drawers as possible. You can built more spaces for large items in your kitchen by fixing cabinets of multiple shapes and sizes. However, try not to over-equip your place with drawers. You need to be creative and smart. Use sliding drawers and cabinets it will free more space and will look modern too.
Use Area Under The Staircase
The area under the stairs are used with many intelligent storage solutions. You can build wall-fitted cabinets, bunkers, wardrobe or even fancy shelves.  The small spaces can be decorated in a way that it enhances the look of the living room. If you smartly choose the set of furniture, color schemes of the wallor even send some time in evaluating the purpose that the space could serve  would surely going to benefit a lot. People also go for creating a workstation in that space as well.
Use Hanging Lamps Or Wall Fitted Lights
To free up more space you can buy some sleek and fine hanging lamps and wall fitted lights. No need to buy bulky large lamps or a huge light piece. Small and beautiful lamps can make your room look more enchanting.
Wrapping up
Scaling down the rooms of your house, whether it is a living space or the bedroom is truly a challenge. However, remember that whenever life gives a situation, whether it is going for asking help with dissertation for freeing up your space you have to be practical and determined. Choose the best solution idea and go for experimenting different aspects of deigns in your house. You only have to reevaluate and re-imagine the possible solution with the small place you have been thinking to redecorate. Consider it as a project and take baby steps. Do not go directly is throwing off your large furniture all at the same time. First, know your budget and draws a list of changes you could like to make. Consult some helpful sites offering interior ideas and incorporate them in your draft.
You are not born being a designer, you might take some not-so-good decision. However, it is ok to be wrong then to do nothing and just getting more perplexed and stressed. Own the reality and work to enhance what you have.
2013 © YourAmazingPlaces.com
All materials, unless otherwise noted, were taken from the Internet and are assumed to be in the public domain. In the event that there is still a problem or error with copyrighted material, the break of the copyright is unintentional and noncommercial and the material will be removed immediately upon presented proof.
Back to Top ↑