How to design your bathroom in a practical way?
A bathroom should feel clean and spa like. If it does not it is time to learn how to design your bathroom in a practical way to give it this feel. After all, the bathroom is the spot people find relief and pampering comfort after a long hard day or whenever they are trying to wake up and get going in the morning. To help design the bathroom in a practical manner following these steps can help.
Create a Budget
Creating a budget can help design a practical bathroom that will not break the bank. The budget needs to include:
Flooring if Necessary
Lighting and Bathroom Fixtures
Paint or Wallpaper
Décor Pieces such as Shower Curtains, Bathroom Mats, Towels, Wall Art
Toilet if Necessary
Bathtub if Necessary
Shower if Necessary
Image by Irvine Interior Designers & Decorators International Custom Designs
Once this is a list of all the items necessary to redo the bathroom, go to some stores that carry bathroom remodeling materials and checkout the prices. Choose bathroom-remodeling materials that fit within the budget created. It is also wise to add in emergency cost into the bathroom remodeling project just incase water damage is found or other unexpected issues come up.
Decide to Hire Professionals to do the Remodel
If you're not sure how to design your bathroom in a practical way and it sounds like a daunting task it might be wise to hire professionals to come in and remodel for you. Professionals have years of experience and can save time and money. Homeowners that are inexperienced and tackle projects such as these kinds end up not having the proper tools, skills or time to complete a redesign of a bathroom, which causes frustration and sometimes unhappy spouses, family members and roommates. If the homeowner has the experience and no time it is wise, to consider hiring a professional to redo the bathroom anyways so the bathroom can feel like a clean place to get fresh again as soon as possible. Long dragged out project are unnecessary.
Image by Vail Interior Designers & Decorators Casey St. John Interiors
Figure out What the Bathroom Truly Needs
Sometimes redoing a bathroom in a practical way does not necessary mean gutting the entire bathroom out and starting from scratch. Sometimes all that is necessary to help freshen up the bathroom is a new paint job on the walls, refreshing of grout work along the bathroom tiles, a new floor, maybe even a new sink, toilet or shower. If storage is a problem, figure out how to add in more cabinet space or shelving. If pipes are leaking under the sink, it is time to hire a plumber, get the situation solved before it gets worse, and maybe even consider buying a new sink vanity if damage has occurred to it. Maybe add in new bathroom fixtures just to add a fresh new look to the room. Even changing out the bathrooms décor pieces and adding in new bath towels with jars of bath soaks and lovely scented candles can help add a new look and spa like feel to the bathroom.
Image by Sioux Falls Design-Build Firms Jarrod Smart Construction
Bottom Line for How to Design Your Bathroom in a Practical Way
Always keep in mind that budgets help keep bathroom redesigns practical and affordable. If hiring a professional to help redesign the bathroom is a must consider hiring Bluewater Plumbers Ltd for help. The company provides all kinds of services to homeowners such as bathroom repairs, bathroom revamps, and simple bathroom redesigns on a budget. Lastly, remember that sometimes bathrooms do not need a complete gut to achieve a new look, but sometimes just a simple splash of fresh paint on the walls with some new décor and fixtures instead.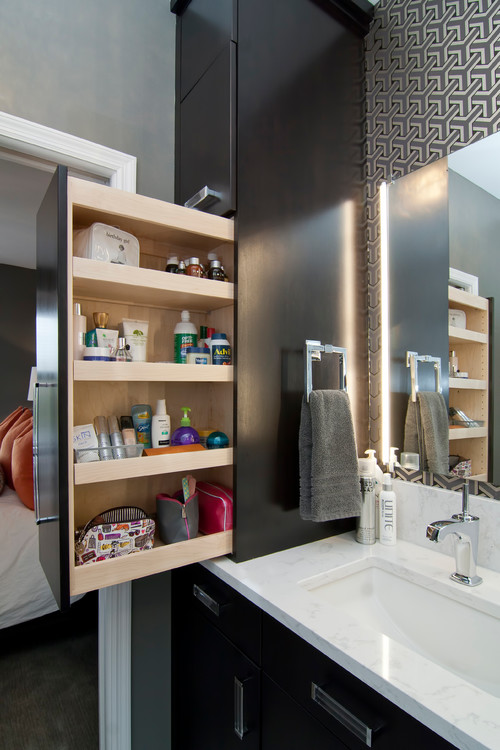 Image by Lakeville Design-Build Firms College City Design Build
2013 © YourAmazingPlaces.com
All materials, unless otherwise noted, were taken from the Internet and are assumed to be in the public domain. In the event that there is still a problem or error with copyrighted material, the break of the copyright is unintentional and noncommercial and the material will be removed immediately upon presented proof.
Back to Top ↑