Home Improvements: Modernising an Outdated Kitchen
From multiple images pinned to a Pinterest board to folded page corners in your favourite home magazine, everyone has a different version of how they imagine their dream kitchen to look. Doing a full-scale renovation can seem like a daunting task and may not be within the current budget however this does not mean you are at a dead end. Here are some easy ways you can update your outdated kitchen.
Cabinet Renovation
Although it may seem like a lot of effort, painting your cabinets is one of the easiest and cheapest ways to transform your kitchen. Depending on your wall colour, you can opt for almost anything, from a dramatic black to a soft grey or go bold to add a pop of vibrancy to cover up the outdated wood and dingy colour. If you feel your cupboards are too outdated that even a lick of paint couldn't save them, why not consider replacing just the doors if the framework is still in good condition? Many companies specialise in just the replacement of cabinet doors providing you with a variety of options and designs to choose from.
If the basic structure of your kitchen is in good condition, replacing the cabinet handles is a simple and cost effective way of changing the look of your kitchen. Leather or brass handles are particularly popular right now and go with anything.
Worktop TLC
Your worktops are a large portion of real estate in your kitchen so replacing your existing worktops will dramatically change the overall look and feel of the kitchen, as well as restoring a sense of hygiene and cleanliness. In recent years, designers have become increasingly creative when it comes down to worktop materials and the use of heavy-duty, industrial materials in the home has become.
Give People Somewhere to Sit
For many households, the kitchen is the busiest area where the family tend to congregate in. With this in mind, modern kitchens are typically built with a seating area or island bar as a way of embracing the community of a kitchen. A great way to add seating to a kitchen without compromising space is to add some countertop bar stools to create the feel of a casual breakfast bar. The visual aesthetics of contemporary furniture such as modern bar stools will also automatically update your kitchen. Alternatively, adding an L-shaped sofa or window bench to the room will give your kitchen a whole new appeal as well as creating a communal space for family and friends.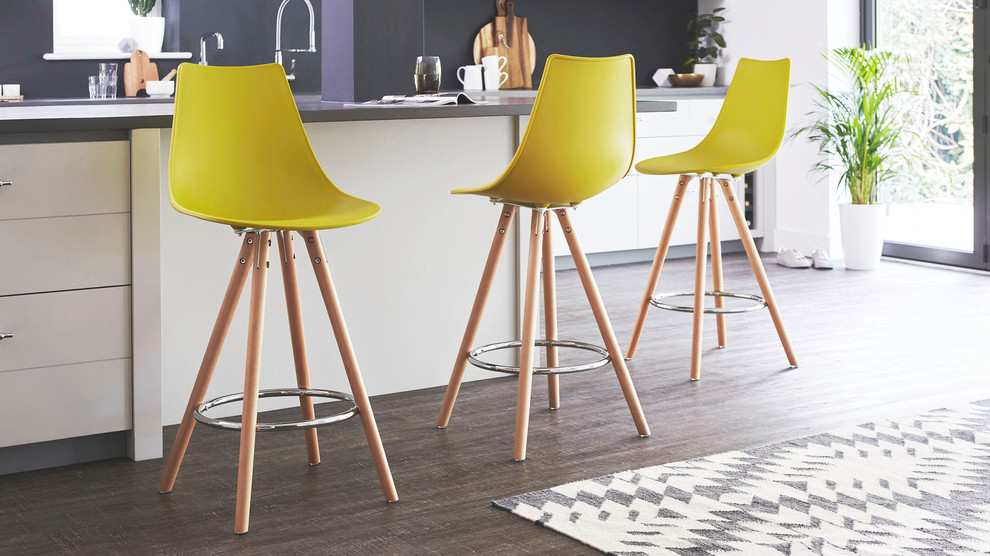 Shop kitchen and bar stools on Houzz
Wall Art
Bring your kitchen to life with a display of colourful wall art. Not only will this add an eye-catching playful personality to your kitchen, but it is also a smart way of covering up an old-looking mundane wall without having to re-paint it.
Photo by Penguin Random House, LLC
If you are short of storage and want to create a work of art, invest in a spacious ceiling rack to hang your big and bulky pans and utensils. This is a great way of making a kitchen focal feature as well as utilising your space and creating a rustic vibe.
Lighting
A good lighting scheme has the power to transform an ordinary kitchen into something truly spectacular. Now that kitchens have become the forefront of our homes, the lighting must cater for a multifunctional space of dining, relaxing, socialising and entertaining as well as cooking.
Installing under-the-cupboard spotlights directly above the hob, sink and cooking area is a great way to incorporate focused task lighting in your kitchen in a modern and visually pleasing way as opposed to having one main light in the centre of the kitchen.
If you have decided to include a kitchen island or dining table in your kitchen, soft light elements are a great way of adding a modern focal point. Adding LED strip lights under the breakfast bar and cupboards give the illusion of a floating kitchen as well as being super affordable and easy to apply.
Photo by Slifer Designs
Statement lighting such as oversized metal pendants are the perfect way to modernise your kitchen.
Furniture
As well as introducing contemporary furniture into your kitchen, you can add an alternative modern feel with vintage furniture which gives an industrial slant to the design. Visit your local charity shops or car-boot sales to find some hidden vintage gems.
Photo by R.Z.Owens Constructions
Nature
What better way to add life to your kitchen than by literally adding life? Bringing nature into the workplace is an effective way of creating a calming and uplifting environment. Not only do plants add a point of interest and colour to a mundane room, they also help to improve air quality by removing unwanted toxins. It's important to note that indoor plants require very low maintenance, so they are a great addition to the home. Keep them near a natural source of light for maximum longevity.
Photo by Vastu Interior Design Ltd
2013 © YourAmazingPlaces.com
All materials, unless otherwise noted, were taken from the Internet and are assumed to be in the public domain. In the event that there is still a problem or error with copyrighted material, the break of the copyright is unintentional and noncommercial and the material will be removed immediately upon presented proof.
Back to Top ↑