How Do You Modernize a Patio?
If your patio doesn't have the modern feel that you're going for, there are a number of ways that you can modernize it to be more comfortable, accessible, and on-trend. Many aspects go into the overall look and function of a patio, and all of them can be changed into a more contemporary style by making the right choices.
Invest In Your Patio Furniture
The most noticeable aspect of a patio, other than its size, is the furniture on it. The biggest factors likely making your patio look dated could be furniture made in 1970s or 1980s styles. That might be materials like strap seat chairs or ripple glass round patio tables. It might be dated colors like lime green or dark yellow. Stay away from bows and fussy fabrics designs. By contrast, even rustic furniture made with reclaimed wood can have a more modern feel because the material is in style.
To modernize your patio furniture, get pieces that have clean lines and angled shapes. Modern furniture also has a minimalist aspect to it. Having each piece in the shape of a square or rectangle is a great way to bring in modern style.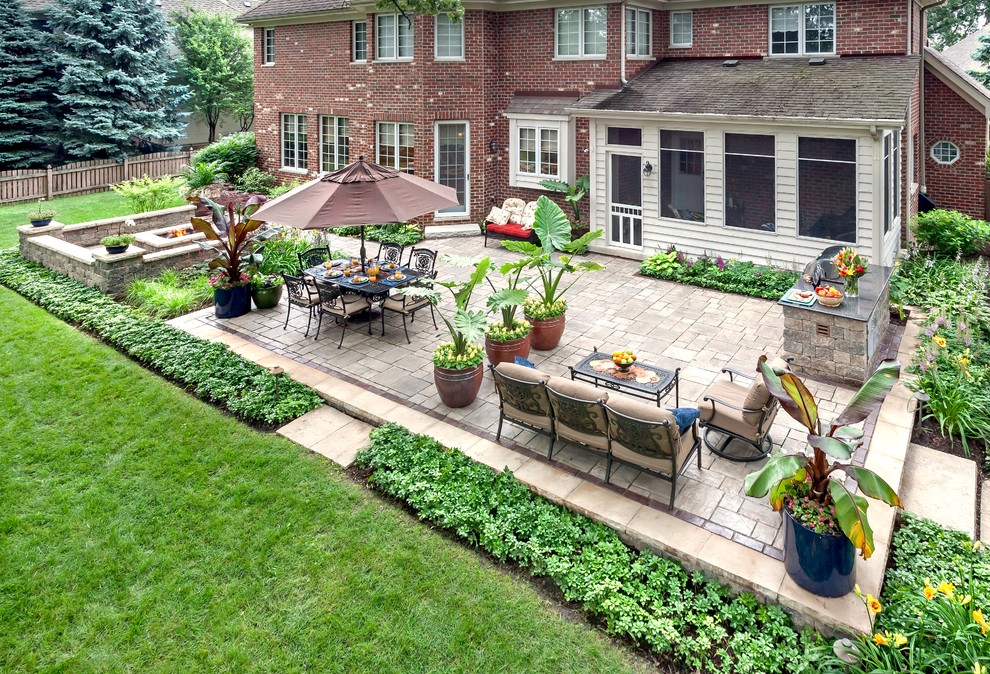 If your goal is to modernize your patio furniture, select modern colors. Metallic often look highly modern, as do neutrals like black and gray. Sometimes, a new color on an old set may create a more current look without having to buy new furniture. For instance, a metallic sheen on a wicker set can update the look of this classic.
Update the Flooring
Clean, modern flooring is a great way to add to the contemporary style of a patio. Upgrading from concrete to a neutral color will be like a facelift for your patio, allowing you to get rid of the old and embrace the new. Slate tile is a great look for virtually any modern patio. This type of tile also comes in a wide variety of colors so that you can coordinate well with the other colors that will be on top of the tile. The tile can be all the same color or have a sophisticated geometric pattern to it.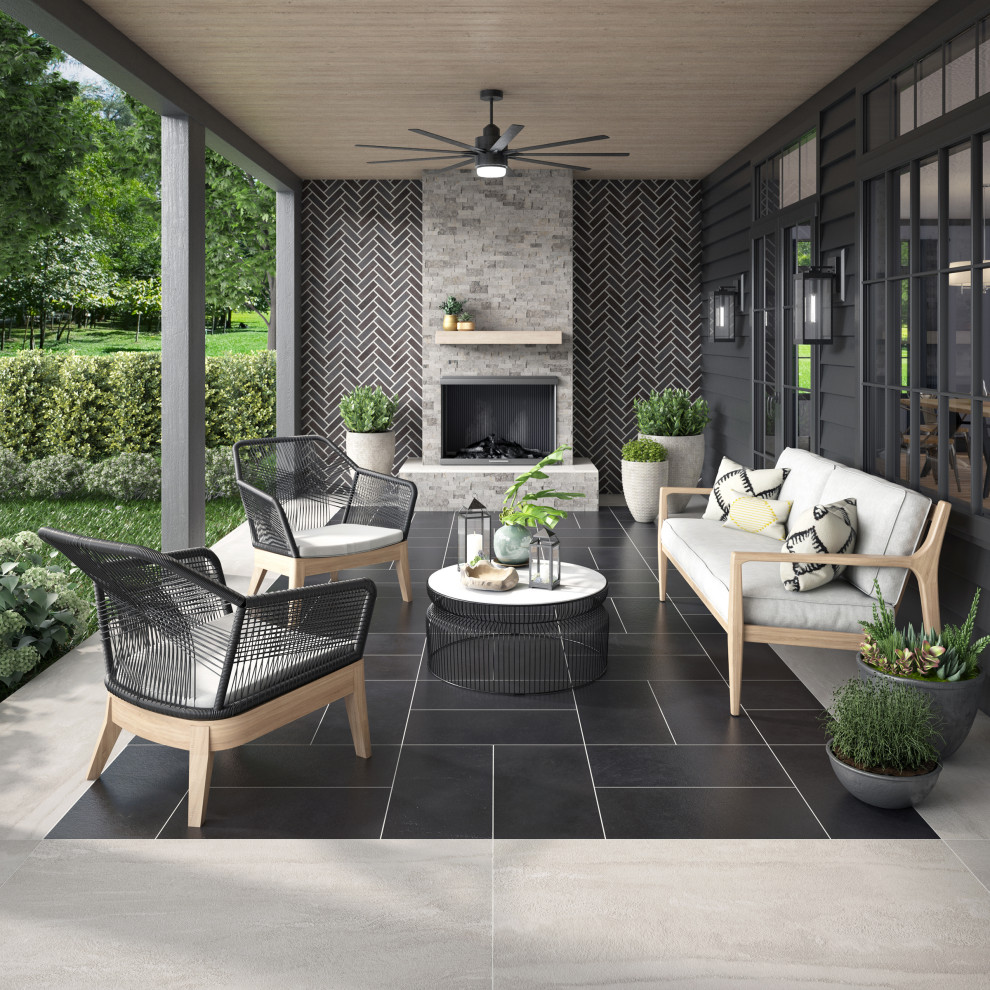 Green grass can also significantly help to modernize your patio, but it's not so simple. Access to sunlight, water, mowing, and regular maintenance can make it tough to keep natural grass in your patio area. That makes artificial turf a sensible option.
Update the Lighting
Having noticeable lighting fixtures that catch the eye and offer plenty of lighting can be a way to modernize the space. If the only lighting you have is a couple of wall sconces, consider elegant lights that are on a string. String lights are hot right now, and they are extremely versatile. You can get as much lighting as you want and any shape you want from this type of lighting. You can also get sets that are made with materials that will coordinate with your furniture and flooring. Glass and wrought iron pieces with clean lines are good examples of modern lighting.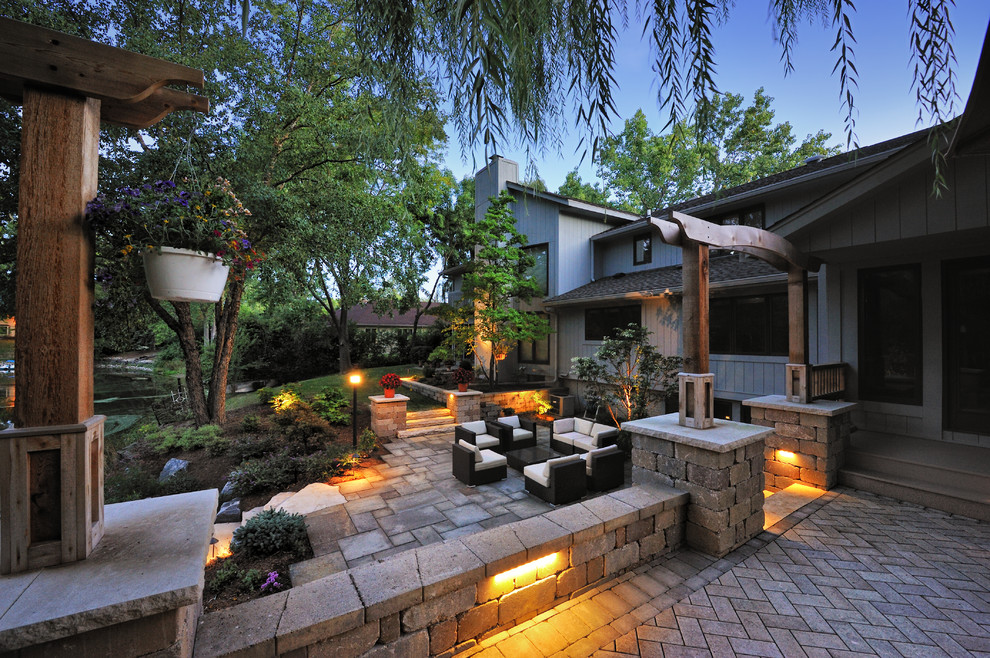 Decorate With Minimalist Plants
No patio would be complete without some decorative plants here and there. Bringing some nature to your patio, however, doesn't have to look old-fashioned. Use plants that aren't overly showy but that are still interesting to look at. Use plant pots that are also minimalist and that don't have a lot of colors and patterns. Terra cotta pots filled with greenery such as succulents are a great choice for many patios. Tin or concrete containers also look great, are durable, and often have modern styling.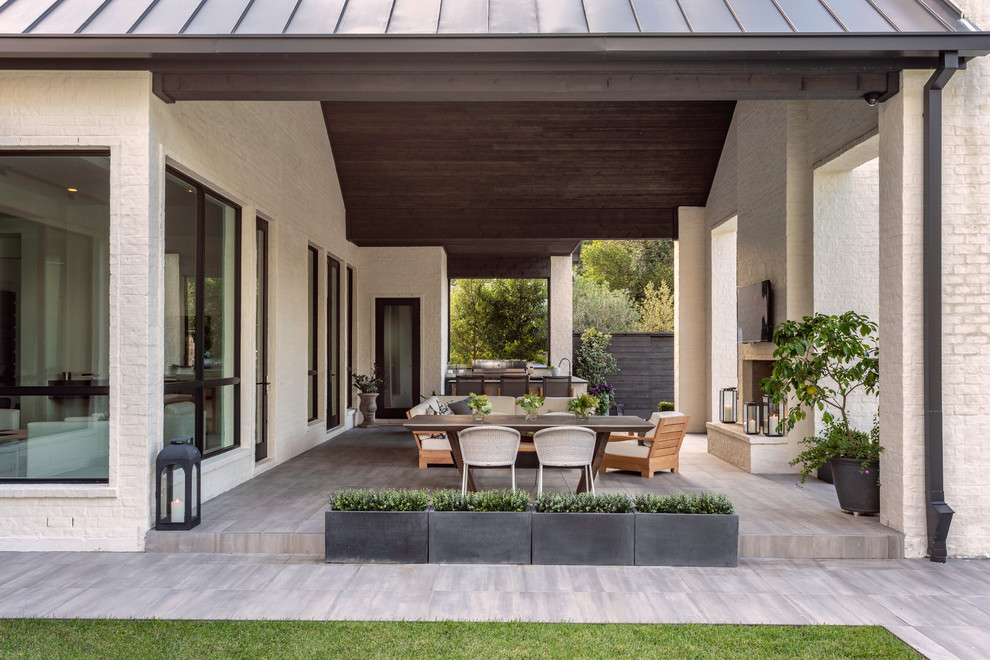 Photo by Thompson Custom Homes
With a modern patio, you can complement a home that also has a modern style. Or it may be a fun contrast to the style you have inside your home. In either case, have fun with your design choices.
2013 © YourAmazingPlaces.com
All materials, unless otherwise noted, were taken from the Internet and are assumed to be in the public domain. In the event that there is still a problem or error with copyrighted material, the break of the copyright is unintentional and noncommercial and the material will be removed immediately upon presented proof.
Back to Top ↑