How to Build a Mini-Golf Course in Your Backyard
Sport is one of the less talked about victims of the 2020 COVID-19 outbreak. We are not referring to professional athletes who can continue playing without fans in the stands but rather amateur athletes. As sporting venues, including urban golf courses and swimming pools, close, people have nowhere to exercise, or do they?
If you own a backyard, you can turn it into a mini-golf course; at least for the time being.
Size doesn't matter
If you are thinking right now that your backyard is way too small to house a golf course, don't stop reading just yet! The size of the yard is secondary to its design, so building a single-hole mini-golf course is a viable option. In times of curfews and lookdowns, any physical activity is precious.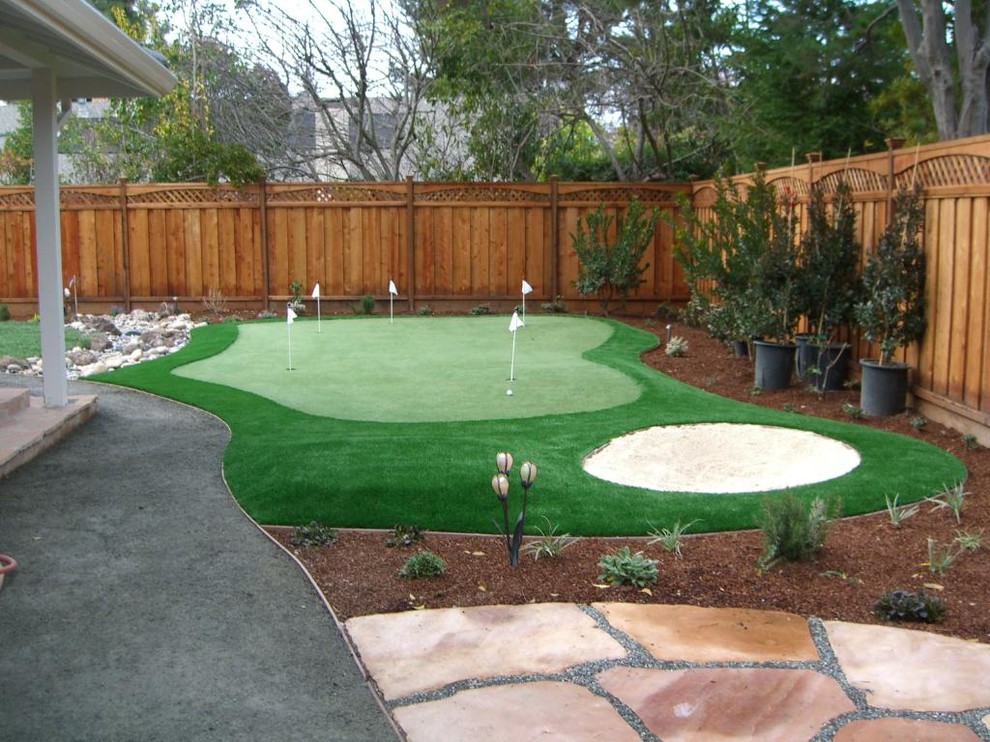 After you decide on the size of the course, you need to place in the section of the yard where it won't get in the way of other activities. For instance, putting in the driveway isn't a good idea if you're building a permanent golf course. On the other side, if you're constructing a temporary mini-golf course, then it can be placed pretty much anywhere.
Use the landscape to your advantage
Designing your golf course should be a battle against nature but rather cooperation with it. Include all the naturally-occurring obstacles such as hillocks, trees, stones, puddles, sandboxes, groves, etc. The same goes for artificial obstacles like the water sprout or the laundry pole.
Photo by PlushGrass Custom Synthetic Turf
You want to build your course around existing structures without altering or demolishing them. Moreover, you should add obstacles, such as improvised castles (ask your kids for materials and building expertise) or windmills. You can even select a theme for the entire golf course.
Using repurposed materials
If you're lucky enough, most of the obstacles in the course won't require any investment. The same can be true for fencing off the course, as you can recycle and repurpose old pieces of plywood. These can be salvaged from disused pieces of furniture or bought in a thrift store for next to nothing.
Photo by PlushGrass Custom Synthetic Turf
The actual holes can be made from tin cans that you cut the top from or remove the lid; a technique useful for building provisional indoor courses as well. All you'll need to buy is wood glue and you're good to go.
A blossomy mini-golf course
Decorating and maintaining a professional golf course is expansive but you can easily beautify your backyard course by planting flowers. You probably already have experience in nurturing flowerbeds; all you have to do now is reposition them across putting green.
Of course, you will need various garden watering products from a retractable hose reel to a flow-control spray nozzle. Upkeeping a large lawn covered in blooming flowers isn't easy if you lack the right equipment.
Grass of felt?
Speaking of the lawn, prospective golf course builders are faced with a choice: natural grass of felt? There is no simple answer to this question, as the final choice is mostly going to depend on your personal preferences. What you need to know, however, is that you can easily combine a verdant lawn with patches of felt.
Felt is glued to wooden boards that add stability, as they are perfect for sections of the backyard that are covered in mud or dirt. Also, if you use boards set at an angle, the holes can be made from cut out pieces of PVC pipes to reduce weight.
Sand patches are pretty much mandatory
Even if you opt for a mini-golf course entirely comprised of natural grass, you will have to add a few sand traps. If you already have a sandbox for children, then you can repurpose it or the new patch you created can be used by kids to play on.
Photo by PlushGrass Custom Synthetic Turf
Anyhow, a minimum of two large sandbags should be spread in several places. Apart from adding attractiveness to the whole course, sand traps are ideal for stopping the ball from leaving the course, especially in the areas where the fence has holes inside it or it's set low.
Mowing the green
Sand is a great surface because it doesn't require any maintenance, just replenishing. The lawn, on the other side, does come with demanding upkeep requirements. First, you need to mow the fairway and then you need to mow the green. The latter is mowed by cutting the blades to the lowest possible height.
Photo by PlushGrass Custom Synthetic Turf
Time to gear up!
Lastly, you need to buy or lease the right equipment. You are not aiming to reach Tiger Woods' skill level but you can at least look like a pro golfer. Apart from a solid putter, you should get a pitching wedge as well.
There are many more types of clubs, but these are the only ones you will need for your mini-golf course. When it comes to balls, you can never have too many of them, so bulk-buy them at the local sports equipment store. Trust us, by the time the coronavirus pandemic is over, you will have lost all the balls from the original set!
Mini-golf is the ideal pastime for these challenging times when self-isolation is the best way to spot the pandemic from continuing. Choose the surface you like, landscape your backyard, and get a set of clubs, so you can putt all day long.
2013 © YourAmazingPlaces.com
All materials, unless otherwise noted, were taken from the Internet and are assumed to be in the public domain. In the event that there is still a problem or error with copyrighted material, the break of the copyright is unintentional and noncommercial and the material will be removed immediately upon presented proof.
Back to Top ↑