Although there is much more to a home than meets the eye, first impressions do matter, especially if you are looking to capitalize on your property. Think of your real estate as a lady: however talented, loving and smart she may be, you probably would not ask her out for a date if she did not have the looks to inspire your interest, would you?
For superior curb appeal, every homeowner should paint the driveway once in a few years: besides adding visual interest to your property, a fresh paint coat may help extend the lifespan of the driveway and minimize chipping and cracking of the concrete through the impact of harsh elements. Here are a few tips on how to paint the driveway properly.
Blow by Blow: Clean the Surface Thoroughly
Before painting the driveway, you will first need to clean the entire surface thoroughly. Remove dirt and debris with the help of a leaf blower and pressure washer. For stains caused by oil spills and gas leaks, use a stringent degreaser. Allow the driveway to dry well before you go on to inspect and fix the surface and apply a fresh paint coat. Also, check the weather forecast before the actual painting and pick a sunny spell of at least three or four days in a row – rain will spoil your hard painting work.
Contemporary Exterior by Breckenridge Architects & Building Designers Entrada, LLC
Chips and Cracks: Inspect the Driveway
In case your driveway has not been paved or repaired recently, it would be a good idea to first check it for chips, dents and cracks and take care of them before you paint the surface using quality driveway paint. Oust small pieces from holes with the help of an awl. For larger pieces stuck in the cracks, you may need a hammer and chisel. Brush the crack surface with a wire brush, then oust residual debris, dirt and dust using a leaf blower.
Repair Away: Fixing Cracks
For cracks ranging up to ¼ inch in width, use concrete repair caulk. Once you have filled the hole, smooth the caulk with a putty knife and distribute it evenly at the edges so that it blends in with the rest of the surface. If your driveway is suffering from larger cracks, you should switch to premixed mortar, following the same procedure as described above. After the surface dries, check whether the driveway is smooth and level, and reapply an extra dose of caulk/mortar if necessary.
Traditional Exterior by Alto Pools & Spas Signature Outdoor Concepts
Showtime: Painting the Driveway
Mix epoxy paint well before using it to paint your driveway. To avoid stains and splotches, pour some of the paint into a paint tray and use a 3/8-inch nap roller to distribute the first coat thinly and evenly across small sections of the surface. For a seamless paint coat, overlap the section edges. Let the driveway dry overnight before applying the next paint coat.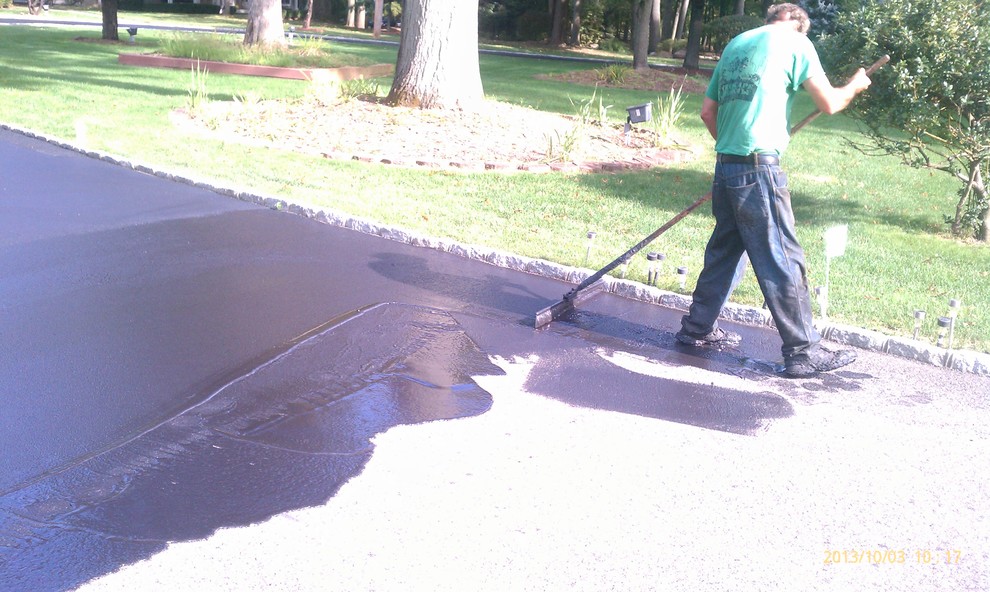 Spaces by Wanaque Driveways & Paving Driveway Contractor LLC
Tie up Loose Ends: Post-painting Tips
After you have painted the driveway, do not walk across its surface for at least 24 hours. To ensure the paint stays smear-free, avoid heavy foot traffic for around 72 hours and do not drive across the driveway for a week – this will give the epoxy coat enough time to dry completely.
Tropical Landscape by Marathon Design-Build Firms D'Asign Source
Ready to go artistic on your driveway? Before you grab the can of paint and other tools necessary for the project, make sure you put on protective clothing and top it off with a pair of safety glasses. All set? Off you go, self-styled Picasso – we are keeping our fingers crossed for your next driveway masterpiece!