Ideas for Designing a Home Workshop
Do you love home projects and need more space to work on them? Designing a new home workshop can be a great place to work on your projects at your own pace without taking over too much of your personal living space. Whether you are just taking over part of your garage or you are designing a space specifically for your workshop, there are a lot of different design ideas out there for you to choose from. Here, we have some ideas for designing your home workshop.
Where should I set up my home workshop?
Before we look at design ideas for your home workshop, let's look at some of the different places you can put your workshop.
Home Attic Workshop
A finished attic can be a great place to put your home workshop. If you still need to finish it, doing so can be a fun DIY project to complete before moving your workshop there. You will need to make sure that the floor is strong enough to support your supplies, that you have proper ventilation, and that you have good access to the attic. If you are doing any noisy projects, you will also want to make sure you install some soundproofing to keep the noise from filtering into the rest of the house.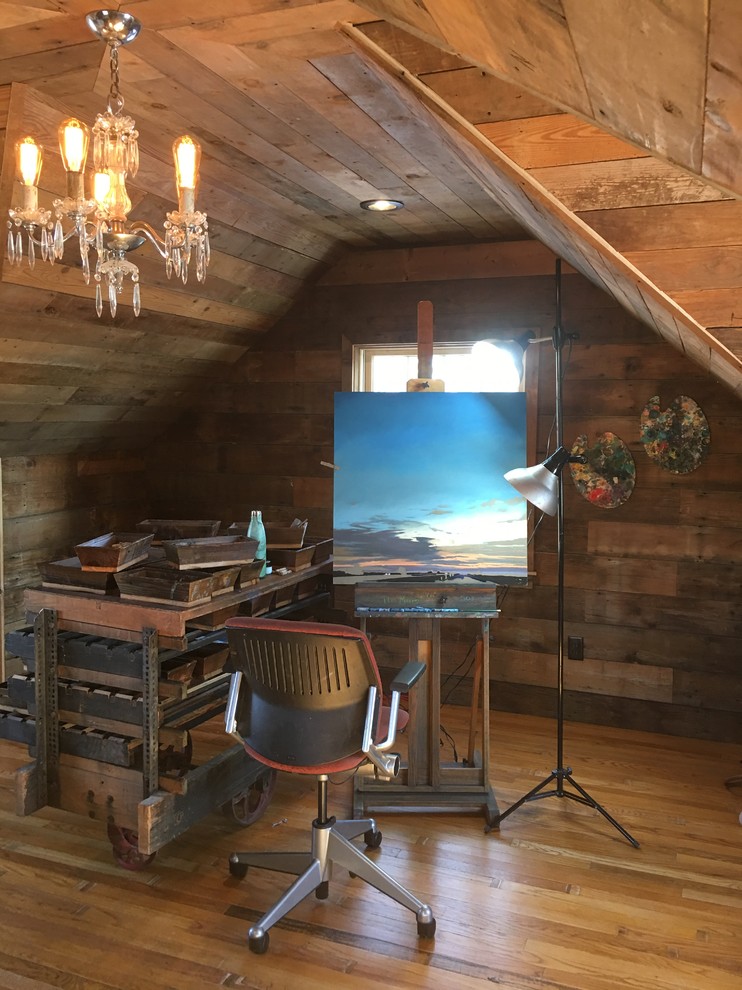 Photo by Reclaimed Enterprises
Basement Workshop
A basement is often a great location for a home shed. It is pretty secluded from the rest of the house, and it is usually a pretty big space. You will be able to keep noise from your tools to a minimum, so you will not be disturbing the rest of the house. The big challenge here is that basements are often a little too damp, so you will need to make sure you have a good dehumidifier there to ensure it does not ruin any of your equipment.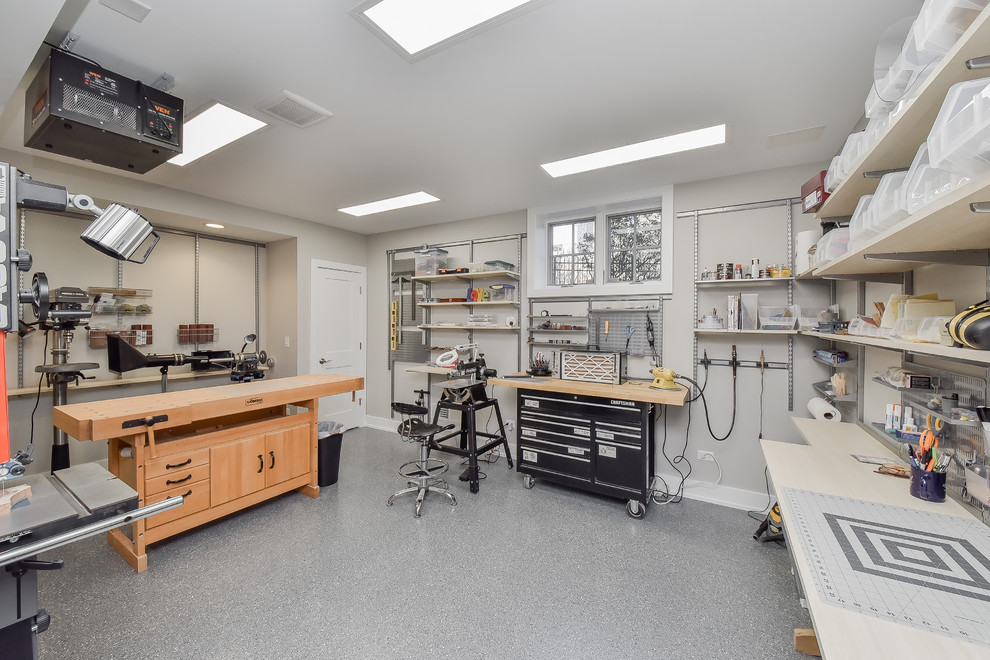 Spare Bedroom
If you have a spare bedroom in your home, it can easily be transformed into a home workshop. The only thing you might need to change in it is the flooring. If the room has carpeting in it, depending on the types of projects you will be doing in your workshop, it might be a good idea to remove the carpeting and exchange it for hardwood floors or a laminate floor if you work with things that will damage the flooring if spilled.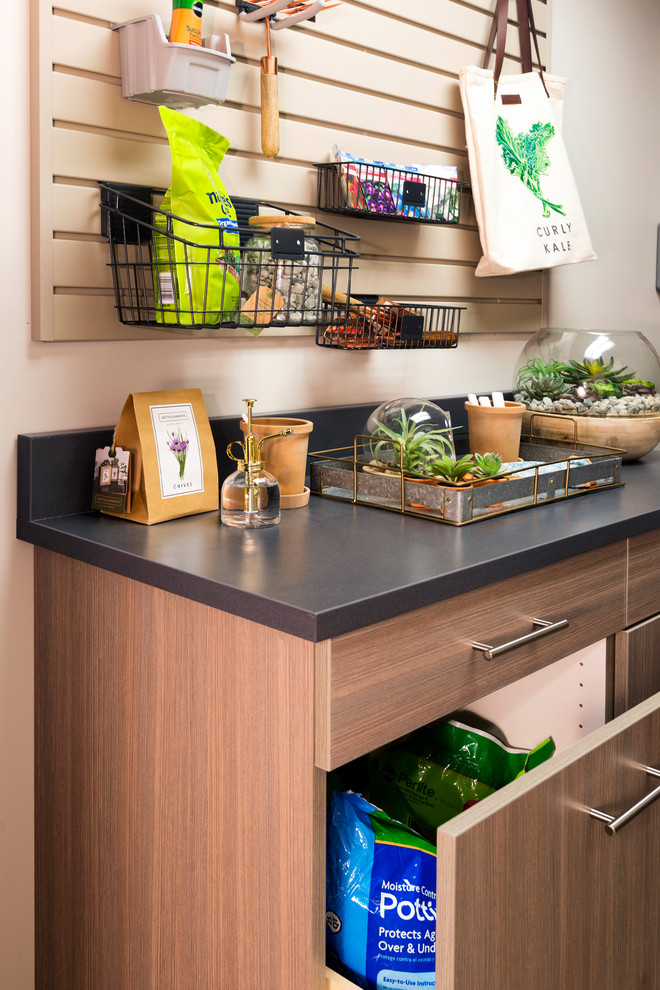 Photo by Inspired Closets by Tom
Shed or Outbuilding
If you really love your home projects and cannot find a space inside your house for them, building a shed for your home workshop can be a great alternative. While a typical shed is not going to be the best location for your workshop, designing a custom steel building that is insulated and wired with electrical is an excellent alternative. By getting the custom shed for your workshop, you can choose the best layout option to make it your dream shop.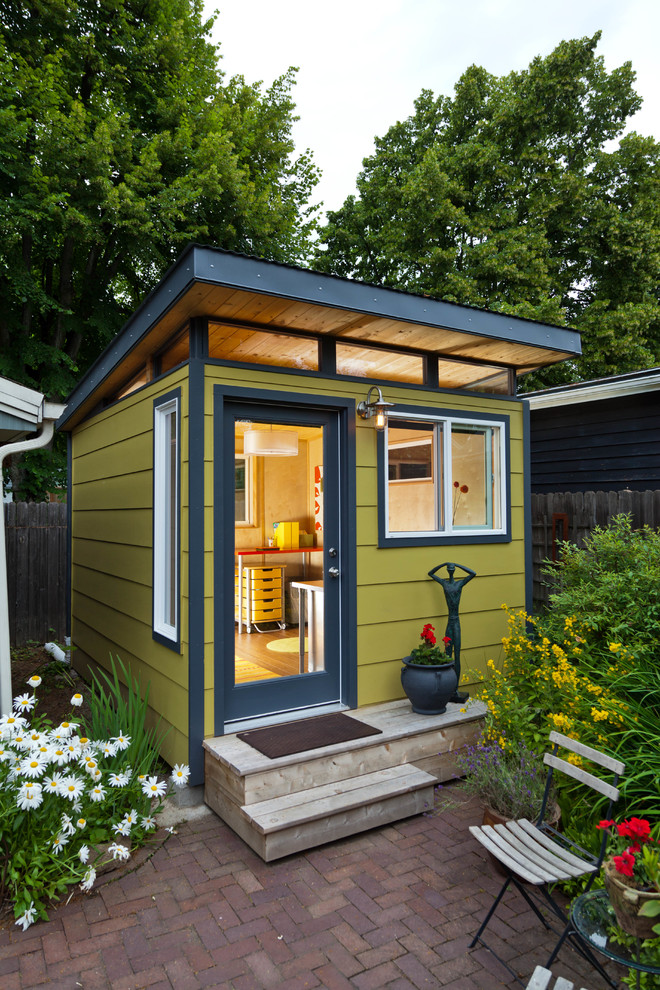 Use Your Backyard
If you live in a warm climate and you work with a lot of loud tools, it might be a good idea to set up a small workshop space in your backyard. If you have kids, you may want to consider partitioning off your workshop space with a locking fence to ensure they do not get into anything that they should not. You may want to consider covering the area to protect it from rain and having an indoor place to store anything when it rains.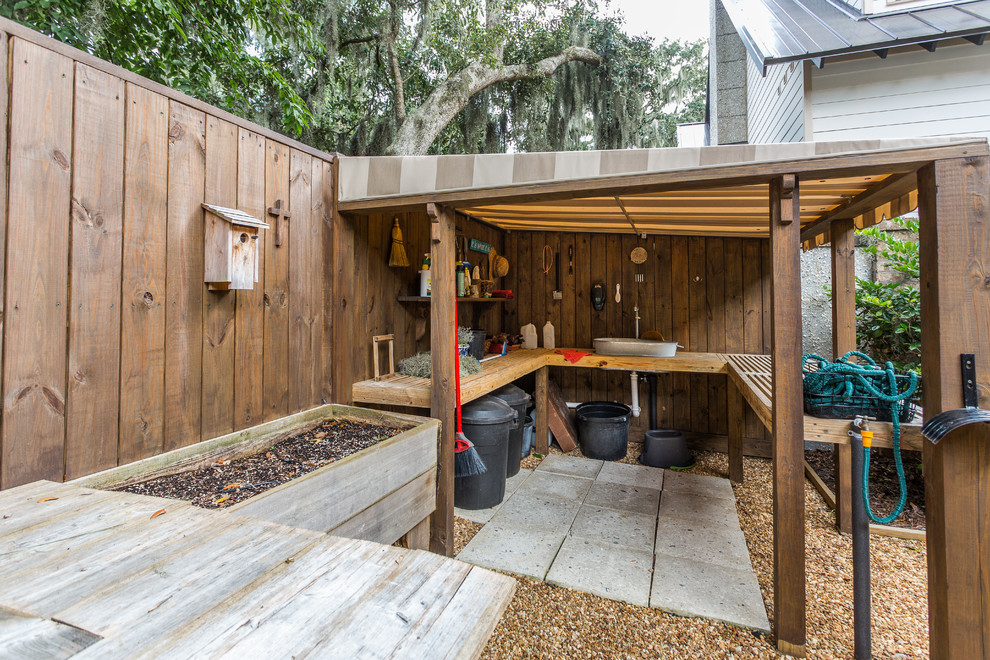 Garage Workshop
Garages are a popular choice for a workshop because they are fairly separate from the rest of the house, and there is easy access. They are also usually pretty soundproof, so the sounds of your equipment should not filter into the rest of the house. Depending on how big your garage is, you might be able just to use part of it for your workshop and still have space to park your cars.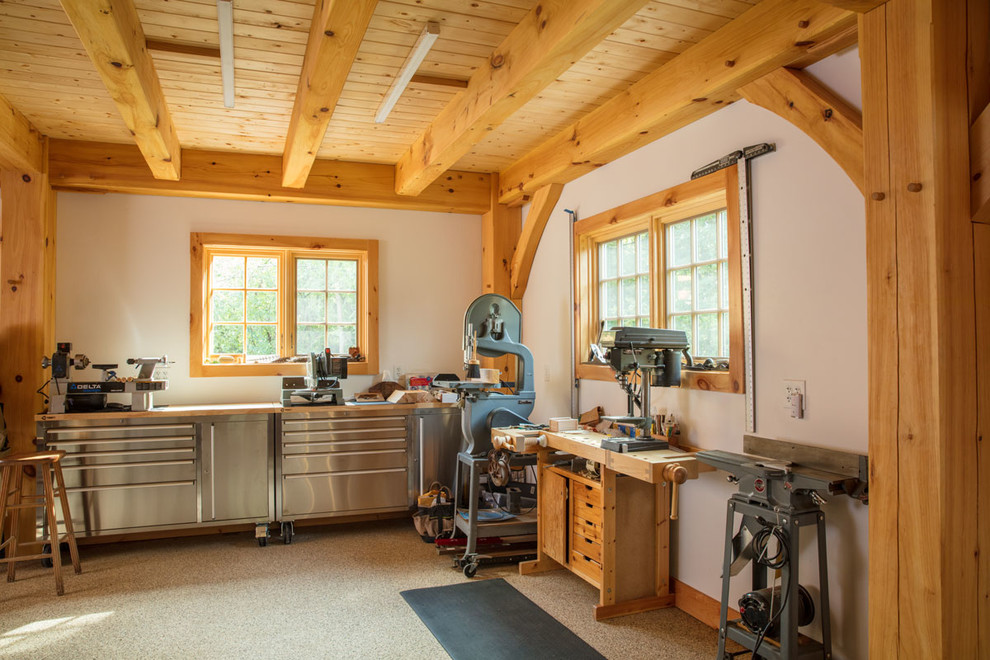 Design Ideas for a Home Workshop
Now that you have a better idea of where to put the workshop, let's look at some ideas for designing your shop.
A Place for Everything
You need to have enough storage space in your workshop that it is well organized so you do not waste time hunting for things every time you need to use them. Knowing where everything is will make your workshop space feel more relaxed and comfortable, so you can just focus on whatever you are creating. Plus, keeping everything organized can help prolong the lifespan of your tools and equipment.
You can repurpose old cabinets, hang a pegboard, or just invest in some new storage methods. You can make it stand out and show your personality while still being organized.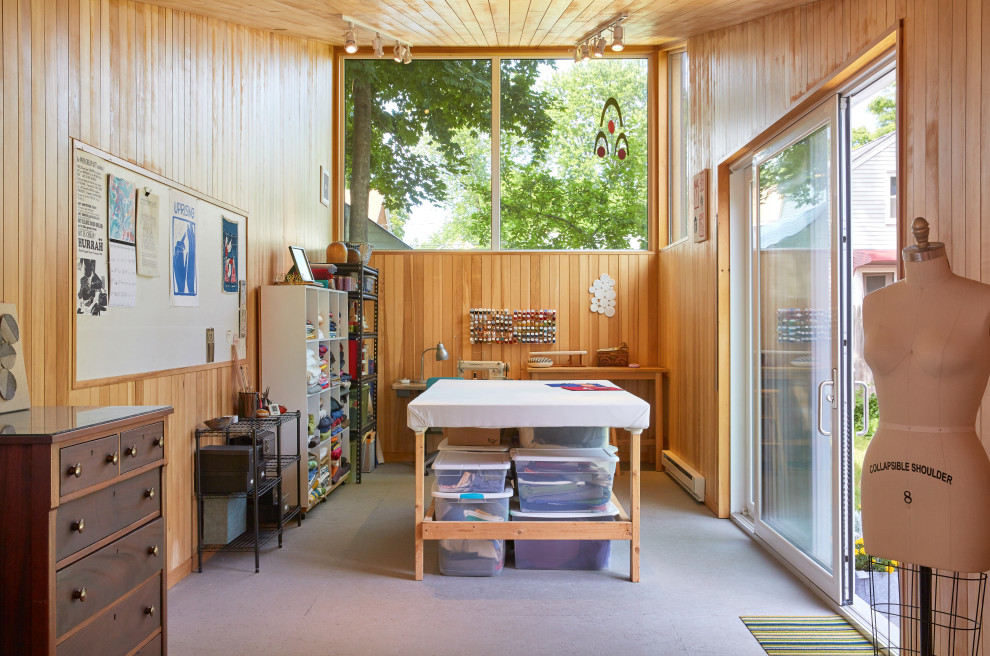 Photo by Kaplan Thompson Architects
When organizing your tools, try to group similar things together or group items together by how you will use them. Also, try to store things near where you plan on using them so you do not need to go back and forth when working on something.
Get a Solid Workbench
Your workbench is going to be one of the most important pieces in your workshop since it is where you will be doing the majority of your work. You can buy one already made or build a custom one yourself that meets all of your home project requirements. The average height of a workbench is 38 inches, but it can go a little higher or lower, depending on your needs.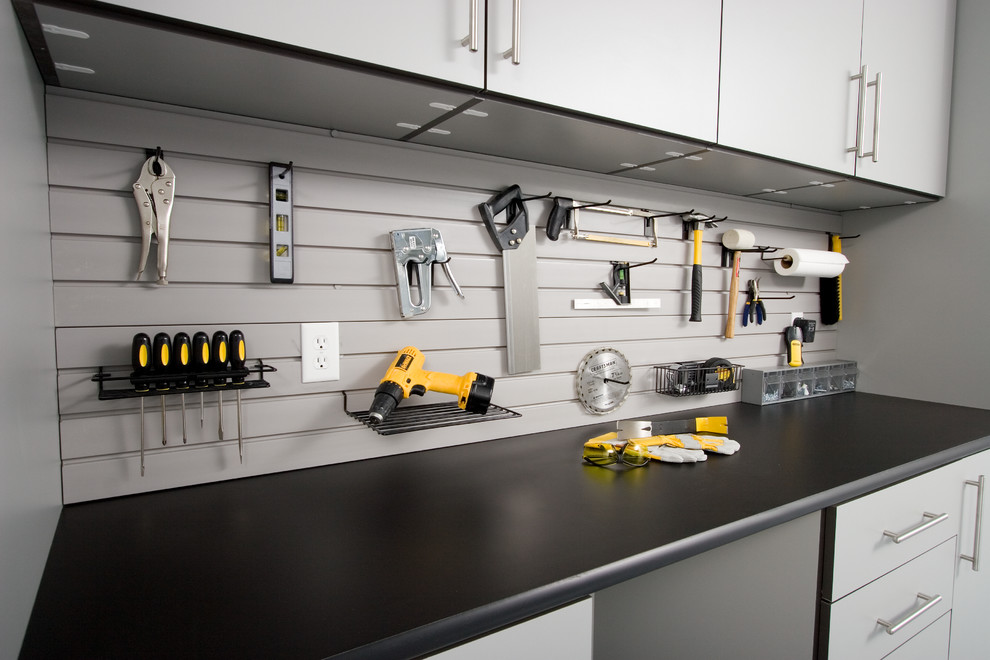 Photo by Closet & Storage Concepts – NJ, PA & DE
Climate Control
Depending on where you put your workshop, you might need to add some insulation and an HVAC system to keep it at a comfortable temperature when you are in there. You should also add a humidifier or dehumidifier if your shop's location tends to be pretty damp, like a basement, or dry.
Light it Up
You want to be able to see what you are working on clearly, so adding some bright lighting to the room is a good idea. If you do not want to always have bright lights in there, you can install a dimmer switch or use lamps that cover different areas of the workshop so you can turn them on and off as needed. High-intensity LED lights are an excellent choice for something like this.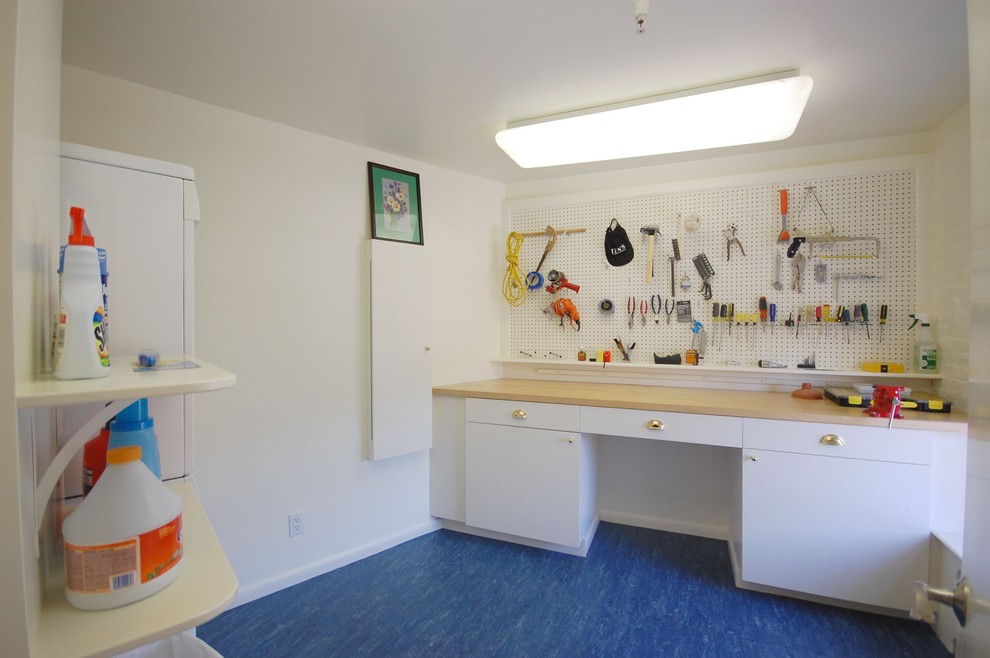 Photo by Leslie Saul & Associates
In addition to having some bright lights in the workshop, you should also try to add some big windows or a skylight to the shop so that you can save on some energy costs during the day.
Consider Plumbing
You might not think that you really need to add plumbing to your workshop, but it is a good addition to consider, especially if your shop is fairly isolated from the house. If you are working on a messy project or just need to clean your paintbrushes, having a utility sink in your shop is a good idea.
Consider Adding Extra Power
Depending on the types of projects you will be doing in your workshop, it is a good idea to have some extra electrical outlets available to make sure you can always plug things in, and you do not need to rely too heavily on extension cords, which can become a tripping hazard.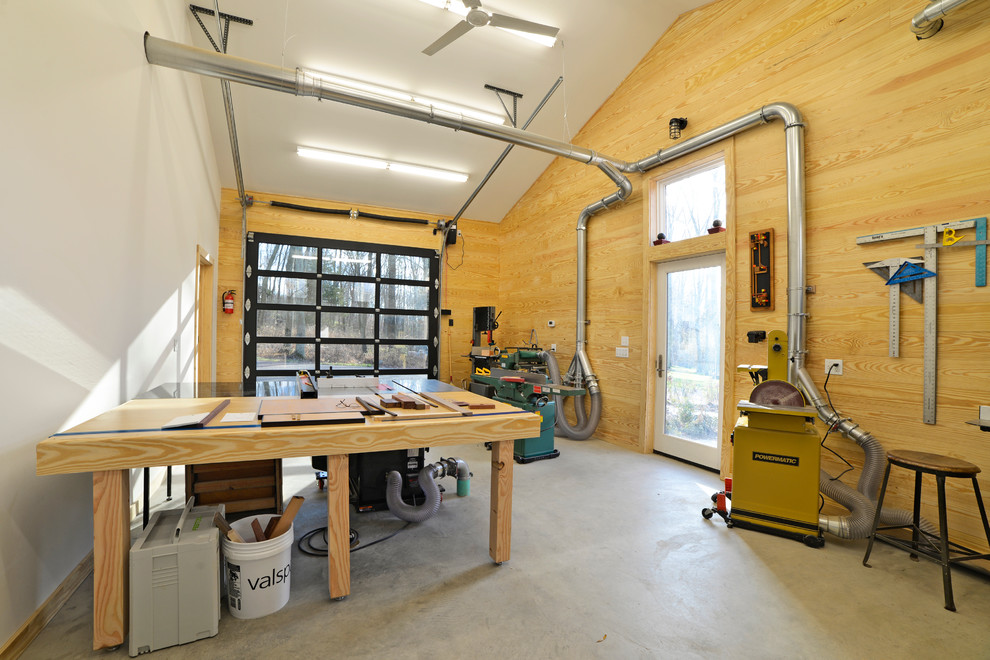 Make Space for Stationary Tools
Some tools just need to hang on the walls or stuck in a cabinet, and you just have to grab them when you need them, but there are some stationary tools that you might need to make sure you have space for in your home workshop. These include:
Table saws
Cutoff saws
Band saws
Jointers and shapers
Create an Assembly Space
Another important thing to think about including in your workshop is an assembly space, where you can lay things out and put them together when you are ready. The thing that is most important for this space is for you to have a flat surface that is big enough for your pieces. Of course, the floor is also a big flat surface, so if you have enough floor space, you might not need to worry about having space in your workshop.
Hang Some Art
If you want to infuse some of your personality into your workshop or just have something pretty to look at in between projects, try hanging some wall art. Since you will be spending a lot of time in that space, pick something you love, whether it is abstract art, portraits, or drawings by your kids.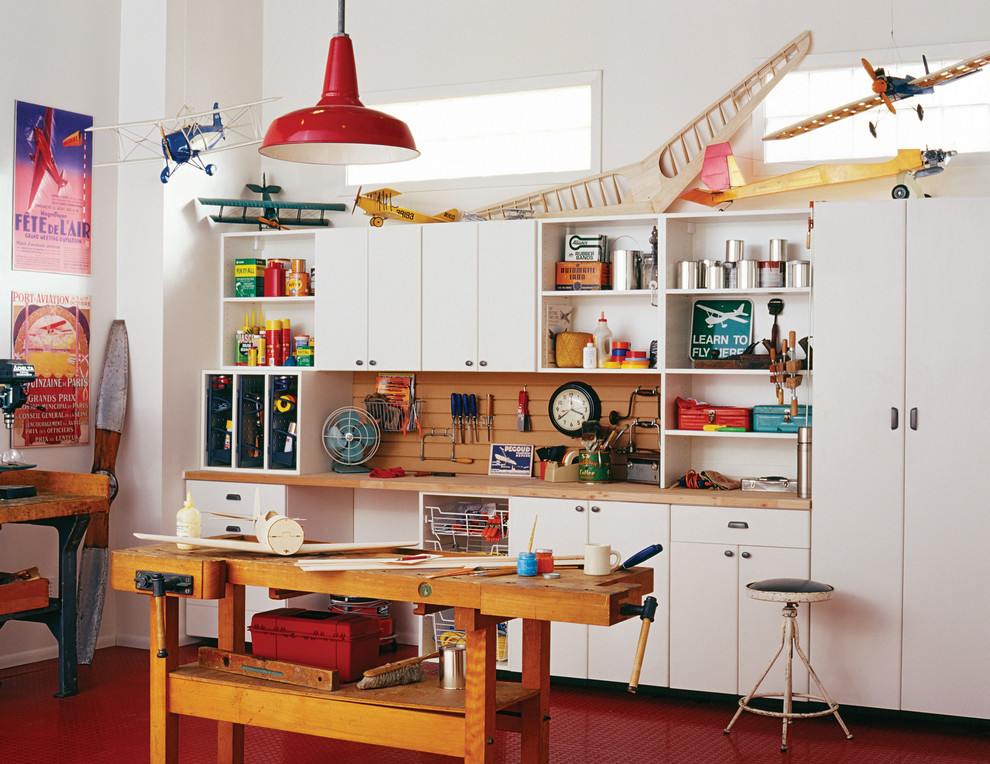 Photo by California Closets HQ
About the Author
Auz Burger is a freelance writer and an expert in steel buildings. She has a BA from Washington State University and has been writing and editing professionally for over a decade.
2013 © YourAmazingPlaces.com
All materials, unless otherwise noted, were taken from the Internet and are assumed to be in the public domain. In the event that there is still a problem or error with copyrighted material, the break of the copyright is unintentional and noncommercial and the material will be removed immediately upon presented proof.
Back to Top ↑