Why Laminate Flooring Makes Sense
When decorating a home, property for rent, or commercial premises one of the biggest decisions you are going to make is what to do about the flooring. The fact that your floors take up a huge percentage of a room means it is an element that you really cannot afford to get wrong. It you do make a mistake replacing it is bound to work out expensive.
If you are planning to replace your floors, it is worth considering buying laminate flooring from Discountflooringdepot.co.uk. There are several reasons for us suggesting this as an option.
Photo by Linton Architects – Look for farmhouse dining room pictures
Amazing choice of looks
When you buy laminate flooring, you get an amazing choice of looks and designs. Gone are the days when you had to lay a wood effect floor if you choose this type of flooring material.
Photo by Boscolo Interior Design – Look for contemporary hallway design inspiration
Modern photography, printing and manufacturing techniques mean that you can have practically any design you want. It is even possible to buy custom-made laminate flooring, which means you can have any look or finish you desire. All you need to do is to provide a high-resolution photo of the look you want. This means that if you see a beautiful stone floor you would like to replicate you can potentially do so.
Photo by Carpet One DFW – Discover rustic living room design ideas
However, this is an expensive option, and it is a service that is still not widely available. If you are on a tight budget, do not worry because off the shelf laminate flooring still comes in literally hundreds of different looks and designs.
The original laminate flooring was designed to replicate wooden floors. As a result, it is available in a huge range of wood effects. You can find it in pine, oak, mahogany and a range of other wood finishes, and you get a huge choice of stain effects to choose from. Everything from the darkest to the lightest shades, as well as coloured stains. You can also choose whether to opt for narrow or wide planks, and a range of other layouts and patterns such as parquet or herringbone.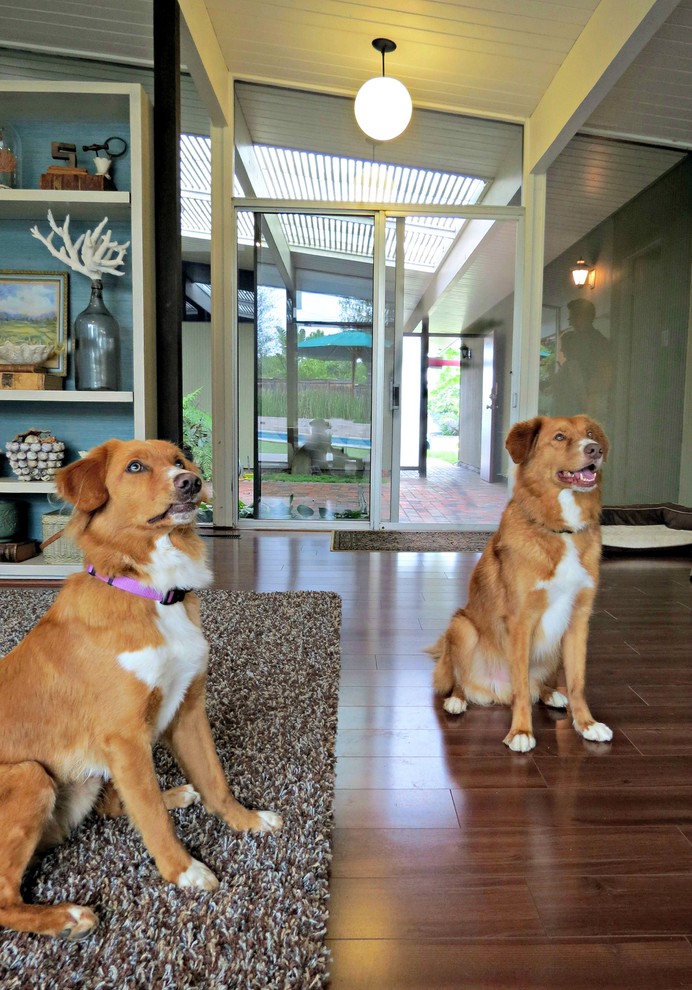 Photo by Lisa Hallett Taylor – Look for midcentury living room design inspiration
Interestingly, stone and tile effect laminate flooring is also starting to become more widely available as well. The fact that it looks very realistic means that it is growing in popularity, fast. It is a relatively cheap way to get a high-end luxurious look, and laying planks or board is a lot faster, and easier, than laying tiles or heavy blocks.
This type of flooring is also easier to look after than traditional tiles or blocks are. There are no gaps, so the dirt does not get in, and there is no need to scrub the grout, several times a year, when it becomes discoloured.
Photo by Serenity Design – Discover beach style bedroom design inspiration
Easy to lay and maintain
If you want to lay the floor yourself, laminate flooring is a great option. It is designed with the DIY enthusiast in mind. You can find out more about laying a laminate floor from this video. As you will see, it goes down fast, and does not require you to buy any specialist tools.
Photo by Twinkle and Whistle – Search eclectic dining room design ideas
2013 © YourAmazingPlaces.com
All materials, unless otherwise noted, were taken from the Internet and are assumed to be in the public domain. In the event that there is still a problem or error with copyrighted material, the break of the copyright is unintentional and noncommercial and the material will be removed immediately upon presented proof.
Back to Top ↑