Moving to a new home forces you to make a decision that leaves most people torn. Do you buy all new furniture and decorations for a clean, new look? Or do you keep your old style, with the personal belongings you are already attached to?
With a little creativity you can have both. It helps if your new home has a similar style to your old one but if it does not, do not fret. There are plenty of ways to rearrange, rejuvenate, and update your favourite furniture to reflect the design of the new house.
Farmhouse Living Room by New York Photographers Rikki Snyder
Do Not Bring Everything With You
Thin out your belongings as much as you can before the move. Try to take only the pieces with the most sentimental value and leave behind anything outdated. If you bring all of your old furniture with you, you will have the exact same look. Keeping a few select items instead means that when you add new items of a different style, you are shining a new perspective on the room as a whole.
I, Claude Boucher [GFDL, CC-BY-SA-3.0 or CC BY-SA 2.5], via Wikimedia Commons
Another reason to give up some of your furniture is that the contours of your new home may not be able to fit the same furniture as your old one, even if the new location is larger.
Use the Furniture You Have in New Ways
Art and colour are all about perspective. You can take any piece of furniture in your home out of its original theme and create a new one out of it.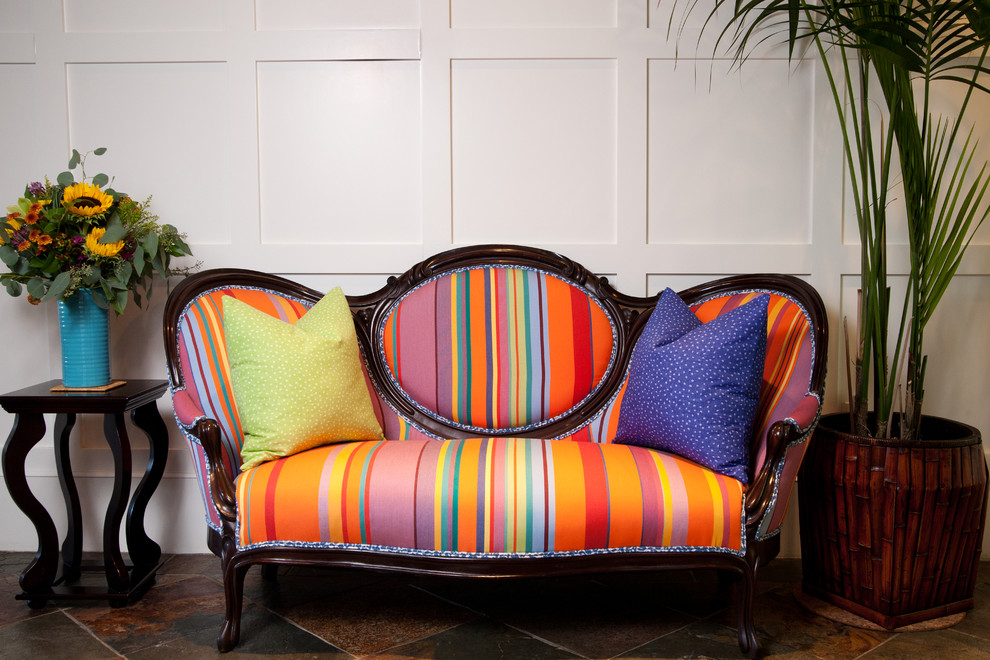 Victorian Spaces by Santa Ana Interior Designers & Decorators Darci Goodman Design
Take a tan couch for example. In your old home you may have decorated with a beach vibe and equated your couch's colour with sand. Maybe you had sage walls and salmon coloured curtains. Your coffee table and entertainment centre were a light coloured wood like you would see by the seashore.
Farmhouse Kitchen by Austin Home Builders Schmidt Custom Homes
In the new home you can take that same tan couch and put it into an elegant colour scheme. Surround it with deep reds and dark wood and you have a very regal look.
You can also repurpose the furniture that does not conform to your new look. An old dresser can go into the pantry or dining room to store dishes. The full length mirror can be taken off its stand and hung on the wall in the bathroom.
Southwestern Bedroom by Seattle Architects & Building Designers Bosworth Hoedemaker
Fix, Polish, or Update Your Old Furniture
Broken furniture is a great opportunity to rejuvenate its look. A torn or faded sofa can be reupholstered in a different colour. A tabletop with weak legs can have new ones grafted onto it. These projects are a fun way to open your mind and discover the personality of your new home. It works for in shape items too. You can use wood stain to make a coffee table lighter or darker, or even stain it blue or red.
Eclectic Living Room by London Photographers Beccy Smart Photography
Any piece of furniture, new or old, whole or unfinished, can appreciate an upgrade. Add doors to a bookshelf. Remove the back of your couch and upholster it into a chaise lounge. Moving house is about a fresh start, not about abandoning your past. Keep the items that hold meaning for you and find a local removalist to keep them safe during your move.
Traditional Bathroom by Los Angeles Interior Designers & Decorators Doug Wiand Design Interiors
Author Bio
Bill Chen received the Bachelor Degree of Commerce majoring in Business Administration from University of Sydney. Currently, he is a businessman and running his interstate and local removal company named Bill Removalists Sydney. Bill Removalists Sydney offers home and office removals in Manly, Northern Beaches, Eastern, Inner West suburbs and other areas in Sydney and surrounding cities. He is also an active blogger for his own website and other sites in the industry