A small apartment is always associated with a lack of space. Unsuccessful planning can cause a crowded and cluttered appearance. However, it can easily be fixed. Even the smallest and most uncomfortable apartment can be made comfortable and functional with our simple tips. In addition, you have a great opportunity to experiment and create your own unique interior.
1. Color.
The right choice of color can visually increase the space, so try to pick up the paint for walls and ceiling in light colors (white, beige, gray, blue, light green). This rule applies to wallpaper. Designers recommend choosing wallpapers with fine ornaments, and abandoning large drawings. The flooring should be slightly darker, but not too much, otherwise the room will appear low. Try to adhere to monochrome in the room: various interior items (furniture upholstery, table and chairs), made in one color, visually expand the space, the multicolor creates the opposite effect.
2. Curtains.
If there are large windows in a small room, then the curtains are better to hang around the edges, then the windows will seem bigger. Choose long (to the floor) curtains and tulle in the same color scheme as the walls. Give preference to light flowing fabrics, which do not weight the space and do not accentuate your attention. If possible, replace the dense curtains on the gas tulle. Therefore, the maximum of light will penetrate in a room.
Photo by Different Designs Group
3. Make the most of space.
Every piece of interior, especially in a small room, must have its own purpose. Try to use it to the maximum. For example, a wardrobe is an excellent option for those who live in a one-room apartment. It does not take up much space and at the same time combines several types of furniture: a wardrobe, a bookcase, a chest of drawers, a TV cabinet, a mini-bar, shelves for souvenirs, photographs and other small things.
4. Multifunctional furniture.
It is not necessary to approach the issue radically – to purchase a bed that turns into a wall, or a table that folds into a coffee table, especially since such innovative ideas of designers are not cheap. The most common and affordable way to save space is a sofa bed. At night, it is a comfortable double bed, which is assembled in the morning in a full-fledged sofa, where your guests can sit. In addition, usually, under the cover of the sofa there is a place for bed linen, blankets and pillows.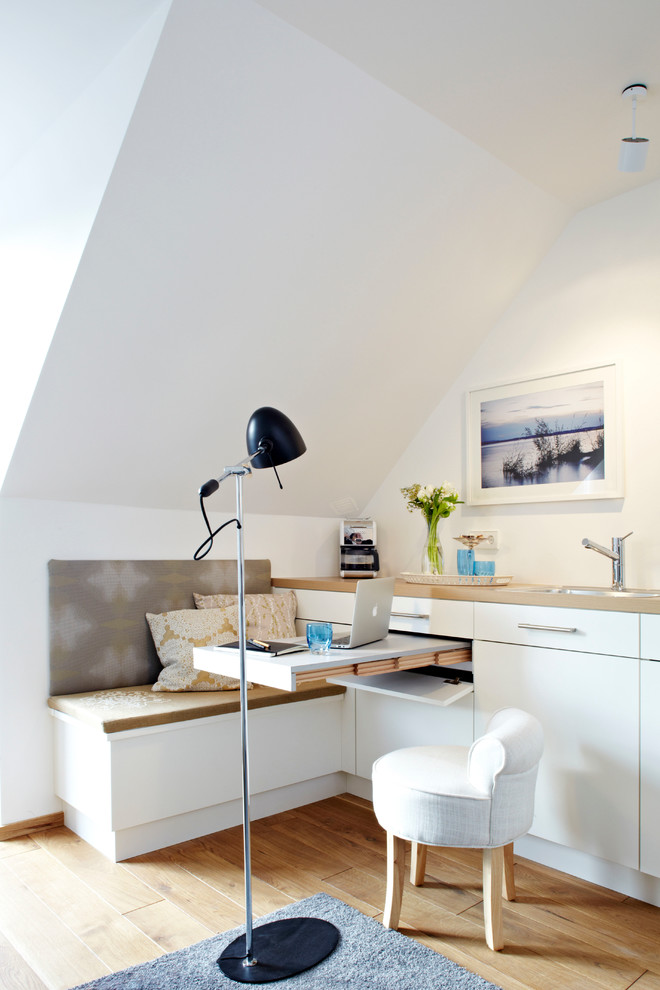 Photo by Ute Günther wachgeküsst INNENARCHITEKTUR+DESIGN
5. Reflective and transparent surfaces.
Mirrors and other reflective elements of the interior can also visually enlarge the space and make the room lighter due to reflected light. It is desirable that the mirror is situated in front of the window. A cabinet with large mirrored doors or a wall with a mirror tile visually enlarges the room in half. Transparent interior items made of durable plastic, less often glass, (for example, tables, chairs) allow you to visually expand the space. Furniture with transparent legs creates the effect of lightness and soaring. These simple ways allow you to efficiently furnish a small room in an apartment or a house.
Photo by Cathy Emmins Interiors
6. Zoning the room.
In order for the room to become more functional, divide it into zones. For example, you need to separate the work area from the sleeping one. Use different combinations of colors, divide space with screens, curtains or bookshelves. Use different light sources to create the illusion of two different rooms. Arrange furniture around the room so that it is accessible, and you can move around the room without hindrance.
Photo by Dariusz Boron Architecture + Photography Services
7. Avoid the mess.
This is especially noticeable in a small space. Do not fill the room with unnecessary things. Define your priorities: get rid of what you do not need, hide these things in cabinets and drawers.
8. More light.
Natural and artificial light have the property of expanding space. Even if the window is large, try not to cover it with curtains. If the room is not on the sunny side, you can use the built-in light sources around the perimeter of the room.
Now you know that it is possible to get the most out of a small apartment, using our simple and useful tips.
About the author:
If you are looking for inspiration, you are welcome to check posts on custom paper writing company, written by professional writer Melisa Marzett. Her style and fresh ideas will definitely impress you!