Waterslide for Your Home's Pool: A Guide
A pool in your backyard is one of the best luxuries one can have in today's times. Whether you want to unwind after a long week or get your daily dose of exercise, the pool is your perfect companion. But, in case you have kids at home, or you're always inviting your friends over for a party, then you should consider installing a water slide. It's one of the most enjoyable and worthy investment when it comes to water features. And water slide maintenance is easy too.
In this blog, you'll learn about things to consider when installing a waterslide. You can also look at reasons that make it worth installing the waterslide. So, stick through this guide as it can help you with installing the right waterslide in your pool.
Why It's Worth Installing The Waterslide?
You might have a beautiful pool in your background. But you can make it the best swimming pool in your neighborhood? How? Well, all you need one of the most exciting water features called a waterslide.
Photo by Creative Rock Formations
Look at your pool and imagine yourself or your children sliding down a beautiful waterslide. Doesn't that look so pleasing? You can say, one of the most significant benefits of waterslide is the aesthetic appeal it adds to your pool.
The waterslide also the best add-on feature to your pool that your kids will enjoy. When the summer comes around, your kids can utilize the waterslide to cool off and have fun. Your kids will get an amusement park-like experience when you add a fun-filled waterslide to your pool.
Photo by Ehrich & Ehrich Construction LLC
There's more than aesthetic and enjoyment benefits to your waterslide. It also adds a significant quality and value to your backyard. In case you sell your property soon, waterslide can entice prospective homeowners into buying your house.
Things to Keep In Mind While Installing a Waterslide
Adding a waterslide to your pool can bring great fun to your family. But, there are certain things you need to consider before you install the water slide. Read them as below.
1. Size of Your Pool
Before installing a water slide in your swimming pool, the first thing you should consider is its size. Each swimming pool is different, and installing a waterslide may or may not be the right decision, depending on your swimming pool. For example, something like an infinity pool or zero edges is there to define a view, and adding a waterslide to is doesn't seem right. Ideally, your pool deck should be wide enough to accommodate a slide.
Photo by Monogram Custom Pools (610)282-0235
2. Location of the Slide
You need to install waterslide in such a position that it faces the main congregating area. The number one reason for doing so when your slide runs, water cascades from the slide into your pool. It works like a water feature. And the second reason is you'll be able to see the excitement on your kid's faces as they slide into the pool. Both these things are more fun to watch as compared to glancing at the back of your waterslide.
3. You Can Install Water Slides Later
You might be spending a significant sum while building a pool in your backyard. If you don't have the budget to spend on a waterslide, you can indeed install it later. You should tell your contractor about it, and with little planning, you can easily install a pool slide in the future. You only need to take care of two things. One is you should allow adequate patio space. And two, the water source gets roughed in and capped for future usage.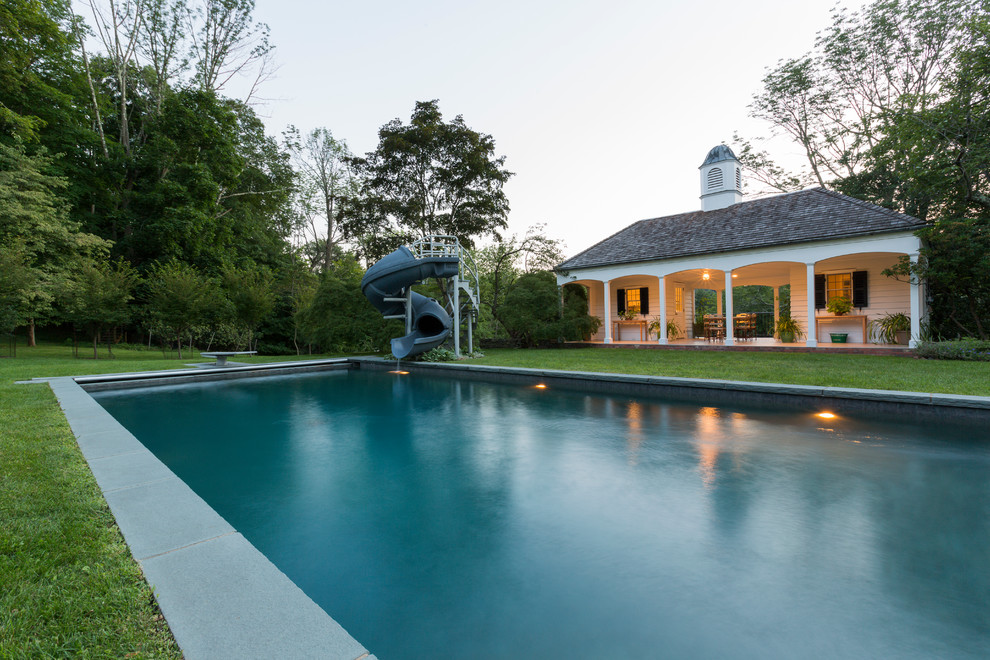 4. Maintenance
Since slides are out in the open, they get exposed to various environmental elements. As a result, water slide maintenance becomes necessary. The waterslide may face issues like discoloration and fading finish, etc. And painted slides tend to oxidize. It can cause powdery streaks on the back of the swimmers. But, when you work with a professional Aquatic Solutions company, you can expect the best quality installation. Reputable companies may also offer you warranties on their work.
Photo by Westrock Pool and Spa
5. Safety Is A Must
Although you're installing a waterslide for fun, you cannot ignore the safety aspect of it. Please ensure that the waterslide complies with governmental safety standards. You should have a reliable stairway style for your slide. If you have kids at home, an enclosed stairway is the safest option. So, consider all safety aspects as you install a waterslide.
Photo by Red Rock Pools and Spas and Red Rock Contractors
All Things Considered
Waterslide in your pool is a significant investment, and well, it's worth it. The slide makes your swimming pool a fun place, and it also adds an aesthetic value to your property. But, as you install a water slide, you need to consider the pool size, location, and safety regulations. And you also need to factor in water slide maintenance. By working with a professional company like Aquatic Solutions Hawaii, you can get a high-quality with a life-time warranty!
2013 © YourAmazingPlaces.com
All materials, unless otherwise noted, were taken from the Internet and are assumed to be in the public domain. In the event that there is still a problem or error with copyrighted material, the break of the copyright is unintentional and noncommercial and the material will be removed immediately upon presented proof.
Back to Top ↑