If you are planning a trip in the near future, there are some simple steps that you can take to safeguard your belongings and protect your home. Burglars are opportunists, and will often seek out easy targets. Make your house just that much less enticing to criminals and thieves, and you'll be able to rest easy when on vacation. Here are ways to keep your home safe while traveling.
Get a House-Sitter
One of the most effective ways to keep your house safe while you're away is with a house-sitter. Start with friends and family, and then extend your list of candidates out to include trusted colleagues and co-workers. See if anyone is willing to watch your house, or even potentially live it in full-time, while you're away. If you don't get any takers and are the adventurous type, you may even want to consider finding a house-sitter using services like HouseSitter.com or Rover.
Photo by Wood-Mode Fine Custom Cabinetry – Look for transitional laundry room pictures
Hold Your Mail
The Post Office lets you set up a Mail Hold right from your computer or smartphone, and will even deliver your mail to you after the hold is expired. That's right, you don't have to go to your local Post Office to pick up your mail when you get back from vacation! A stuffed mail box is a giant red flag to burglars and cat thieves. Don't make that simple mistake, especially when it's so easy to avoid.
Photo by Sims Hilditch – Browse farmhouse entryway ideas
Enlist Your Neighbors
If you have neighbors that you can trust (and hopefully you do; that's what neighbors are for, after all), ask them to keep an eye on the house while you're away. The odds are good that they will be happy to. If they see something suspicious, they may be able to scare the suspects away or call the appropriate authorities. When it comes to protecting your home, every little bit helps.
Photo by Union Studio, Architecture & Community Design – Discover traditional exterior home design inspiration
Use Timers for Your Lights
If you've seen Home Alone, then you know all about light timers! These simple devices allow you to turn your exterior and interior lights on and off at set times and intervals. Remember, when you're away on vacation, you want your home to give off the appearance that you are in fact still at home. Light timers are a great way to create this illusion – and they're affordable, too!
Photo by Plunkett Homes – More contemporary exterior home photos
Hire a Gardener
Stuffed mailboxes, darkened homes, and unkempt lawns are all signs of a vacant property. We've already discussed how you can avoid the first two. To avoid the third telltale sign of an empty house, consider hiring a gardener, at least while you're away on vacation. A freshly cut and trimmed lawn will help your home look lived in and occupied. And you might just like the service so much that you decide to keep your gardener even after you get back.
Monitor Your House from Afar
With home automation systems, like those by ADT, you can run much of your house on autopilot. Home automation products make it easy to automate many of the daily chores, tasks, and burdens you might have to deal with as a homeowner, such as constantly fiddling with the thermostat or turning the lights on and off. However, it's also worth noting that these home systems often include safety features as well, such as self-locking doors and wireless security cameras. If you want peace of mind while you're away, monitor your home remotely, right from your smartphone. You'll never question what might be happening at home, because you'll have the answer to that question right at your fingertips.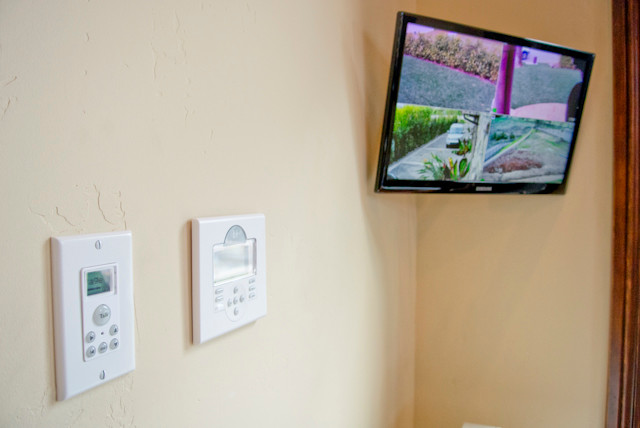 Photo by Audio Video San Diego – Browse home design ideas
Unplug Your Electronics
To save electricity and avoid the risk of electrical fire, consider unplugging your electronic devices and appliances prior to your trip. It may seem like a burden to do so, but the peace of mind it can provide might just make the effort worth it (to say nothing of the savings you'll enjoy). Plus, if you unplug your coffee maker, you will know for certain that you turned it off – rather than worry about it for the duration of your vacation!
Photo by Raad Studio – Search industrial family room pictures