5 Latest Trends in Sink Faucets for Your Bathroom
Today's bathroom scene is trending with high-tech innovations and fascinating items. A bathroom trends study done in 2020 revealed that around 48% of all the new faucets comprise innovative features.
Bathroom faucets are one of the popular upgrades in a home remodeling project. With the increased demand, manufacturers are working hard to match up to the need. Each year, they come up with new bathroom faucet features, styles, and finishes that align with the current trends.
The bathroom faucet installed depends highly on the sink or vanity arrangement. You also need to note the number of installation holes present before purchasing.
You may like particular faucet designs, yet there may not be enough holes for installing it. Here, you'll have to acquire a new sink or vanity. Before acquiring it, you need to know the layout of the sink. It's also important to determine the appropriate faucet installation type.
Our article below focuses on the latest trends in sink faucets for your bathroom. Let's explore below.
1. Mixing Sink Faucet Finishes and Materials
One popular trend in bathroom faucets that emerged recently is the mix-and-match of materials and finishes. We see manufacturers in their latest designs now mixing bathroom faucet materials and finishes. One particular style matches contrasting finishes like the gold bathroom sink faucets and black sink faucets.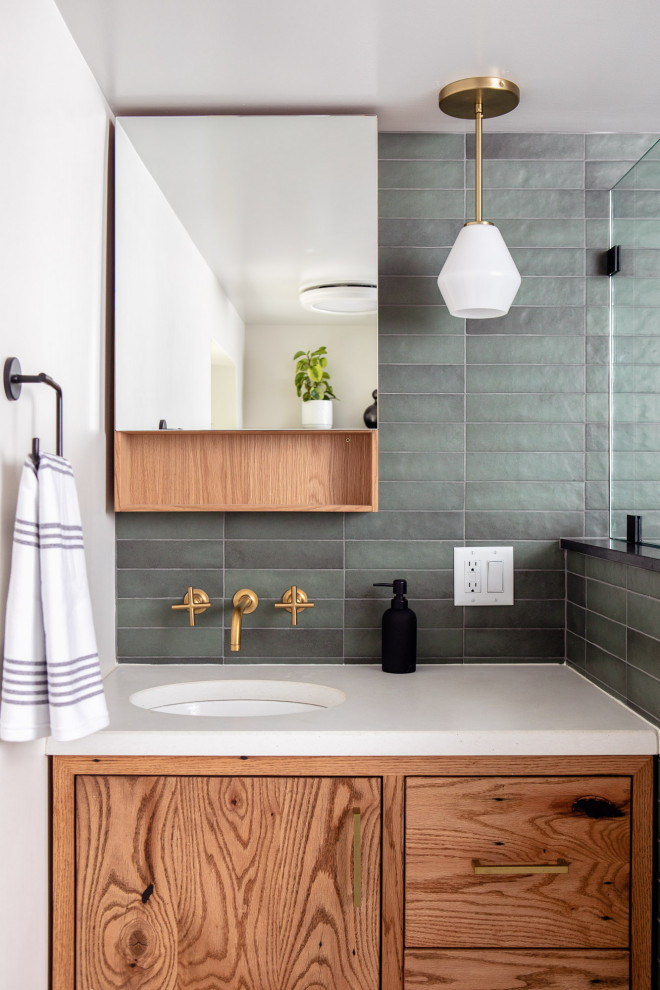 Photo by Sarah Crowley Photography
Some faucets feature a tone-on-tone matching effect. Several examples here include:
Matte black bathroom sink faucets, with levers and bands in black finishing.
Clear lever design matched with a luxe gold finishing.
Clear square handle that contrasts against polished chrome.
Amidst the mix and match styles, homeowners are now focusing on customizing bathroom elements. They want to add user flexibility in selecting bathroom products. And they also desire the sense of formulating personal designs to add artistic value to individuals.
If you love colors, the modern bathroom sink faucets come with 20 admirable thin-film ceramic colors. So, you can match your faucets, tub faucets, showerheads using a general color theme. That way, you get to transform the whole ambiance in your bath spaces.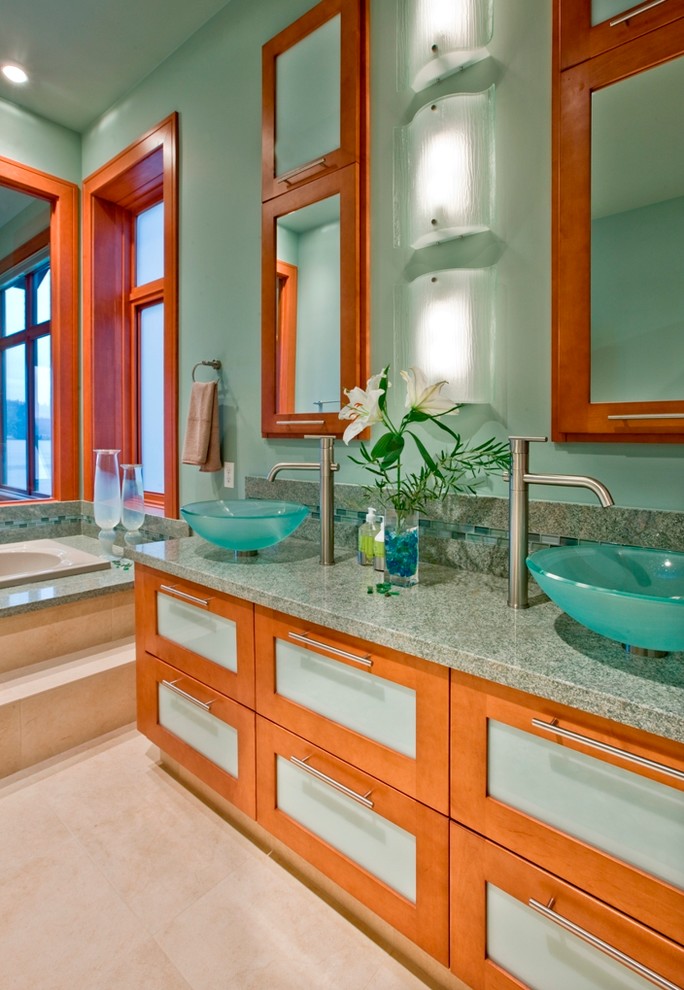 You'll find the sink faucets available in distinctive finishes like:
Matte black
Polished chrome
Satin nickel
Satin gold
Satin brass
For example, you may find unique bathroom faucets. In this case, some may have the ribbon spout with the handle's outer ring displaying one finish style. On the other hand, the handle's inside accent piece may contain a different finishing type.
2. Modern Single-Hole Bathroom Faucets
People are now going for the single-hole faucets. These types are installed in a single hole on the sink or vanity's back. They have a single handle or knob to control the flow of water and temperature.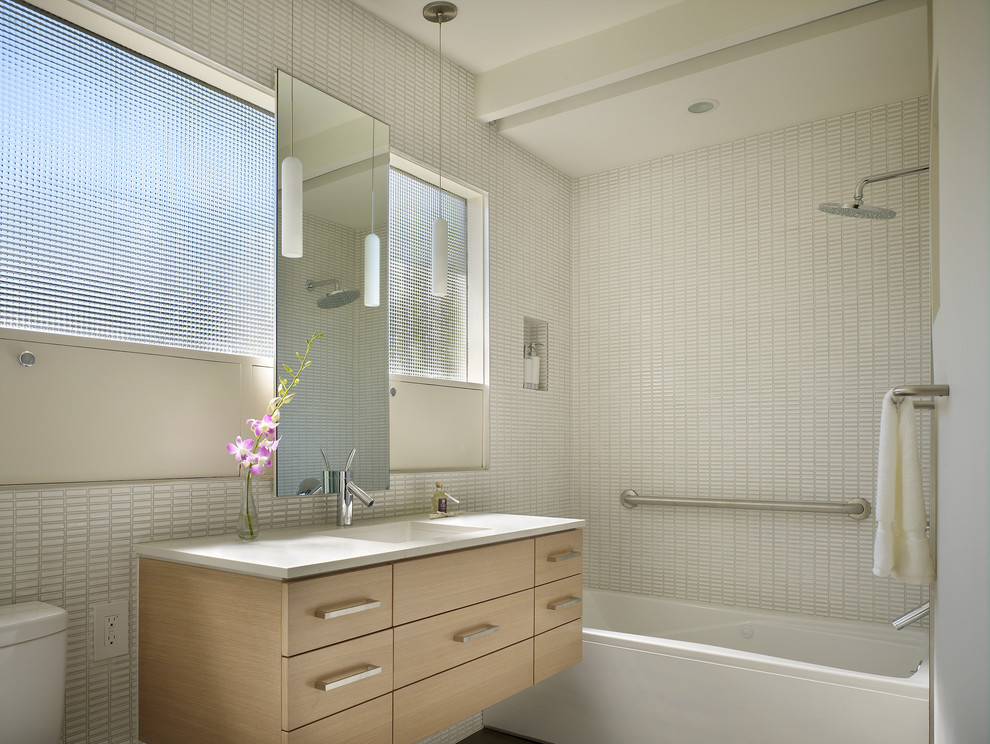 Single-hole faucets often result in much quicker installation compared to any other type. People like such types because they are simple but have sleek designs. They are also suitable for tiny bathrooms. So, even if your bathroom is small, you can still attain elegance in your bathroom using this modern design.
This type of design is also cost-efficient. A prime example is the Isenberg faucets that have a 1.2 GPM Flow rate. This is in line with some of the stringent water-saving requirements. The current water efficiency standards for bathroom faucets aim at reducing water shortages.
3. Faucets With Modern Handles
Many manufacturers are now designing new faucet collections. These bathroom faucets come in different handle styles. For example, there's the popular and stylish single-handle. Some homeowners say that they prefer this design. The reason is that it helps save countertop space, and it's easier to clean around the sink.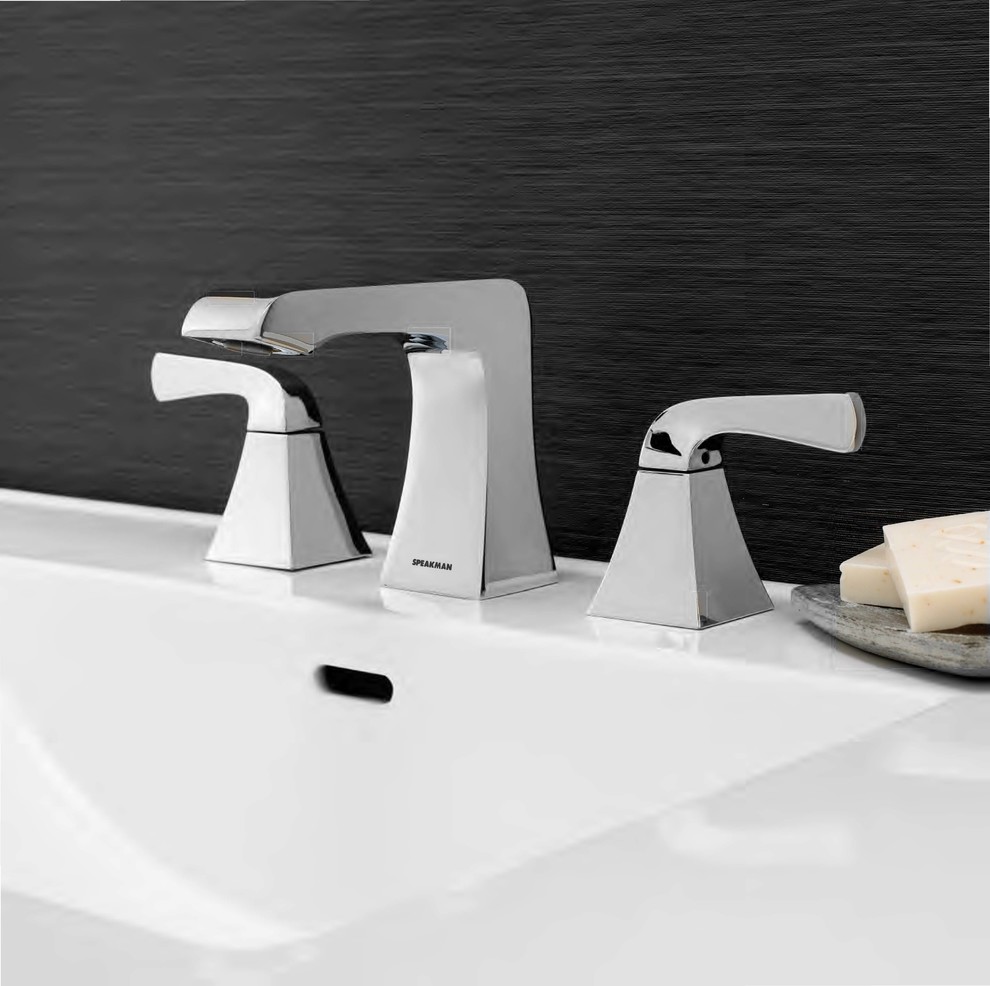 Also, you can go for the transitional design with a geometric spout and a slightly flared base. You can as well find single-handle designs that are subtle and industrial-style-inspired.
Additionally, there are modern faucets with lever handles. It's hard not to notice the presence of widespread lever handle styles in new bathroom faucet items. Some of the latest bathroom sink faucets feature widespread lavatory faucets. They come with lever handles that look like twisted ribbons.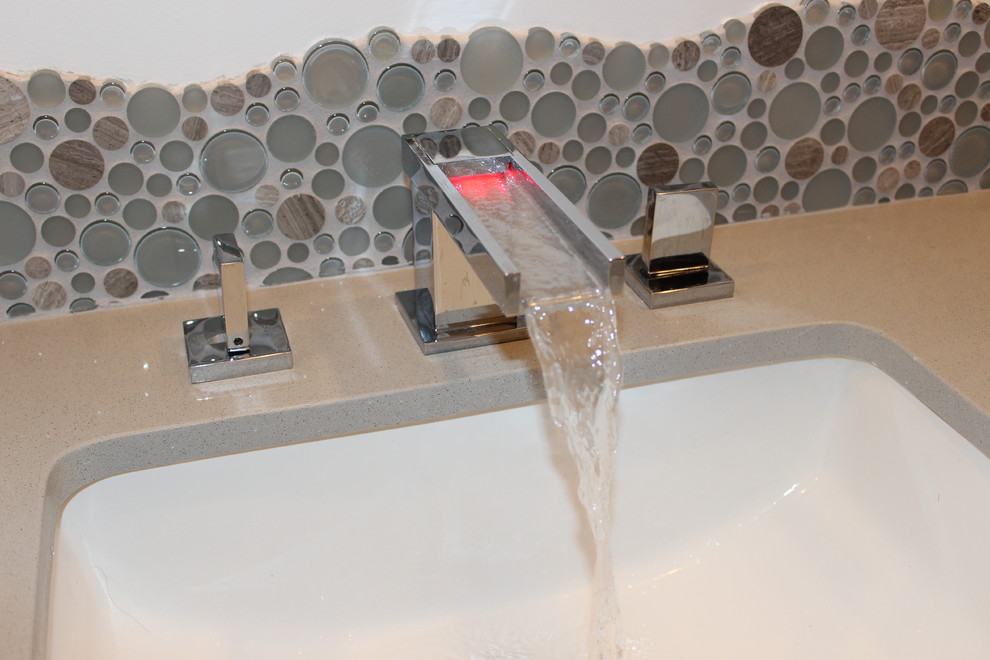 Photo by Noah Construction & Design
Another popular faucet collections come with square handles, which form a cross between the levers and knobs. Besides, the type of faucet you select may present other handle styles. For example, if you consider the widespread bathroom faucet, such types feature hot and cold handles.
These are independent handles mounted on your sink top or countertop. When you check the Isenberg faucets, you'll find them in a wide variety of styles and finishes.
4. The Freestanding Sinks
Homeowners are now styling their bath spaces with elegant standalone sinks. Such designs can form a bold design statement in your bathroom.
The freestanding sinks are known as vessel sinks or countertop sinks. These sink types usually rest on the bathroom countertop and form one of the most trendy bathroom sink styles.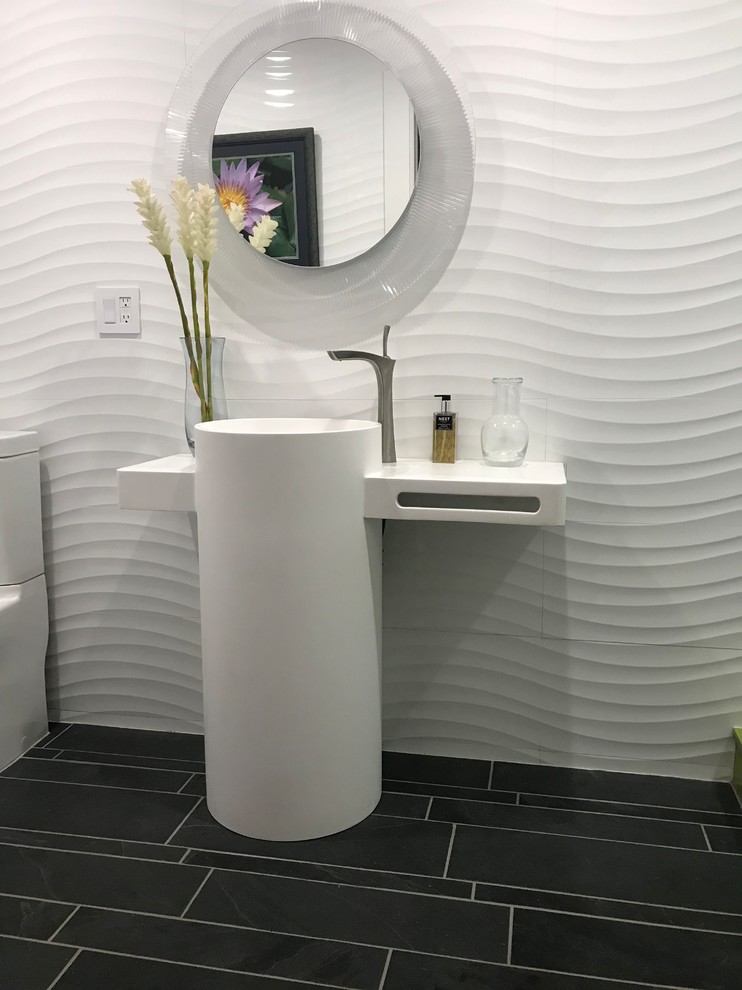 Some of the designs used for freestanding sinks include:
Enameled cast iron
Stainless steel
Colorful art glass
Solid surfacing
The versatile styles include traditional fashion to the modern-age designs. At the very high end, stand alone sinks consist of semi-precious stones, like rose quartz or agate. There are also those with lavish hand-painted basins that feature unique illustrations.
Part of the freestanding sinks includes the wall-hung sinks. People like them because they are easily accessible to those in wheelchairs. You can also set the sink at the appropriate height that favors everyone.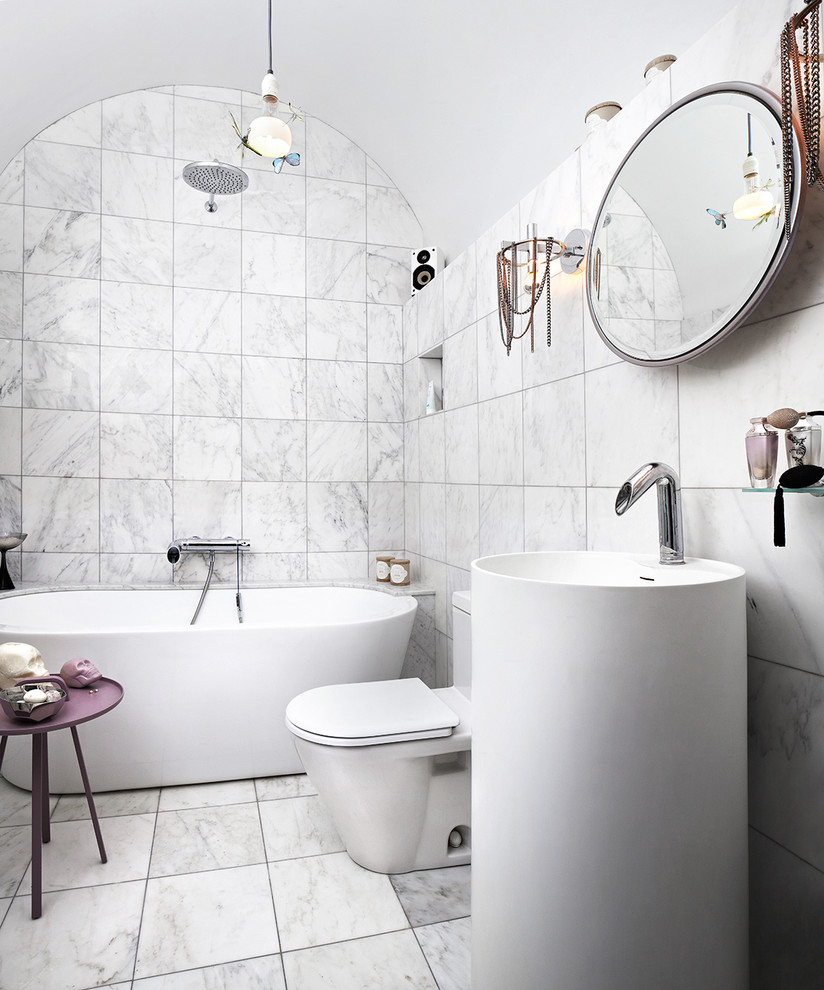 The wall-hung sinks can also be skirted, thus providing for hidden storage. Besides, you can have wooden or glass shelves installed above the sink for open storage. This design also adds stylishness to your bathroom. The best thing is that you can learn how to make a sink skirt.
5. The Integrated Vanity
The integrated vanity, also referred to as the all-in-one vanity, is one of the latest trends in sink faucets. It's a distinctive and beautiful way to modernize your bathroom's look. This is a complete piece of hardware for your bathroom.
Each beautiful vanity unit is well-furnished with an integrated sink, faucet, and countertop. But, you'll have to acquire your plumbing fixtures differently. You can also find those with open shelving.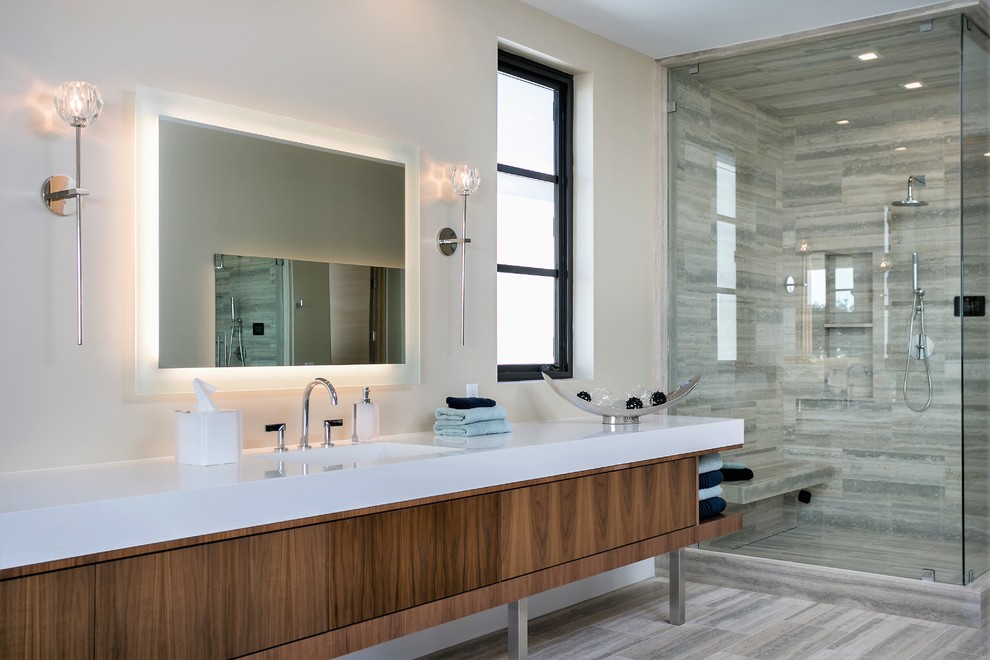 So, you can decide to upgrade your bathroom look with this stylish design. This is a quick way to get a whole new vanity design in your bath spaces.
Remember that you may have to call in a person with plumbing skills. They'll help with fixing the bathroom fixtures. However, you can also do the installation if you have the necessary knowledge.
Other latest trends in sink faucets that can give your bathroom a fresh look include:
Installing new hardware
Applying a fresh coat of paint over your sink and other items
Replacing old bathroom faucets with new stylish ones
Changing the countertop material
Swapping your bathroom knobs for a new pair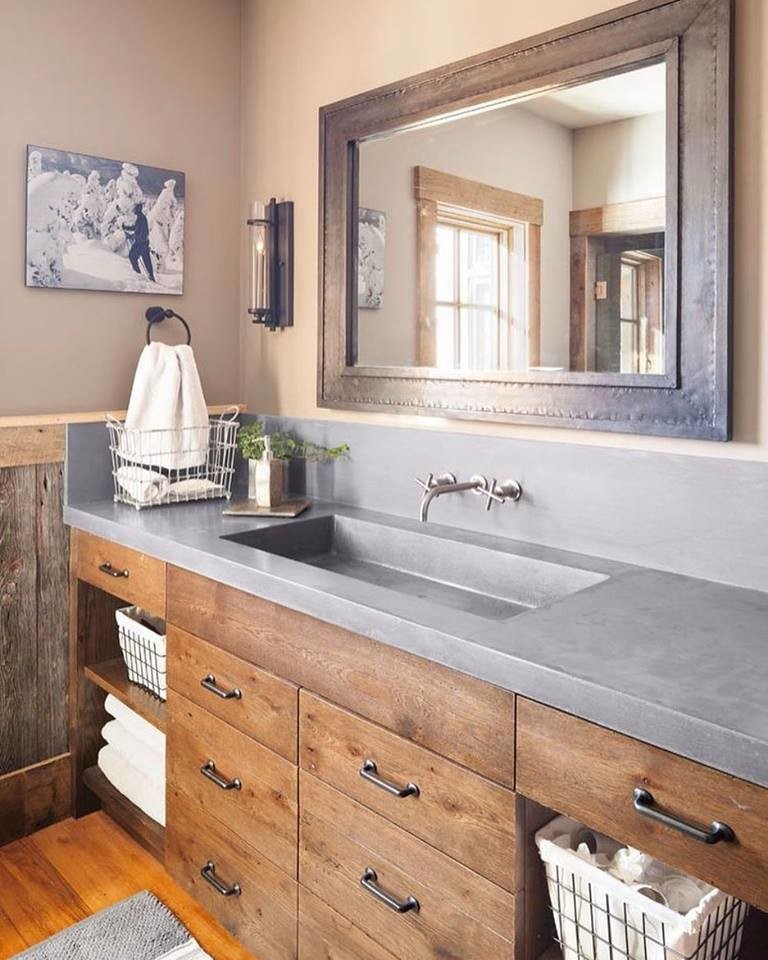 Key Takeaways
The modern age presents new bathroom faucet designs that continue to attract homeowners. With careful selection, you can transform your bathroom entirely.
What matters most is choosing bathroom fixtures together with their appropriate fittings. When accompanied with a sense of style, you get to enhance the aura in your bath space wholly.
Since some fixtures ha­ve changed in design over the years, you can replace your old worn-out bathroom sink faucets with modern faucets.
You can also replace the whole suite with unique bathroom faucets. Most importantly, don't forget to choose stylish faucets that you'll still feel good and proud about in the years to come.
2013 © YourAmazingPlaces.com
All materials, unless otherwise noted, were taken from the Internet and are assumed to be in the public domain. In the event that there is still a problem or error with copyrighted material, the break of the copyright is unintentional and noncommercial and the material will be removed immediately upon presented proof.
Back to Top ↑