5 Ways Curtains can Benefit Modern Architecture
Technology has been very constant with upgrades, and these upgrades affect everything, especially human beings. One factor that is greatly affected is architecture, modern architecture, or modernism emerged because of the innovation.
Before anything else, let's talk about modern architecture. In the history of architecture, the industrial revolution played a major role that was motivated by practical priority. In this period, products such as concrete, glass, and steel were produced industrially.
Furthermore, the addition of curtains to your modern house or office might turn it into something you should know. Here are some ways curtains can take advantage of modern architecture.
Achieve Modern Aesthetic
Modern architecture is not based on ornaments. Its key goal is to remain simple and acquire a clean aesthetic where simple and well-executed joints meet materials.
How do curtains benefit from modernism, you might wonder? Many curtains can move through the vibe that modernism is aiming to attain. You can also choose from the furnishing fabric design that can bring out your new house's aesthetic.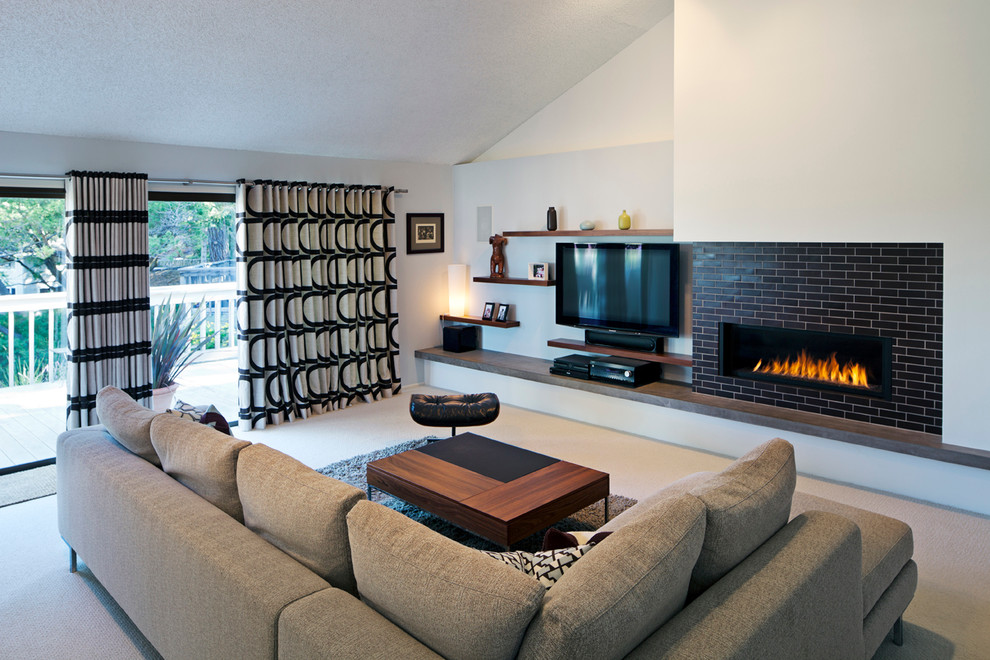 Photo by Elena Calabrese Design & Decor
Furthermore, if you want to make your house look more sophisticated but still modern, we recommend that you try soft velveteen fabrics because it will certainly do the trick. Also, don't forget that you can pick any fabric you want, and it just comes down to how well you use it.
Make Use of Open Spaces
The interior of modern architecture is very open, and it's what people called a flowing interior because the room or space in your house doesn't define by walls, hallways, and doors. As part of one contiguous interior room, living, dining, and kitchen spaces appear to flow together, suggesting a more informal and more relaxed way of living.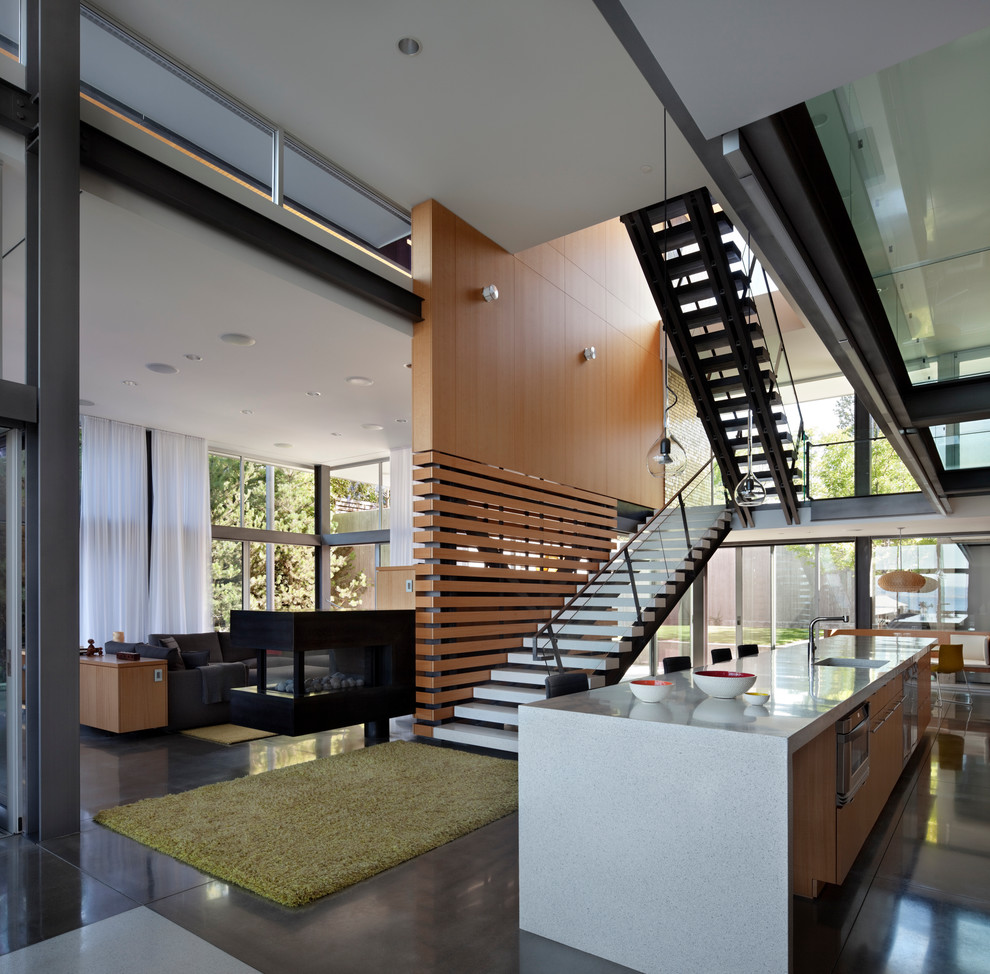 It implies that it is ideal for your house to highlight your curtains as an added volume. Also, it is best to use curtains such as cotton and linen because your interior open, allowing some light to pass through and creating a breezy effect. In a kitchen, laundry room, or toilet where you'd enjoy more light, you might consider this fabric option.
Enhance Human Comfort
Modern Architecture should always be efficient. It should give the people inside it serenity from what's going on outside. It should act as a sanctuary, a haven for all people.
In addition to that, it is designed to take advantage of nature's strengths to provide solar heat gain in the winter, while long overhangs and curved openings give the shade to keep homes cool in the summer.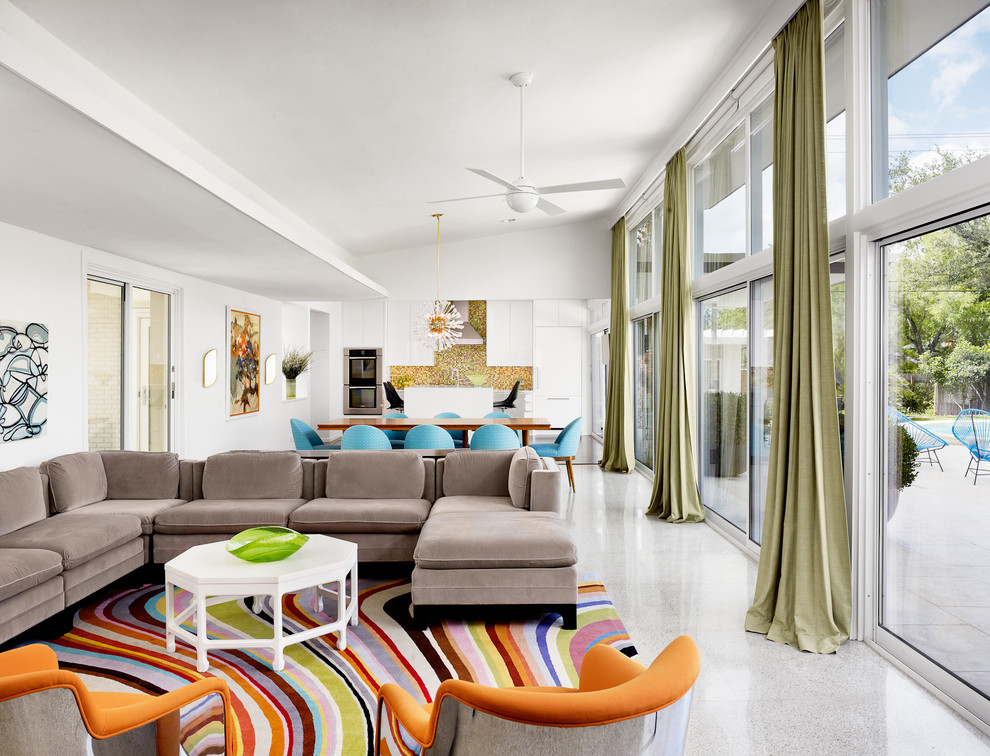 Furthermore, windows are no longer exterior air vents, but vast expanses of floor-to-ceiling glass providing stunning views and taking natural light deep into the interior of homes. Choosing your curtain fabric is vital, so you should know what fabric is best for winter and summer.
A blackout lining helps to keep a room dark, and sheer fabrics feel lighter and allow in more daylight. The drape takes the specifics of a ruffle trim from practical to romantic.
Curtains as Room Dividers
As mentioned, the style of modern architecture in the interior is flowing, not relying on walls and doors. And you can use curtains as space dividers for that purpose.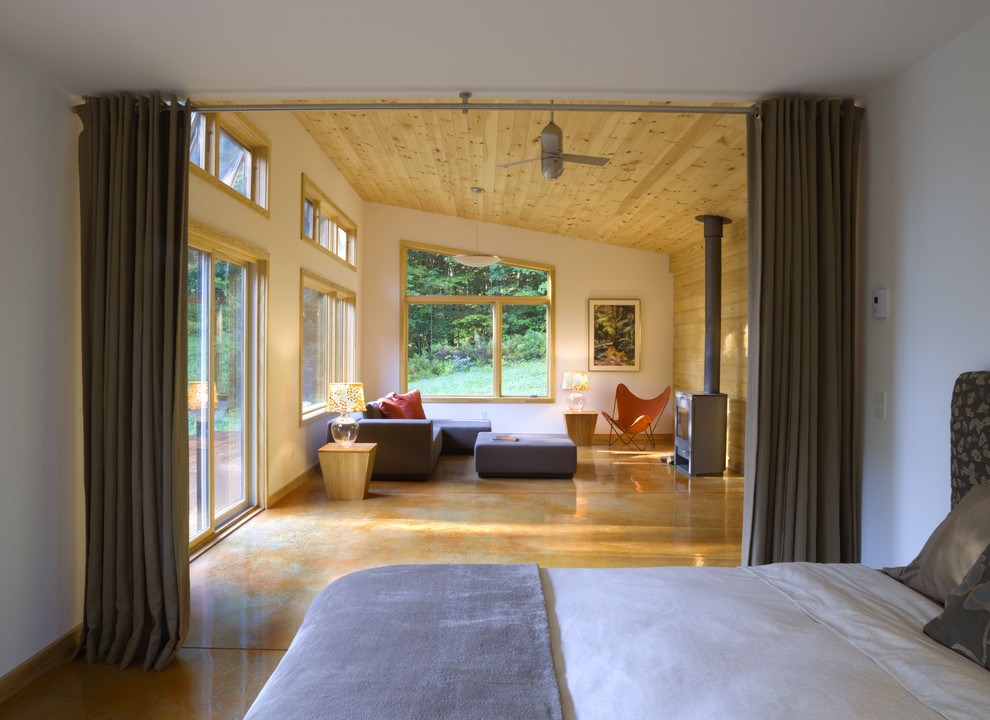 Photo by Joan Heaton Architects
As a continuous feature, the curtain minimises the inside-outside that divides wardrobes, pantry, and toilets add dramatic and imaginative connotations and invite the resident to act with it, to change the space, and to play with the mysteries, inconsistencies, and paradoxes that privacy offers us beyond morality.
Architectural features, such as a vaulted ceiling and window mouldings, will add value to curtains. Another tip: put the drapes into a soffit that hides the top pleating for a sleek, streamlined look.
Keep Your Privacy
Thicker fabrics in dark colours can also offer more privacy, in addition to offering more light access, which makes them even better for bedrooms. In living rooms, you can not need as much protection, which is why sheer curtains work so well.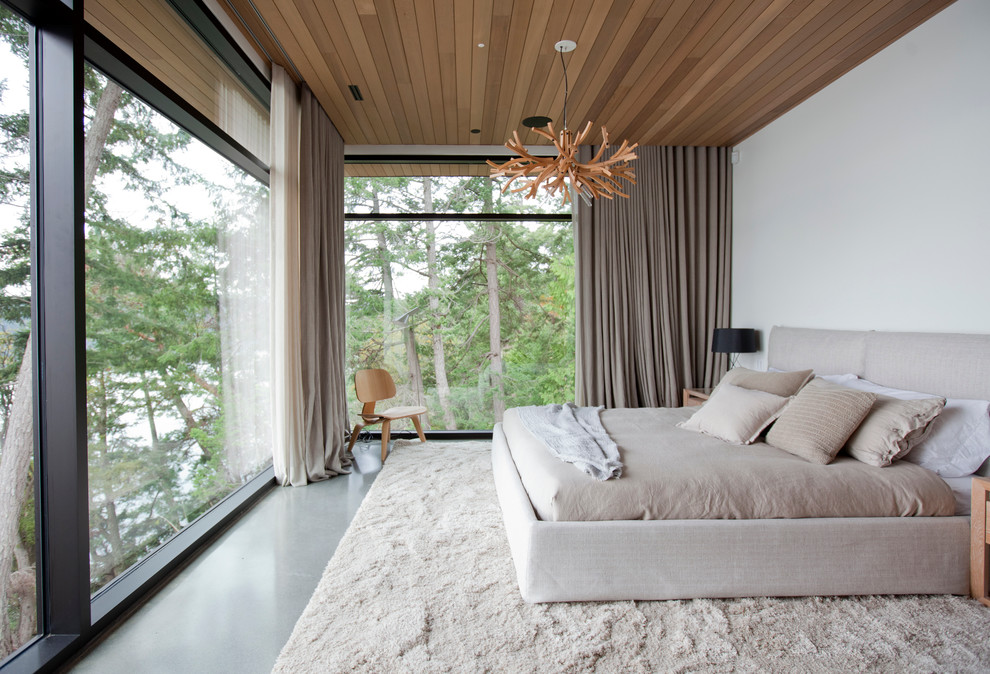 For extra privacy in rooms where you'd still like to enjoy natural light, suggest layering window treatments such as blinds, shutters, or shades under your curtains.
Takeaway
Picking the right curtains for each house is important. It plays an important role in every house, not only in modern architecture that is why you must know what curtain to use. But most importantly, you should always feel comfortable in your house, do not jeopardise it just because of the style.
2013 © YourAmazingPlaces.com
All materials, unless otherwise noted, were taken from the Internet and are assumed to be in the public domain. In the event that there is still a problem or error with copyrighted material, the break of the copyright is unintentional and noncommercial and the material will be removed immediately upon presented proof.
Back to Top ↑