6 Modern Ideas for Autumn-Inspired Room Designs
Autumn is easily one of the best seasons—when the air becomes crisp, the weather starts to get chilly, and the green leaves turn red, yellow, and purple and crunch at your feet. As you begin to spend more time cozying up indoors rather than outdoors, it's time to care for your home, usher in the season, and capture the essence of autumn with room designs that reflect an inviting and comfortable atmosphere.
For a full fall glow-up, add a touch of warmth in every corner of your house, from the living area and the kitchen to your bedroom. While there are a lot of ways to give your home an autumn makeover, here are some of the best design elements that can transform your home into a warm and cozy oasis of your dreams:
Stunning, Autumn-Inspired Fall Tableau
The foyer welcomes you and your guests when you enter your home. As it sets the mood for the rest of your house, redecorating your entrance hall can make or break your autumn-inspired interior makeover. Add a touch of fall in your entryway with a whimsical yet elegant tableau.
Photo by Jennifer Morgenthau Architect, LLC
While it is easy to purchase a pre-designed display piece for your foyer, designing your own tablescape will allow you to have an eye-catching tableau that fits perfectly with the rest of your decor.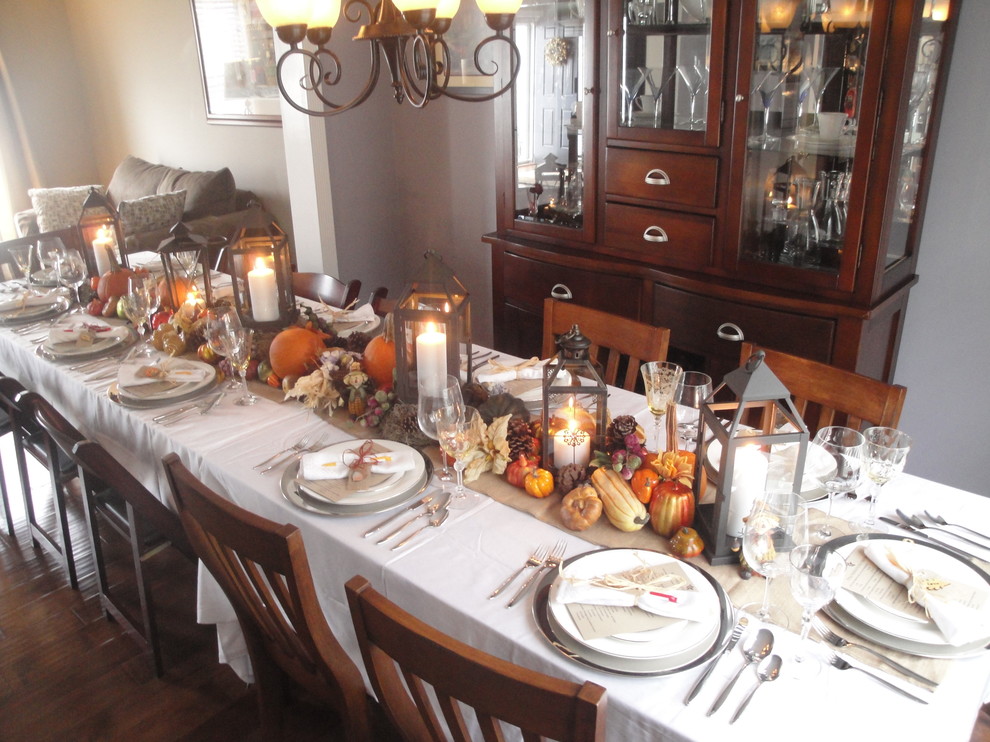 Photo by Sandra Bunn Designs, Inc.
To showcase the invigorating hues of autumn and bring in the spirit of fall into your home, you can try playing around with different seasonal gourds, pumpkins, pinecones, potted plants, vases, and bright autumn leaves for an amazing tabletop display. If you're not much of a pumpkin fan, you can also use earthy-colored candlesticks as accents to your foyer display.
Mix and Match Patterned Throw Pillows
As you shift your focus from the foyer to restyling the living room, you can add more warmth into space with patterned and fuzzy throw pillows and knitted blankets. You can choose to cozy up your couch and ottoman with plaid fabrics or a touch of traditional autumn hues—like red, mustard, and burnt orange—or go for more neutral shades such as tan, beige, camel, light brown, and cream.
Photo by The New Design Project
Arrange your throw pillows and blankets to create an inviting and warm atmosphere, great for relaxing and enjoying the crisp air of fall. For a more stirring effect, accentuate your coffee table with a rustic yet sophisticated centerpiece. Experiment by putting together potted greenery enclosed in a cloche, metal or wooden trays, scented candles, antlers, pinecones, pumpkins, and some beautiful checkered cloth.
Add Some Fire Into Your Decor
Add some fire—literally and figuratively—with a gorgeous indoor fireplace or an outdoor pit to create a cozy, warm ambiance perfect for fall-filled cheer and welcoming the cold weather.
However, while a good ol' conventional fireplace is great, it's not always possible to install one in your place due to various reasons like building restrictions, policies, and codes. Fortunately, thanks to modern technology, you can enjoy still enjoy an autumn-inspired ambiance anywhere with an electric fireplace.
Bring In Some Heirloom, Antique Pieces
Great autumn decor—antique furniture and vintage pieces—infuse a much-needed warmth during the fall and add seasonal depth to any room. Transform your living room or bedroom by incorporating a simple yet stylish antique bookshelf, a classic, handcrafted rocking chair, or a beautiful rustic ottoman.
Photo by Simply Home Decorating
If you can't find such antique furniture in time to welcome the season, add a touch of rusticity by bringing in an earthy-colored heirloom quilt or some lovely wooden art elements as accent pieces—these can also do the trick.
Layer Your Bed With Seasonal Bedding
As you get ready for cooler temperatures, layer your bed with a furry or velvety blanket, flannel duvet, and some textured pillows. It's time to store your boring white sheets and dress your bed with a pop of traditional autumn hues.
Aside from layering your bed with textural and patterned pieces, you can switch up the look of your bedroom with fall-inspired wall art by your nightstand or a luxurious statement rug at the foot of your bed.
Pull Out Your Firefly String Lights
As the days get shorter and the nights longer, it's good to invest in a lamp that casts a soft, warm glow to help create a cozy ambiance perfect for dark autumn nights. You can add a floor lamp in your living room for those nights when you just want to curl up and read on the couch, or pull out your firefly string lights and hang them above your bed for a warm yet festive touch.
Enjoy the great indoors this autumn
While leaf peeping, apple picking, and camping are fun and all, simply staying under the warm covers with a book in hand while sipping on your pumpkin spice latte in the comfort of your own home also sounds just like the perfect plan.
Photo by moment design + productions, llc
Enjoy the great indoors even more by weaving in your autumn favorites into your home decor—knitted blankets, plaid bedspreads, fall-patterned accent rugs, and wooden antiques and accessories.
2013 © YourAmazingPlaces.com
All materials, unless otherwise noted, were taken from the Internet and are assumed to be in the public domain. In the event that there is still a problem or error with copyrighted material, the break of the copyright is unintentional and noncommercial and the material will be removed immediately upon presented proof.
Back to Top ↑