Designing Your Own Gardening She Shed
You have heard about the man cave, but what about the she shed? The she shed is the woman's version of the man cave, giving women a place to escape to when they need some peace or to work on projects. The she shed is a personal retreat that can function as a space to do arts and crafts, office space, home gym, memorabilia display, or gardening space, though it can be whatever you want it to be.
Your husband has taken over the basement, and you want your own space to escape, so building and designing your own she shed is the perfect solution. Here, we will look at some tips for designing a gardening she shed.
The Shed's Structure
The first thing to decide when you are designing your she shed is what type of building material you want to use. Wood is often the default choice for the structure, but if you use a steel building for your she shed, it will be more durable and last longer. If you live in an area that is prone to hurricanes, tornadoes, earthquakes, high winds, and other weather events, a wooden shed is vulnerable to the elements. You could lose the shed you spent so much time designing. A steel she shed, on the other hand, is much more likely to stand up to the weather, so the building itself and its contents will stay safe.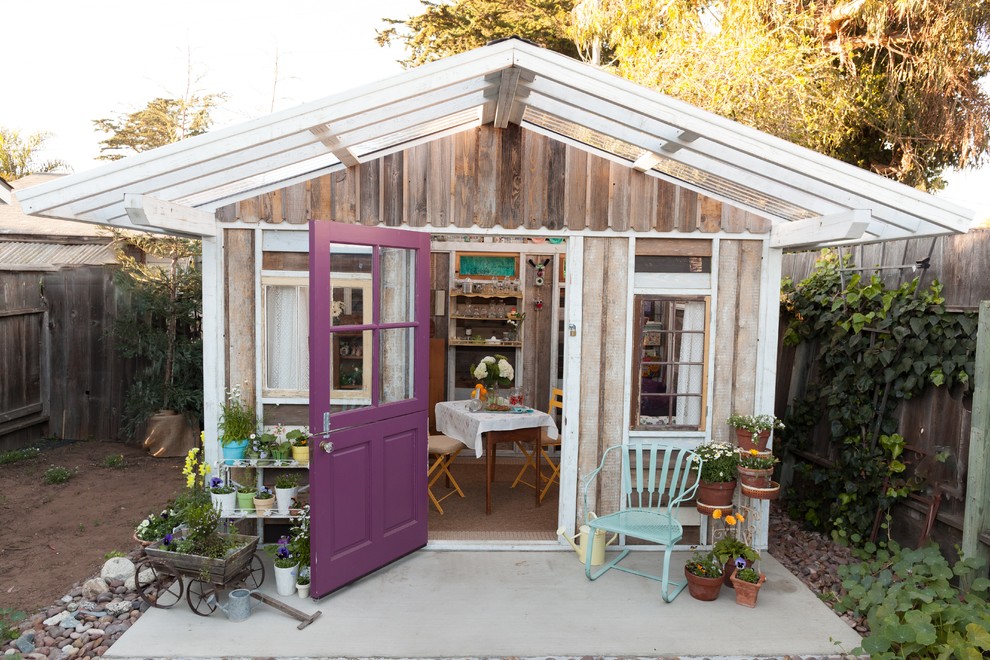 You might be thinking that a steel she shed comes as a one-size-fits-all building, but you can actually get them customized to meet the needs of your she shed. You also do not have to have the metal building look on the interior or exterior. There are plenty of options available to make the building look like it is made of wood, stucco, brick, or stone, giving you the exact design aesthetic that you are looking for.
Include some windows in your she shed, so that any plants you keep inside will still get sunlight, and so you can open them to allow fresh air to come into the building when you are inside.
Once this is decided, the fun part of designing your she shed can begin.
Covered Exterior Area
Add a small, covered porch to the exterior of your she shed where you can sit and enjoy your garden or have friends over for tea. You can add a small porch swing or some seating and tables. This is also a good place for any hanging potted plants to go. If you have additional plants around the she shed, you can enjoy them too from your little porch area.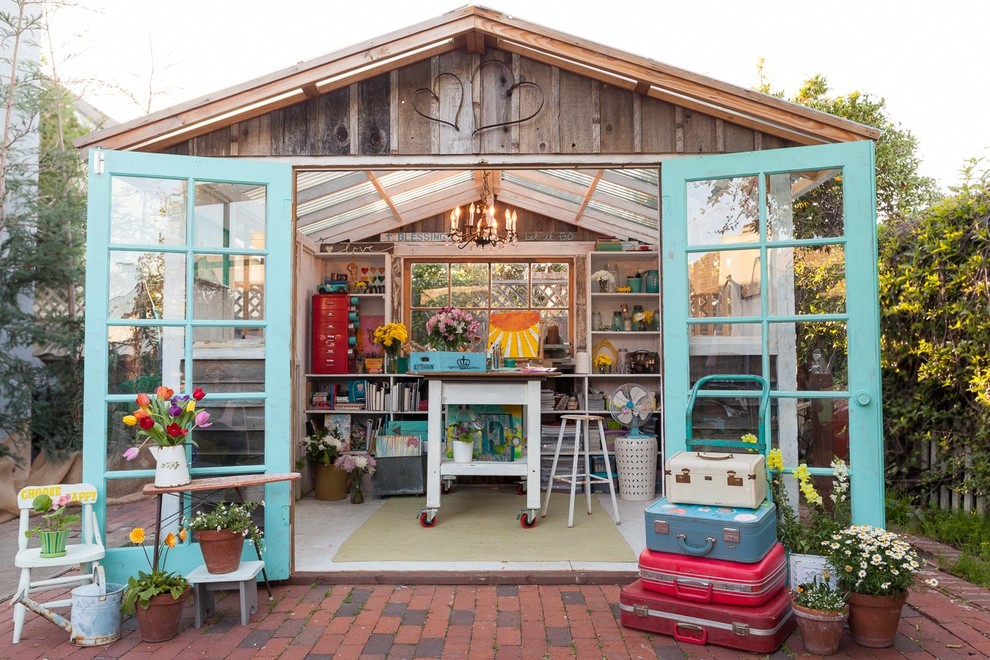 If you make part of your little porch enclosed, it can act as a mudroom for you. A little place where you can kick off your muddy shoes and take off your wet raincoat before stepping into your she shed. Tracking mud inside can remove some of the tranquility your she shed gives you.
Choose a Theme
When you design your she shed, you should select a theme for it. What do you plan to use the space for? If you are mostly going to be using your she shed for gardening, focus on that theme to give the entire space a cohesive look. Select colors for the interior based on the theme of the shed but aim for soothing shades of those colors.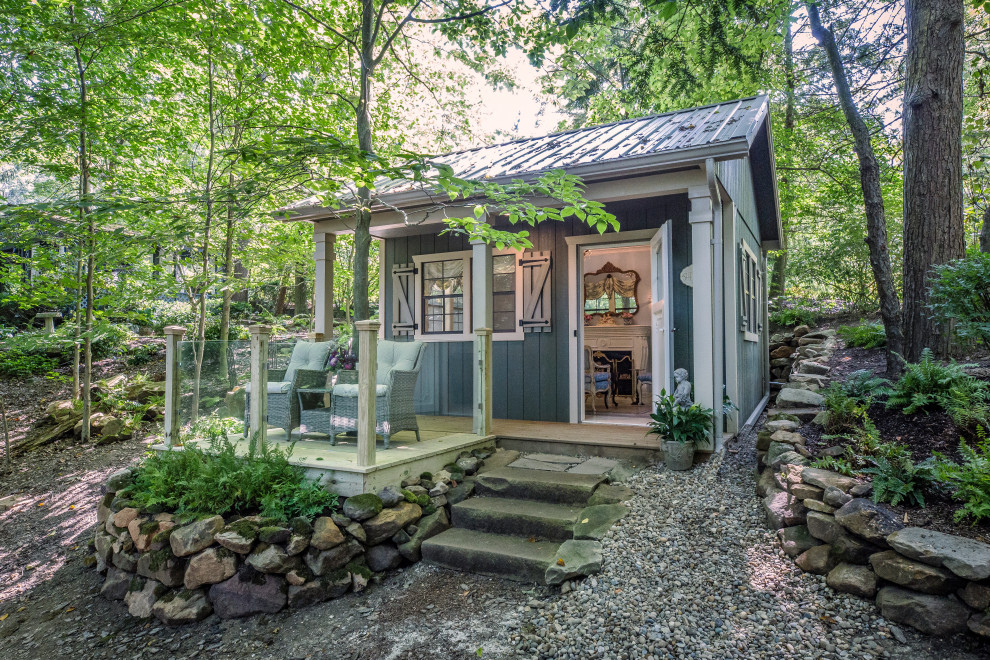 Photo by Lobalzo Design Associates, Ltd
Find Unique Décor
It does not have to cost you a lot of money to decorate your she shed. Visit antique shops, yard sales, estate sales, and flea markets to find unique pieces that will fit your gardening theme and stand out. Since your she shed is for gardening, bring some of that inside; add décor with floral designs or paint little flowers on the interior walls, so you are always surrounded by plants in your personal haven. You can find many items with floral designs at antique shops and flea markets.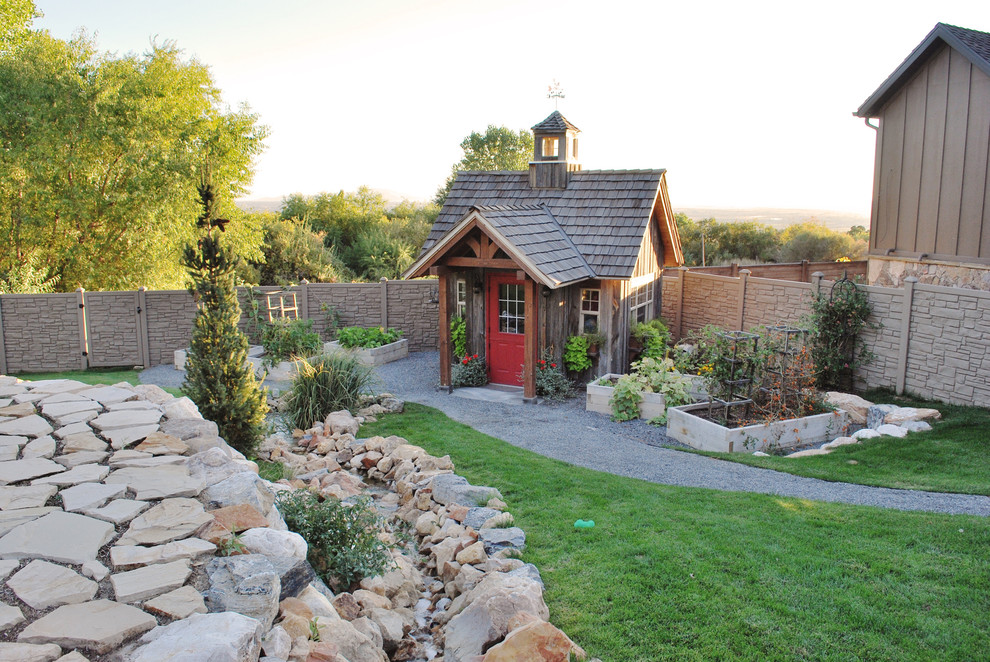 Find lighting that is warm and inviting and lights up the space enough to be in there after dark. You can look for a vintage cabinet to store seeds and equipment, and if it has a little table as part of it, you have some workspace.
Adding a section of pegboard wall will give you a great place to hang all of your tools, and if you have some vintage tools you do not use, you can hang them up to display.
For seating, look for things that are comfortable and can be pulled up to your work tables but will not get stained or ruined by being in your gardening she shed. Vintage metal patio seating can work well for this purpose. You can also find seating that doubles as storage to maximize your space, like a bench seat that opens up so you can store things inside of it.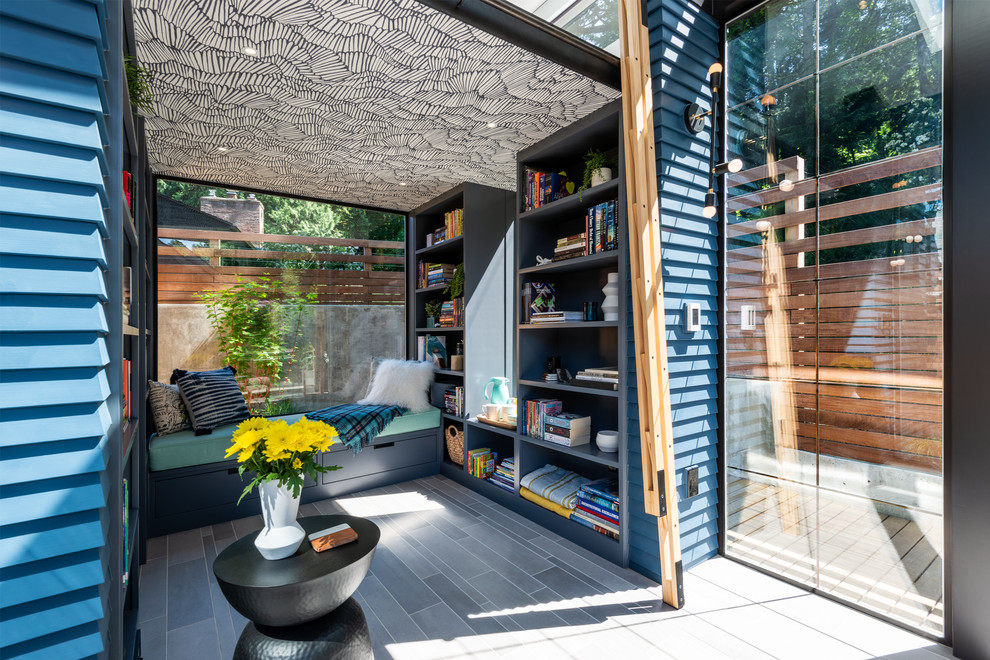 About the Author
Auz Burger is a freelance writer who specializes in steel buildings, faux stone and brick veneer, and home DIY projects. She has a BA from Washington State University and has been writing and editing professionally for 11 years.
2013 © YourAmazingPlaces.com
All materials, unless otherwise noted, were taken from the Internet and are assumed to be in the public domain. In the event that there is still a problem or error with copyrighted material, the break of the copyright is unintentional and noncommercial and the material will be removed immediately upon presented proof.
Back to Top ↑