A staircase does not need to make a big statement, but it is often overlooked when working on DIY home improvement projects. It serves a specific purpose, but it is not a room where guests will be staying or lingering, so it is usually one of the last things people think about when deciding what DIY projects they want to complete before the holidays. However, it is often one of the first things that a guest will see when they walk into your home, so making it stand out and give your guests a good first impression of the house is a good idea. If you are ready to transform your staircase before the holidays arrive, here are some fun DIY project ideas to get you started.
Strip the Carpet
Unless you were the one to lay the carpet on your staircase, you never know what you might find underneath it. You could be walking around on a beautiful hardwood staircase or something with a unique design and not even know it because the carpet is hiding that beauty from you. One of the first things you can do when giving your staircase a new look is to strip the carpet off of it to see what lies beneath. However, make sure you have a plan in place in case you hate what is underneath the carpet. You can have another carpet waiting in the wings or a plan to paint or stain it. Just make sure you have something, in case what your carpet is hiding is not a pleasant surprise.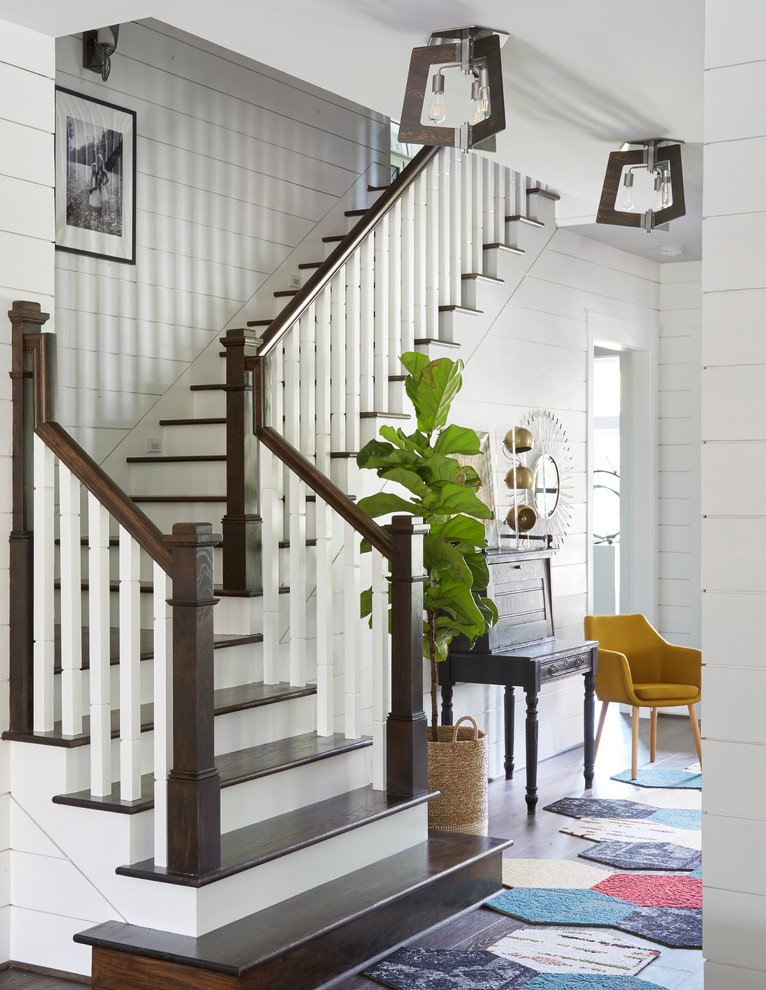 Photo by Morning Star Builders LTD
Add a Stair Runner
The stairs themselves might not be the prettiest they have ever been since they are constantly walked on, but one quick and easy DIY project idea for your stairs is to add a stair runner to them. If you cannot find one in the right size, you can always get two or three smaller ones so it looks like one continuous piece. You can attach your stair running by either using a nail gun to keep it in place or by using carpet tape. This can also help make your stairs less slippery. You can even get a holiday-themed stair runner, but you will definitely want to secure that with the tape so you can remove it after the holidays.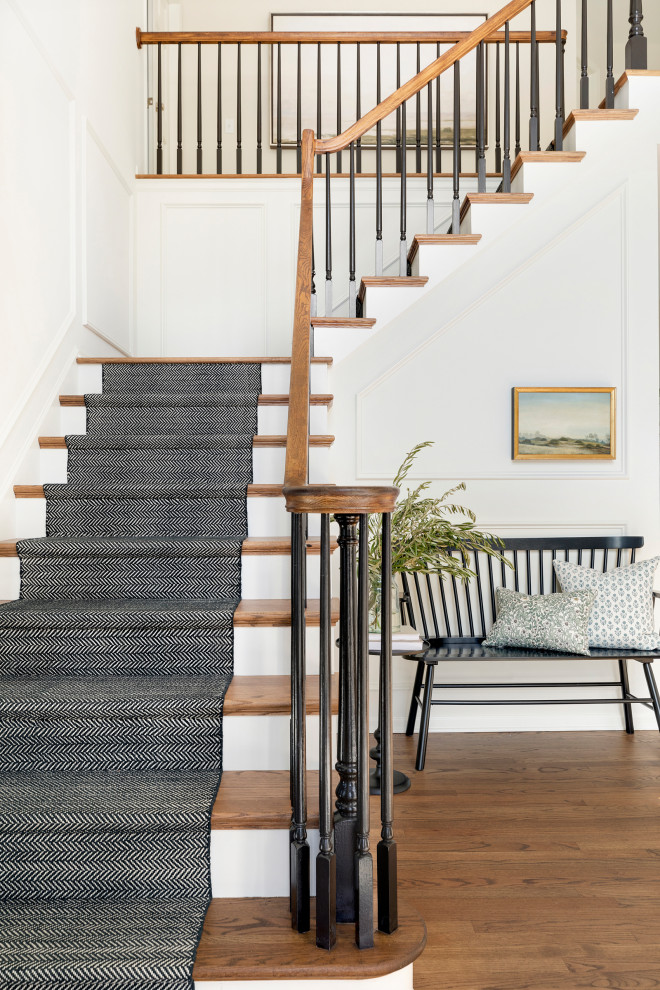 Photo by Bria Hammel Interiors
If you have wooden stairs and want to get really creative, you can paint a stair runner onto your staircase directly. This can also be a more affordable option since paint is significantly less expensive than a carpet stair runner. Plus, this can be a fun project to involve the kids in, letting them make their mark on the staircase, and it would be a great conversation starter.
Hang Mirrors
Mirrors are an excellent way to help make your stairwell feel bigger and help reflect light, making it brighter. You can add one big mirror partway down the stairs or even at the landing, or hang multiple smaller mirrors to bounce the light around even more and create a unique visual that your guests will love.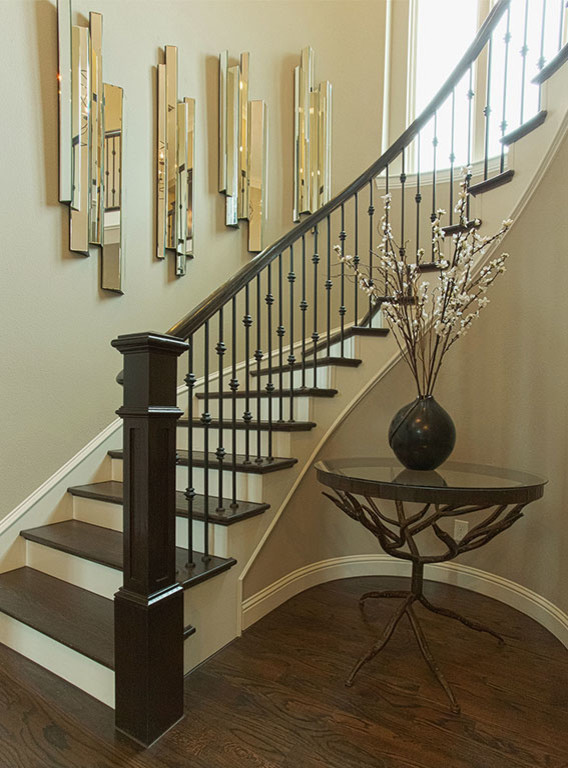 Photo by Homestyle Select Decor
Repaint the Railing
A fast and easy DIY project idea for your staircase is to repaint the railing and spindles of the staircase. Do not be afraid to make it a bold color that stands out. Your staircase can be as bright as you want it to be. This is a project you can do even the day before your holiday company arrives when you need to have just one more thing to make the house really pop.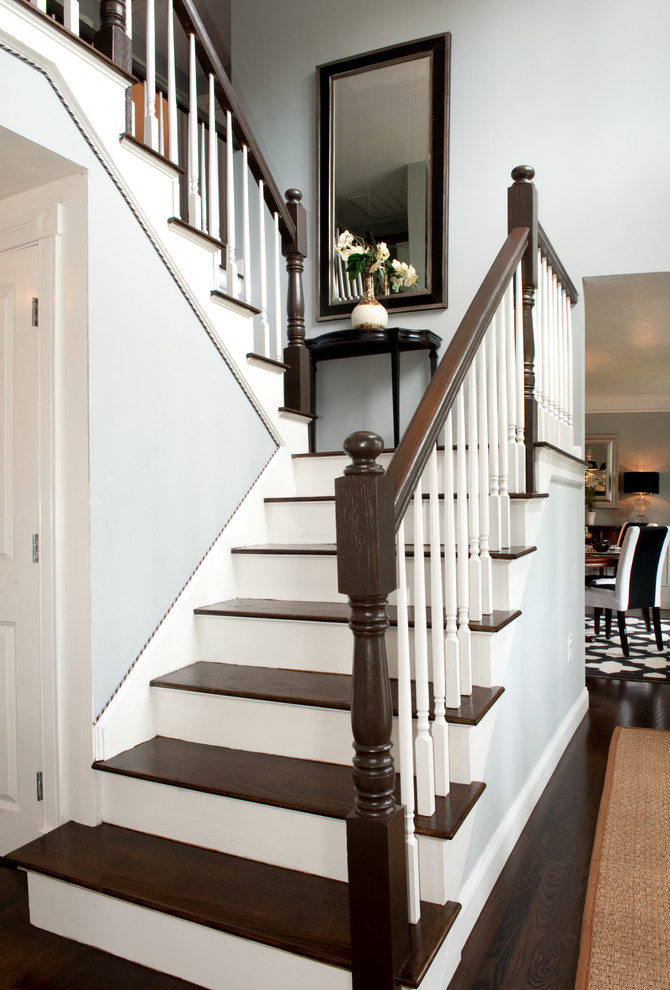 Photo by Mary Prince Photography
Create an Accent Wall
One fun thing to do with your stairs before the holidays is to turn the wall your stairs are up against into an accent wall. There are limitless possibilities for something like this. You can paint the wall in a bold and bright color to draw the eye, hang up some wallpaper, or even install a faux stone or brick accent wall to give it a touch of elegance. Any of these DIY project ideas are a great way to give your staircase a facelift before the holidays.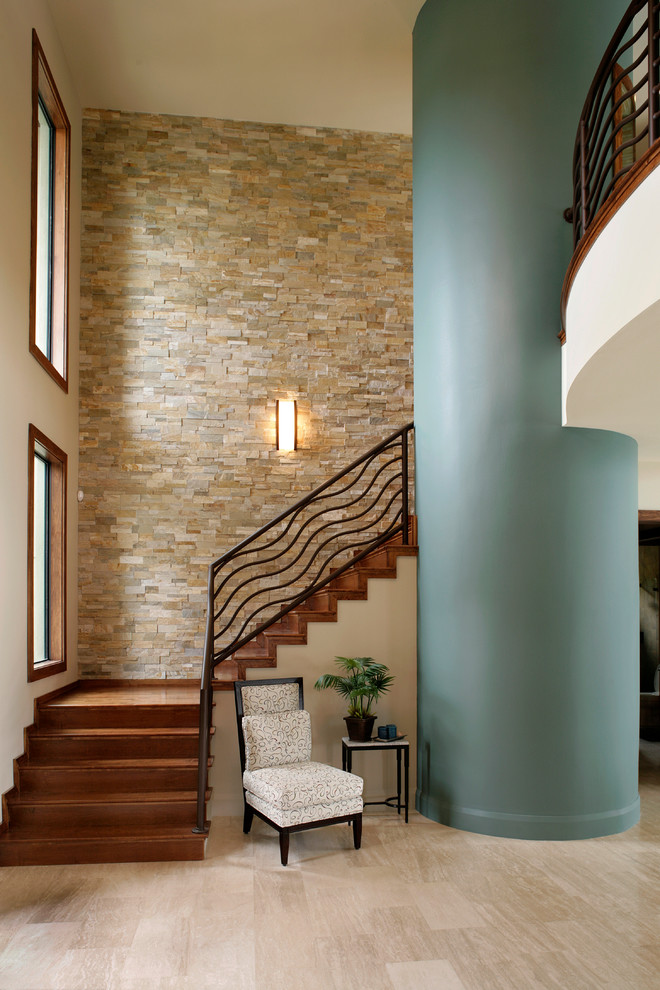 Transform the Under Stairs Area
If you have a little nook under your staircase, it can take a lot of work to come up with something to do with it since it is usually a fairly cramped space. There are a few things you can do to have fun with it before the holidays. If you need more pantry space, you can easily turn that little cupboard into one; you just need to install some shelving along the walls. You can also turn it into a little toy storage area for the kids so they have somewhere out of the way to store their toys. If your kids love to snoop, you can put a lock on the door to the cupboard and hide all of their presents in a secure area.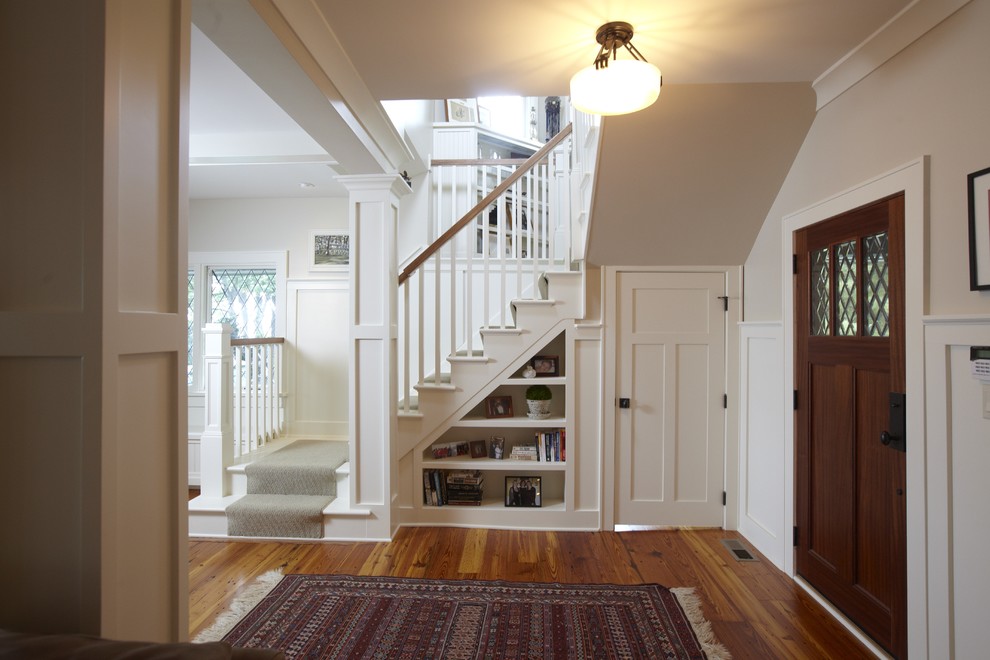 Photo by Stonebreaker Builders & Remodelers
For a house with dogs, to get your dogs' bed out of the way while company is over, why not turn the cupboard under the stairs into a little hideaway for your dogs? You can cut out a doggy door and put their bedding, food, and water in the cupboard so they have a little cave to hide out in if they need a break from being around so many people.
You can even turn the cupboard under the stairs into a small bathroom, but you will need to have help from someone who knows plumbing to ensure this type of project is executed properly. You do not want to have water damage because something did not get connected quite right when you put the project together.
Upgrade Your Stair Risers
The risers on your staircase are an excellent way to give your staircase a new look before the holidays. You can paint the risers to stand out, give them a unique design, make them match your railing, or even try installing faux stone to give your staircase some depth and texture.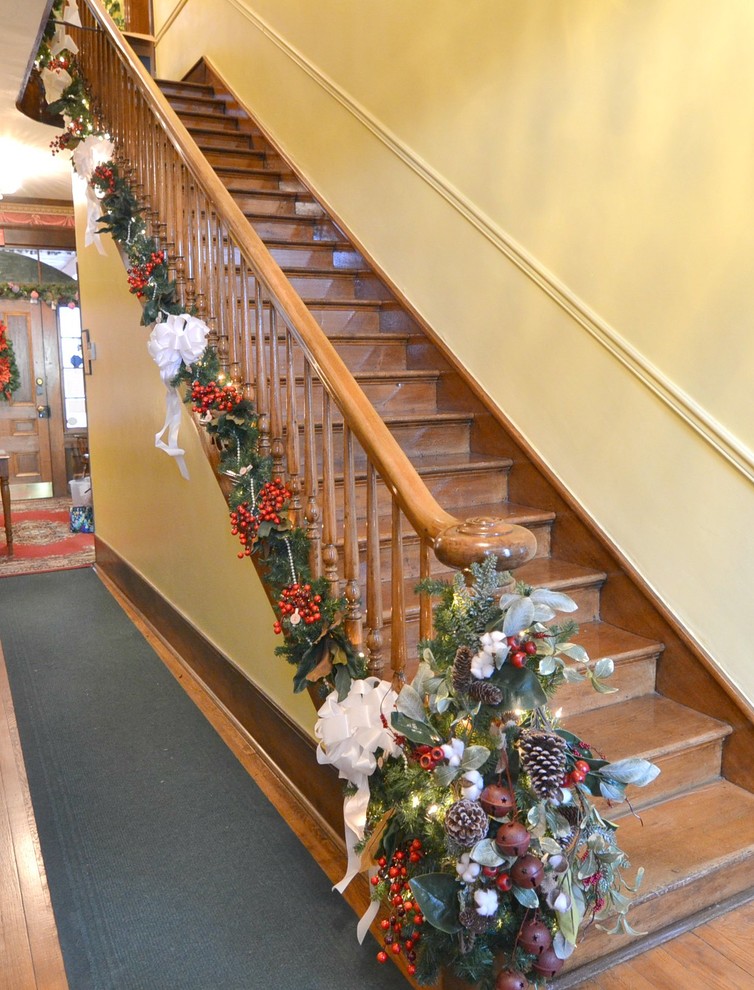 Photo by Foxy Interiors and Home Staging
Don't Forget to Decorate!
Once you have executed some DIY project ideas to transform your staircase, it is time to decorate it for the holidays. These are a few fun ideas you can try to give your stairs some holiday cheer.
Wrap a garland and some lights or ornaments around the railing.
Hand ornaments from the railing between each spindle.
Add an accent to the landing, like a small tree or a bigger holiday decoration.
Add reusable decals to your stair risers with holiday-themed messages.
Hang the stockings from the railing.
Add some festive ribbons to the railing.
Use a ribbon to hold all of the holiday cards you receive, and attach each card to the ribbon on your staircase as they come in.
Add candles to each step. If you have kids or pets, flameless candles are a good choice for safety.
Wrap strings of light around each spindle on your railing.
Add some decorations to each step; just make sure they are not going to break if they get bumped into.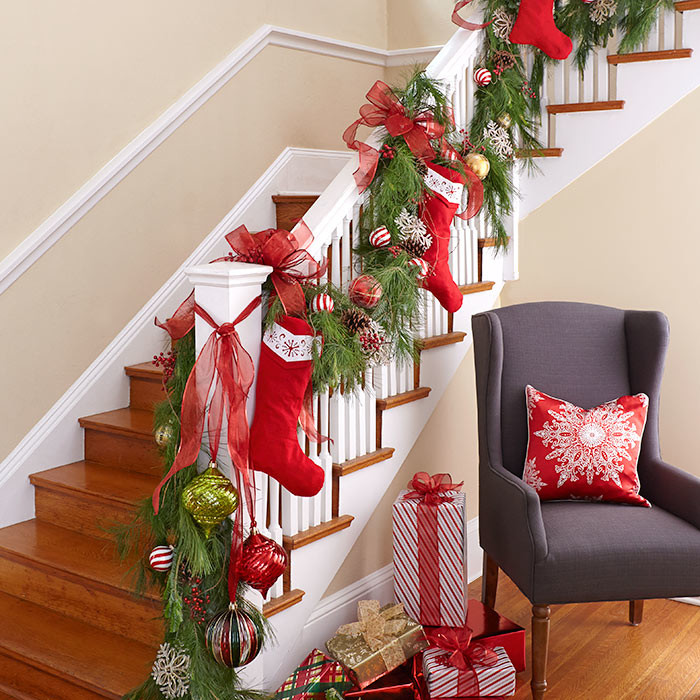 Photo by Lowe's Home Improvement
About the Author
Auz Burger is a freelance writer and an expert in faux stone and brick veneer and home DIY projects. She has a BA from Washington State University and has been writing and editing professionally for over a decade.