How To Style A Rented Apartment
When renting an apartment, you can sometimes feel trapped with what you can and can't do with the space, at the end of the day, you're going to be living there. It can be difficult to resist the temptation to get the paintbrush out, and it can feel even harder thinking of interior designs that can be implemented into your space without damaging the apartment or changing it too much that your landlord will charge you.
Due to you living in rented accommodation, it means you won't be there forever, with this being said, it is important to work out whether the investment you are going to make into the apartment is worth it for the amount of time you are going to be there. In this article, we will go through some simple tips on how to style a rented apartment that won't harm your deposit. You can also check apartments for rent in Richmond to know how much apartment units in the city cost nowadays.
Decorate your apartment
The first thing you should be doing when you move into your rented apartment is putting your own mark on the space. Obviously, you won't be able to paint the walls or anything like that…or maybe you could? Ask your landlord. If you can't paint, there are many other opportunities for you to style your rented apartment. Posters, pictures, ornaments, photos, the choice is yours. If you are worried about putting things on the wall, there are now adhesive strips that hold items on the wall and when it comes to taking them down, the strips pull off without a fuss.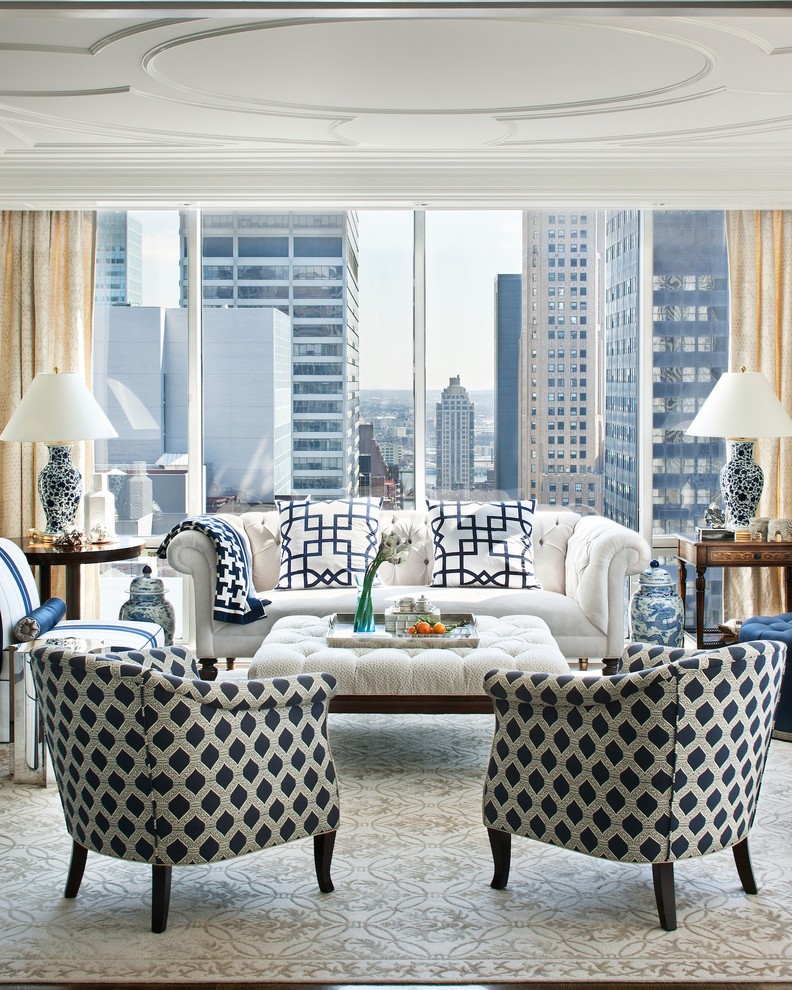 Purchase versatile pieces
When you live in a rented space, it can be difficult to determine how long you are going to stay there, you never know how your current situation may change. For this reason, it is a great idea to invest in versatile pieces of furniture so it will go with most living spaces. You don't want to be spending a lot of money on furniture that is perfect for that living space, but when it comes to moving into your next place, it either doesn't fit, or it just doesn't go well with your new designs. It is a smart idea to look at items such as modular sofas, fold-away dining tables and chairs as well as a coffee table that also has storage compartments. There really are some great pieces of furniture out there designed for rented spaces.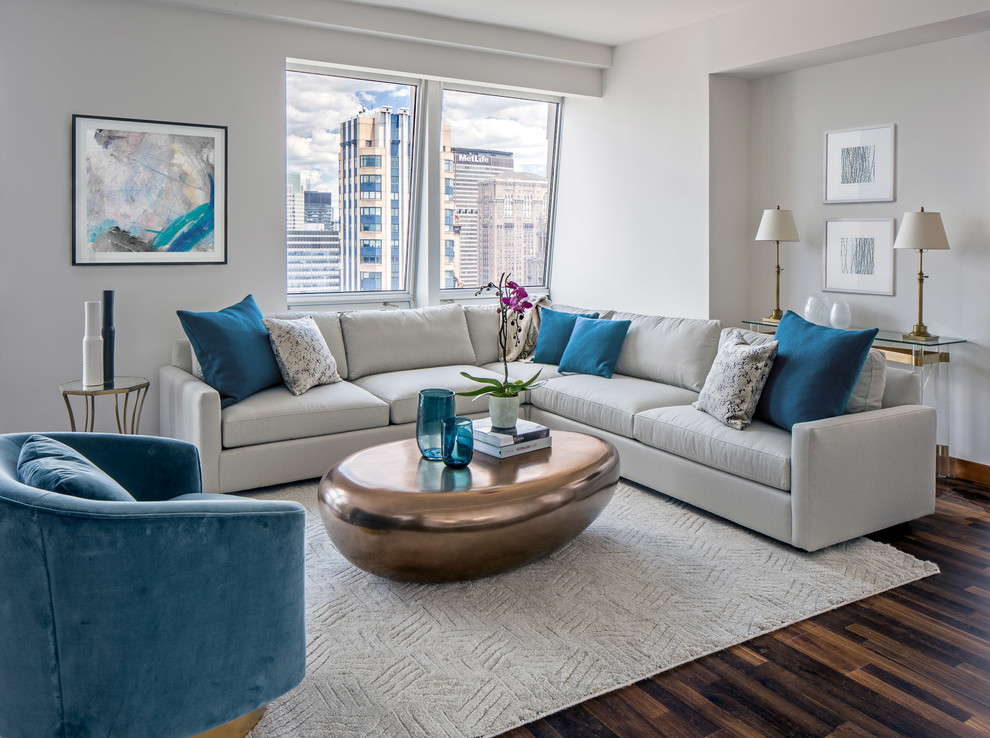 Buy fresh bedding
Fresh bedding is always a must when moving into a newly rented apartment, possibly even a mattress topper if the mattress isn't new. This will ensure you have a great night's sleep, ensure that you match with the colours of the room so it makes the room look uniform, as well as making, it aesthetically appealing. This doesn't have to be expensive as they are many cheap bedding sets that look like the more expensive alternatives. Adding extras such as throw pillows and a throw will make the bed look like it's from a 5-star hotel.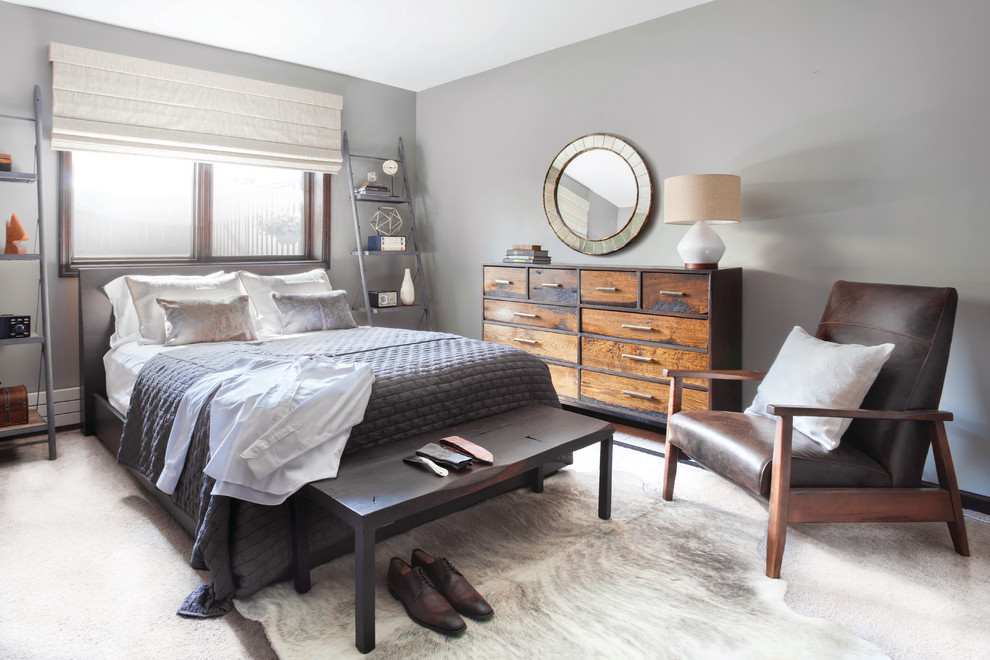 Upgrade the lighting where possible
The lighting is always one of the worst things in the apartment, If you have a basic bulb light, you could look at swapping them out for new shades. If you feel the bulb is too light or dark for the room, then you can change that for a warmer or lighter colour. An example of this would be a warm LED in the bedroom for ambience, but a bright light in somewhere like the living room will do great. If your rented apartment has spotlights throughout, ai to avoid using these and opt for building a collection of table lamps and floor lamps to make a better ambience, while also making the room look fantastic.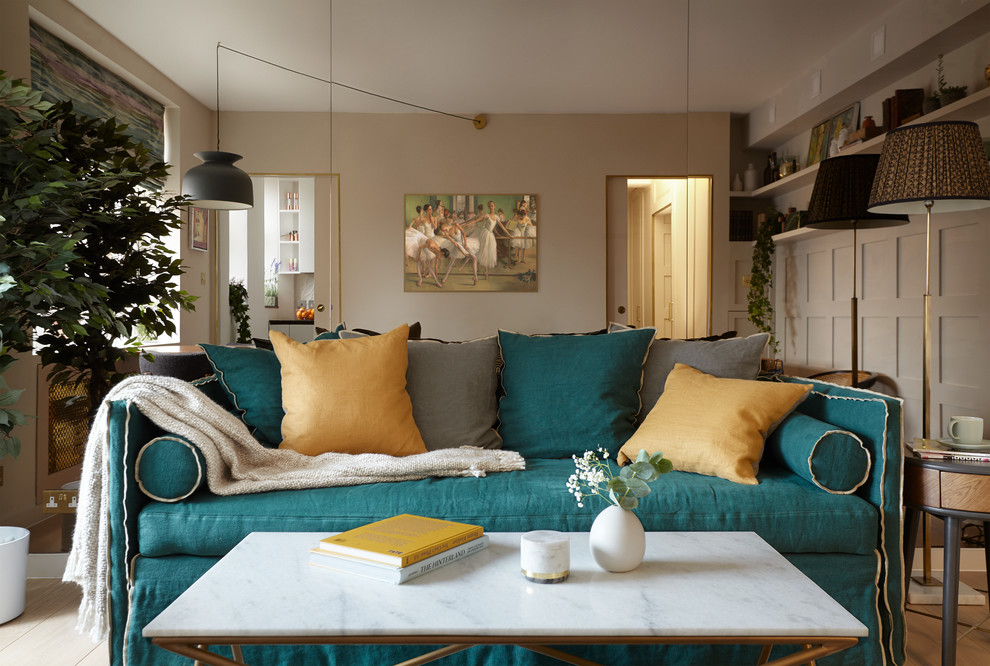 Photo by Black and Milk | Interior Design | London
Add some finishing touches to your hardware
A quick and simple way in which you can add a bit of personality is to upgrade your kitchen and bathroom cabinet handles. This is a really great way of adding some personality to your living space. There are endless varieties to choose from. This way you can steer away from the builder finishes and add some extra design features into the rooms by matching them with a colour that your kitchen or bathroom equipment is. For example, if you have copper finishings in your kitchen, then you can look for copper or copper-like coloured handles.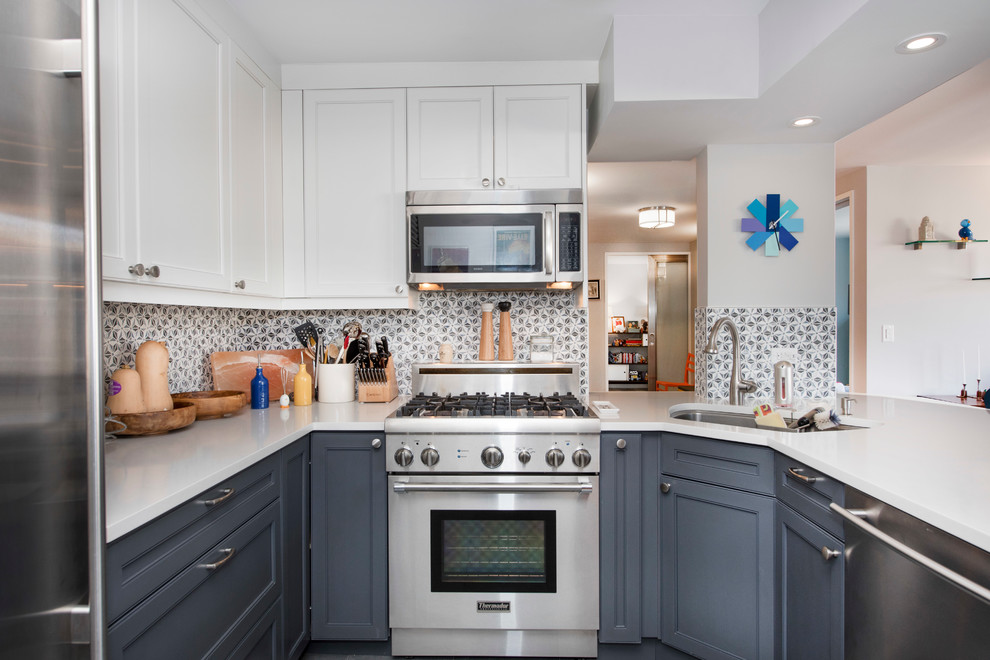 Photo by MyHome Design & Remodeling
Invest in new window coverings
If your landlord allows it, you can change the window coverings. The budget may not permit you to buy new blinds, but you could alternatively opt for some curtains that will give the room some extra colour. If you already have blinds that don't need replacing, a great way to make them look better is by putting up some very light curtains or some voile curtains which still lets the light in, but also keeps your privacy.  They are really trending recently due to the lighter months coming in.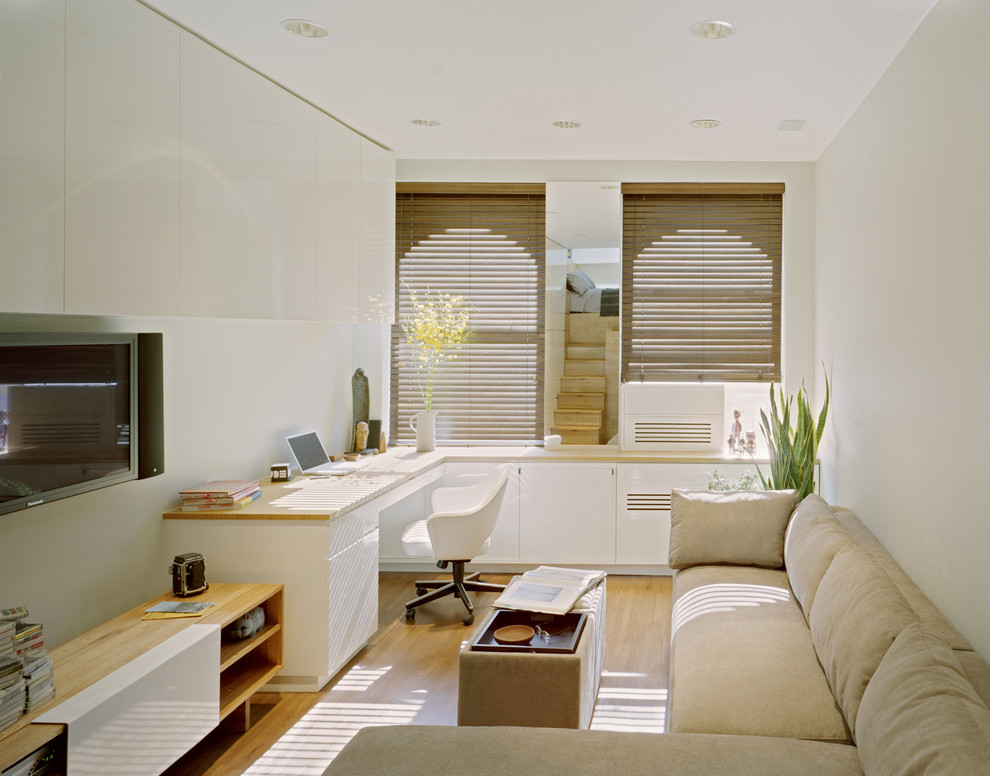 Photo by Jordan Parnass Digital Architecture
Add some temporary measure
If your landlord doesn't allow you to do something, there is always an alternative. This even goes with paint. If you want an alternative to paint, then you could look at other forms of decoration for your cabinets or wardrobes etc. There are many different forms of decals and temporary stick-on wallpaper which can add some colour and personality to any room. These won't damage walls or the furniture, so it is great for rented apartments.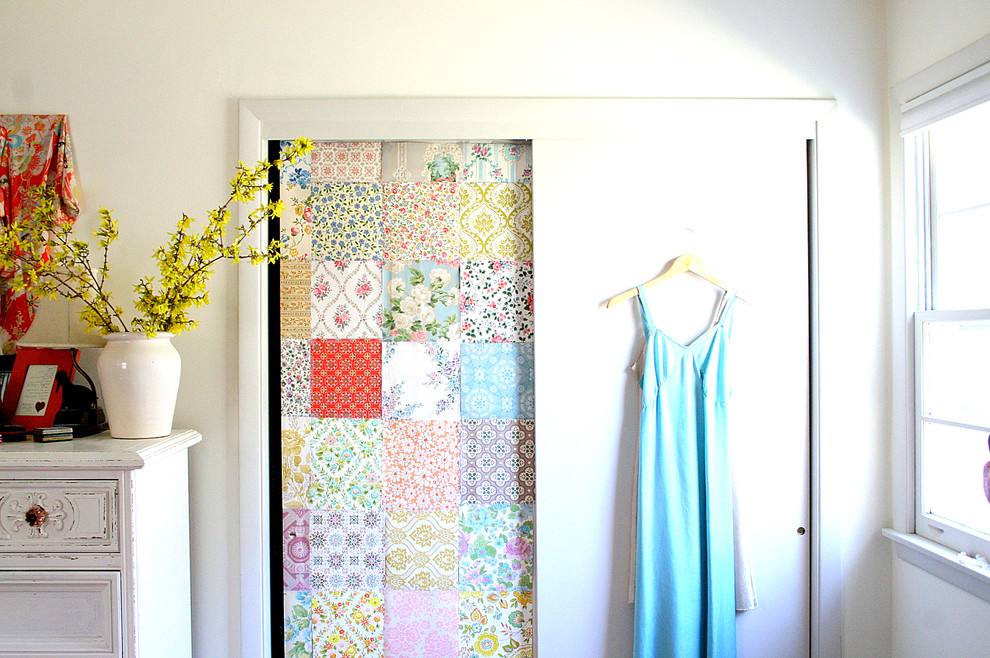 Photo by Tamar Schechner/Nest Pretty Things Inc
Add rugs throughout the home
Adding area rugs to your space can add some great colour and texture. It is a great way to hide any unwanted stains that the last tenant had left. Whether you have a cold wooden floor or a worn-out carpet, a large rug can make a big difference.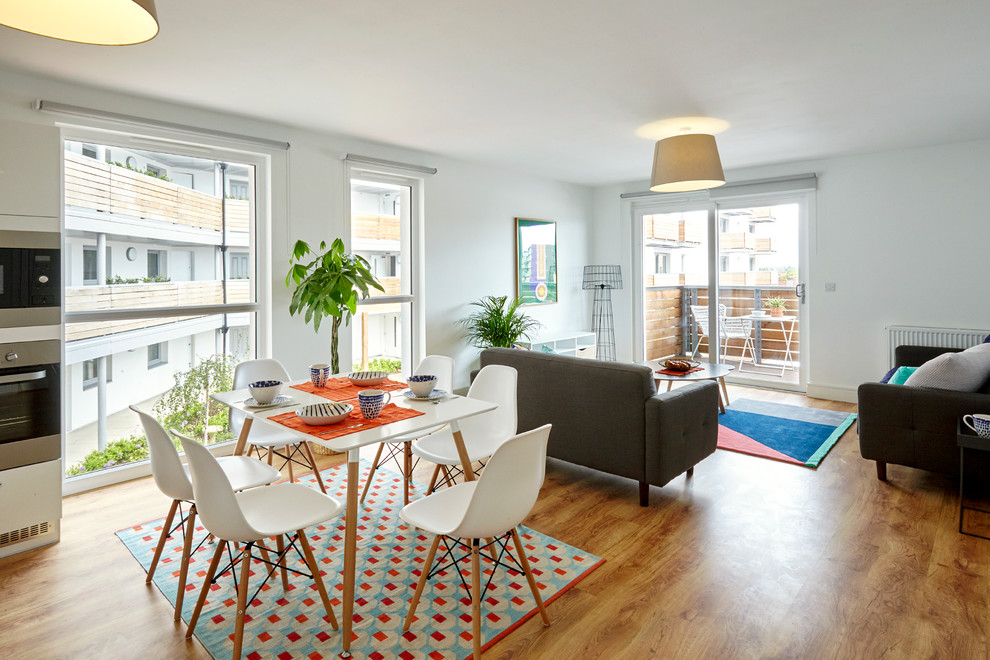 2013 © YourAmazingPlaces.com
All materials, unless otherwise noted, were taken from the Internet and are assumed to be in the public domain. In the event that there is still a problem or error with copyrighted material, the break of the copyright is unintentional and noncommercial and the material will be removed immediately upon presented proof.
Back to Top ↑