DIY Dining Room Decor Projects You Can do on a Budget
Does your dining room need some new decor? If you are on a budget, you might think that updating your dining room will be too expensive for you, but there are many unique DIY projects that you can do in your dining room to transform it. Updating the dining room does not have to cost a fortune, so we have put together this list of DIY projects that can update your dining room decor while on a budget.
Create an Accent Wall
Instead of redoing the walls in the entire room, you can create an accent wall. This will draw the eye to it when you walk into the dining room, and it can create a beautiful and dramatic effect. You can paint it, or you can do something even more creative and create a faux stone accent wall in your dining room. Faux stone will give it depth and texture that paint does not have, and it can be installed in a weekend without help.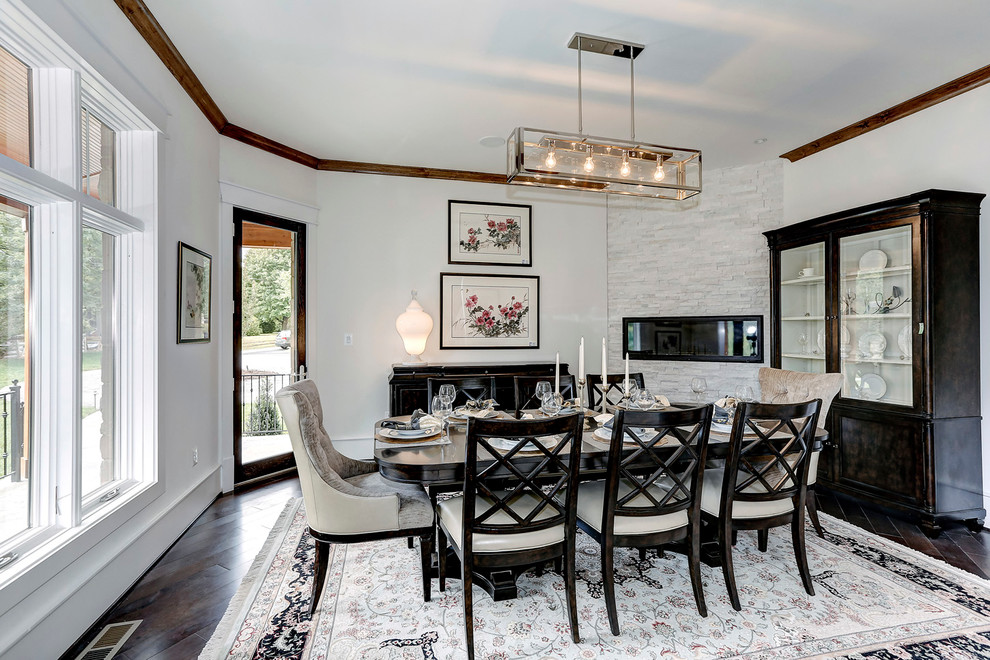 Add Slipcovers
If the chairs in your dining room have seen better days, but your budget will not allow you to buy new ones, you can get slipcovers for your dining room chairs. This affordable alternative can give your old chairs a new look.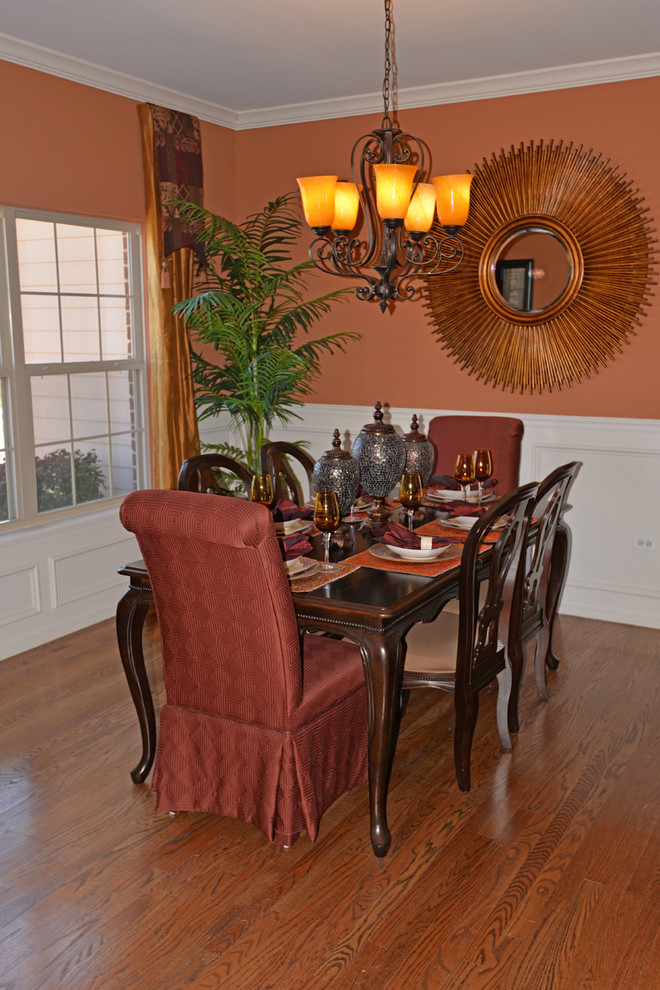 Photo by Overstreet Builders, Inc.
Hang Floating Shelves
If you have nice dishes or kitchen tools that look good on display, or you just need more storage space, you can add some floating shelves to the dining room to show them off. You can install them easily in a few minutes, and you will have space for new decor to refresh your dining room. These are also pretty affordable, so they should be within many budgets.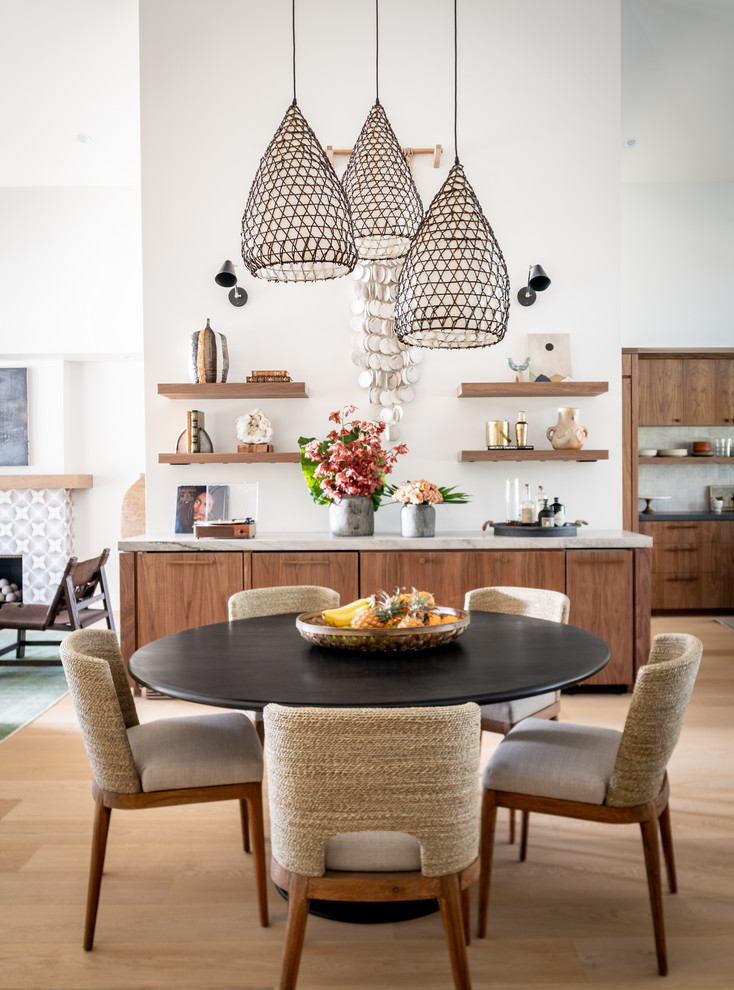 Photo by GONTERMAN CUSTOM HOMES
Add Trim to the Curtains
If you have windows and curtains in your dining room, you can buy some iron-on trim to your curtains to give them a fresh new look without the added costs of buying new curtains. It is amazing how much adding some new trim can transform the look of your curtains.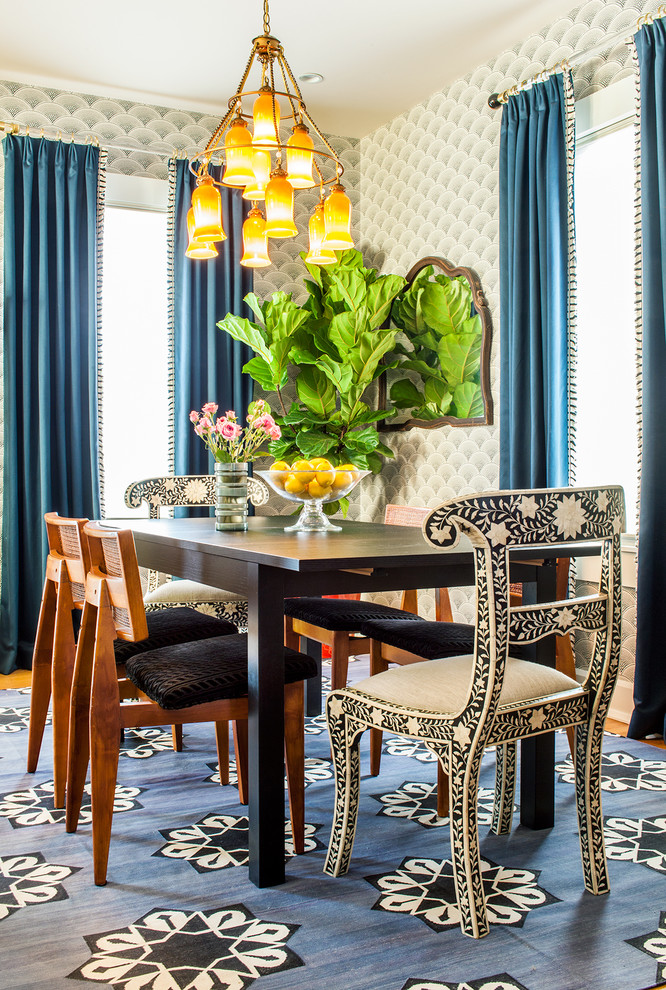 Photo by Sean Litchfield Photography
Hang a Chandelier
While chandeliers are usually associated with expensive homes, you can actually create your own affordably. By adding some new lighting to the room, you can completely change its look. If you want to make it dramatic lighting, you can make it a bright or bold color to make it really stand out and wow your guests.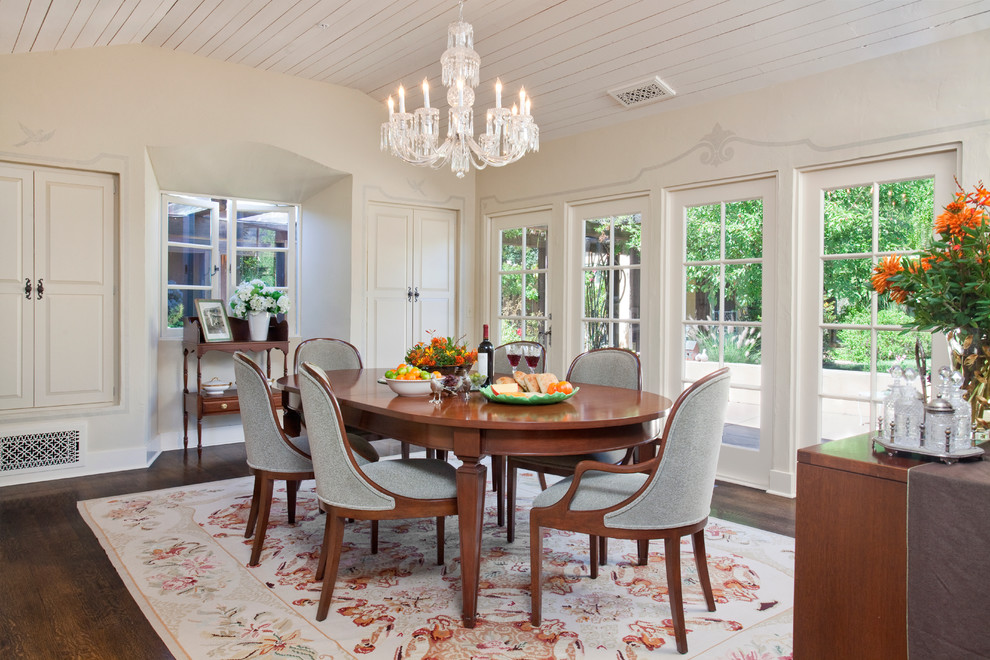 Get Some Greenery
Plants can make a room feel homier, and you can get some beautiful fake plants for a good price. If you have a green thumb, you can add real plants instead; you just need to remember to keep them watered. Whichever you choose, you can then find some beautiful flowerpots or make them a little DIY project. You can paint a plain one or even add faux stone to a flowerpot to give it more depth and texture.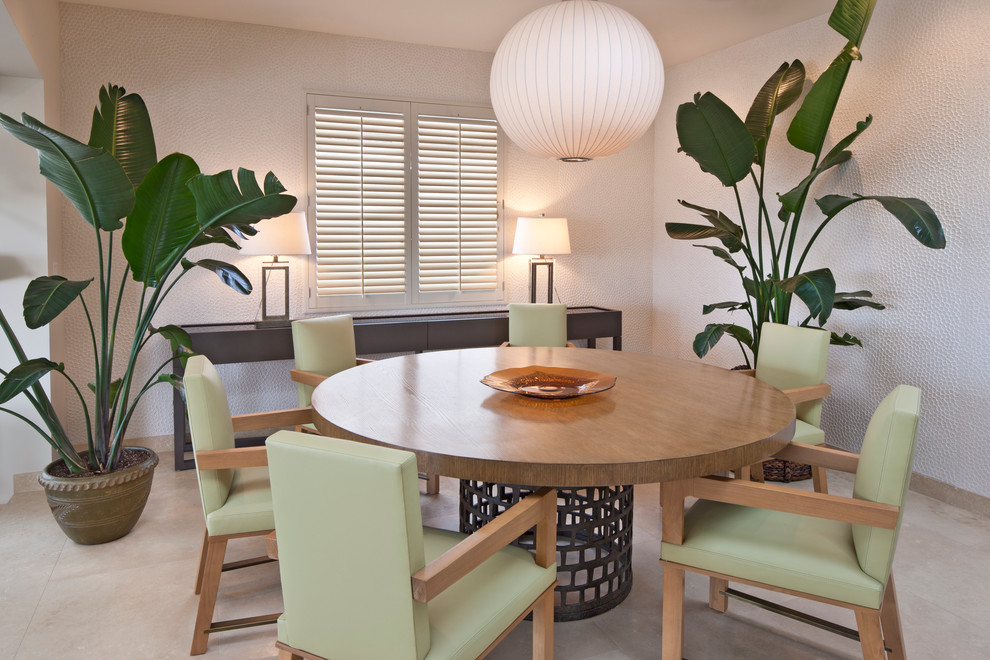 Photo by Tom Stringer Design Partners
Make a New Centerpiece
The centerpiece is an important part of setting the table in the dining room, so making a new centerpiece is a great way to refresh the decor of your dining room. This can be a fun and affordable DIY project, and if you have kids, they may enjoy helping you with this. You can get new fake flowers to sit in the center of the table, paint a vase to change its look, add some candles, or something else. The possibilities for centerpieces are endless.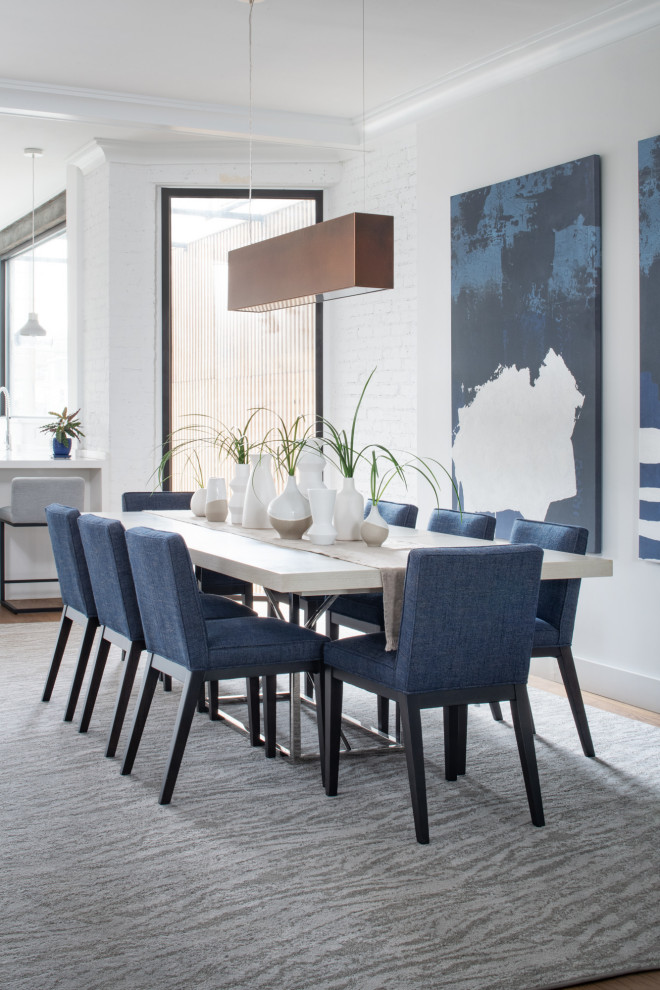 Hang up Art
If you have some art prints you already want to find a place to hang up, the dining room is a good spot for them. You can also frame photos and make a little gallery display on the walls of your dining room. Another fun thing to do is create your own art to frame and hang up in the dining room.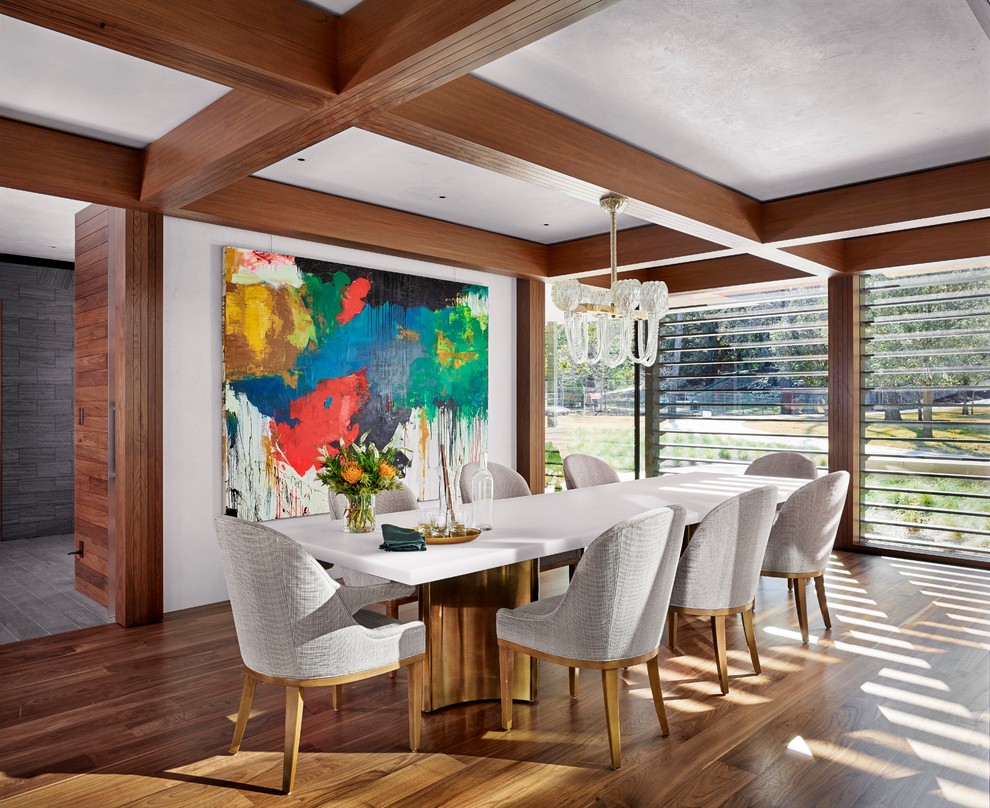 Photo by aamodt / plumb architects
If you purchase plain frames for your pictures, you can paint them and add little accents to them that go with the room or photo. For example, a photo from the beach could have little seashells on the frame.
Make a New Table Runner
How long has your tablecloth been there? It might be time to change it up to refresh the decor in the dining room. If you sew, you can DIY your table runner with pretty fabrics, or you can buy a new one. There are many options and possibilities for a table runner that can easily fit into your budget.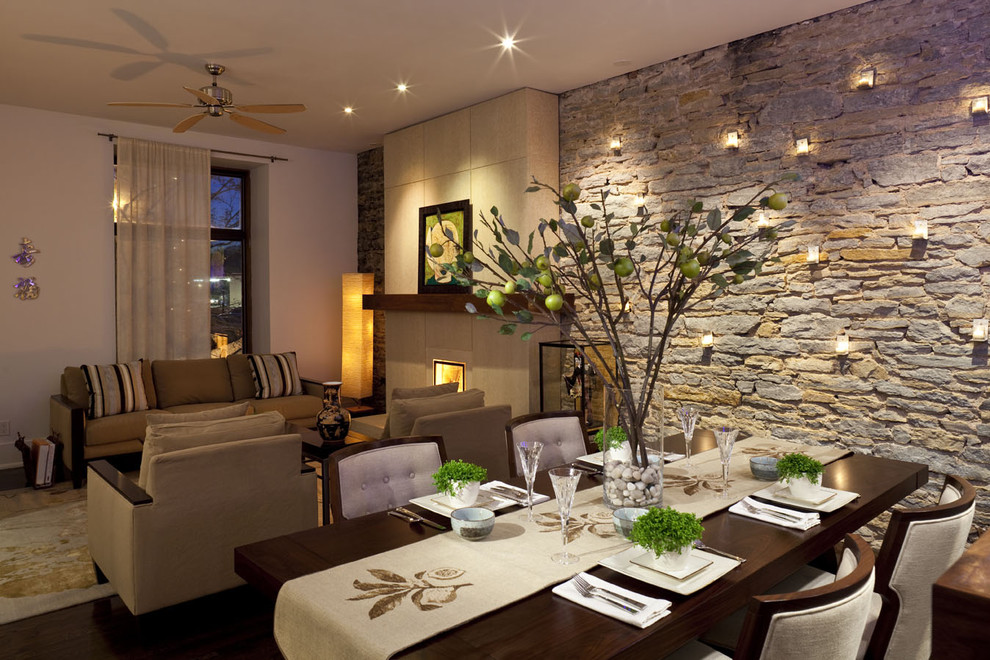 Photo by Charlie & Co. Design, Ltd
Turn Dishes into Art
How long has your fine china been sitting in a box in storage? Whether you have nice china that you want to show off, or you found a cool set from a thrift store that would look good on your walls, you can use plates as a beautiful piece of wall decor that goes well with the theme of the dining room.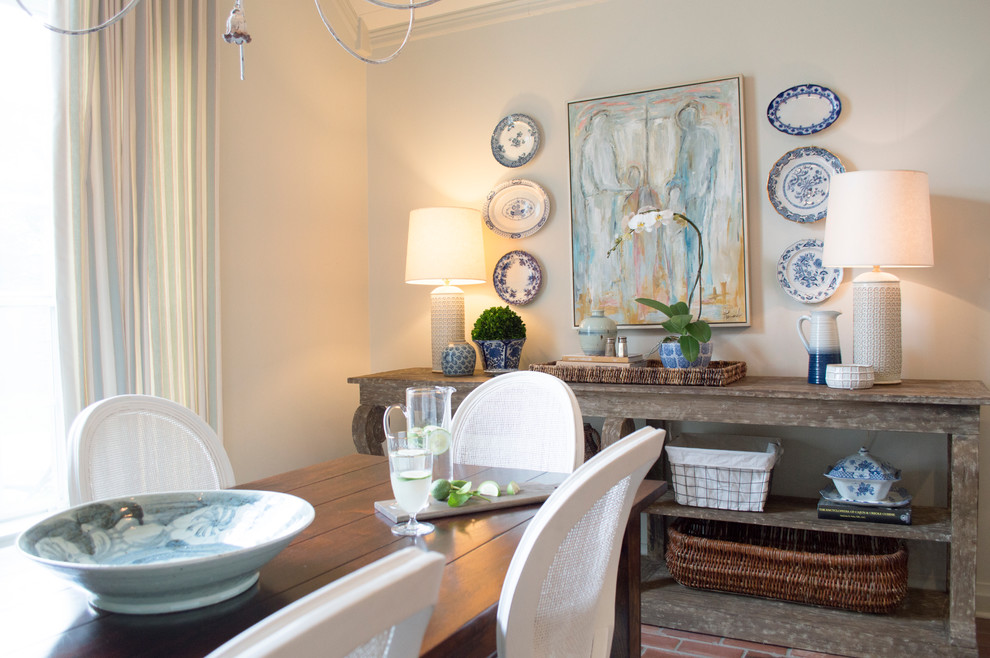 Add a Rug
While rugs can be an expensive purchase, there are many cheap options online that may fit into your budget. The rug can be a good way to add some color or an interesting pattern to your dining room.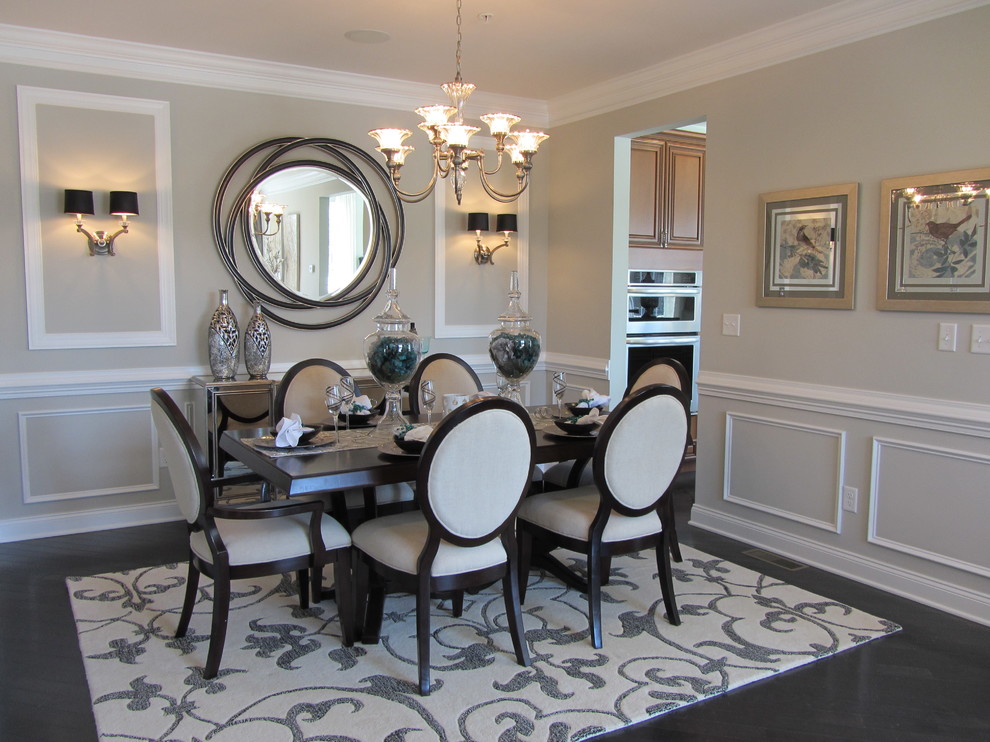 Photo by Helen Piteo Interiors, LLC
About the Author
Auz Burger is a freelance writer and an expert in faux stone and brick veneer and home DIY projects. She has a BA from Washington State University and has been writing and editing professionally for over a decade.
2013 © YourAmazingPlaces.com
All materials, unless otherwise noted, were taken from the Internet and are assumed to be in the public domain. In the event that there is still a problem or error with copyrighted material, the break of the copyright is unintentional and noncommercial and the material will be removed immediately upon presented proof.
Back to Top ↑