Home Office Design Trends in 2022
If you're looking to revamp your home office, you've come to the right place. One of the best ways to seek inspiration is by curating a mood board, a visual representation of your desired style. As you manifest your perfect office vibe, you can find some inspiration from what people are loving in their space. Below are home office design trends we're already seeing in 2022.
For the Minimalist and Proud
When your office space doubles as your zen room, you need to invest in your happy place. It's very important to keep your office decluttered with functional decor that makes your hectic days a little easier. Here are some design trends that provide subtle yet significant upgrades to your home office space:
Emphasize Air Quality
It's 2022; you deserve high-quality breathing air free of bacteria and allergens. Purchasing an air purifier for your home office vastly improves the quality of air that you're breathing. It's a great way to keep the room feeling fresh even when you're spending hours on a project. The sleek design of air purifiers seamlessly blends into any office setting. It is both minimal and functional.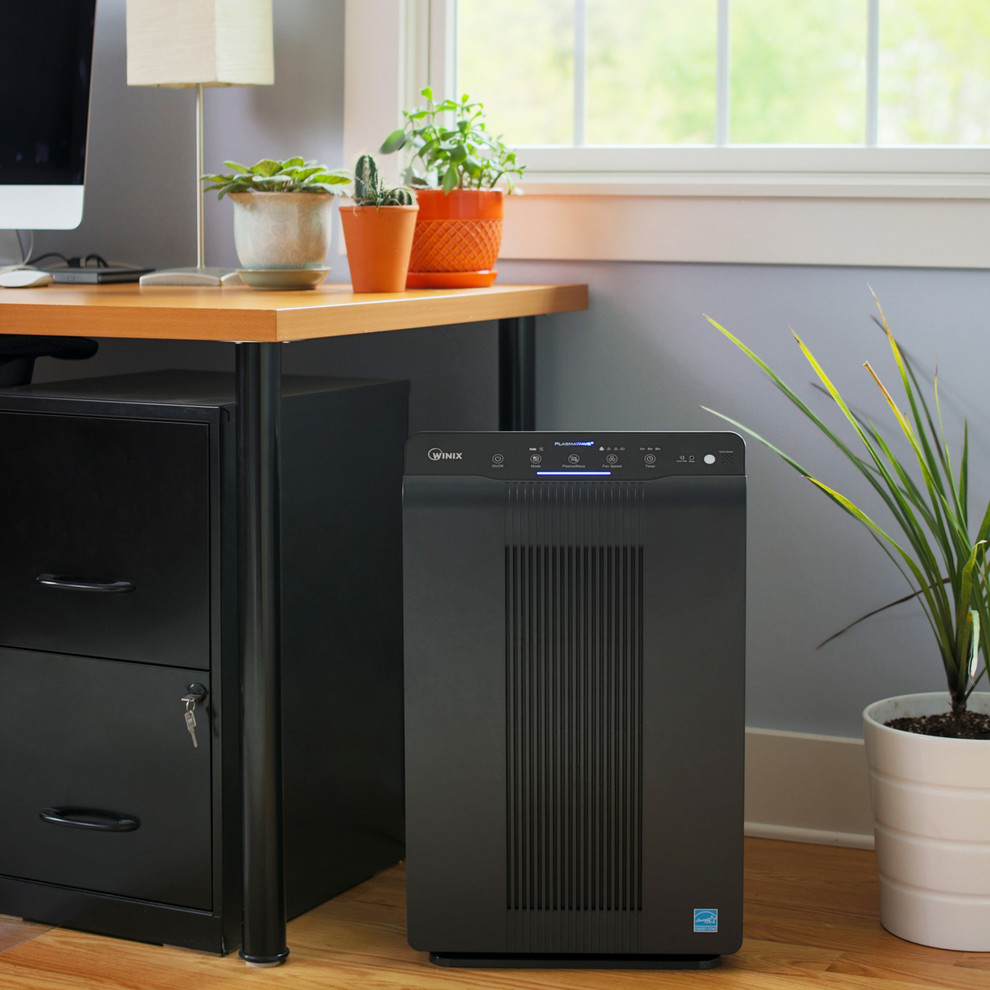 Collect Wall Art
Even if "less is more" was your resolution for the year, you can still tastefully bring life to an empty wall. Mount your favorite piece of wall art for a low-key way to change the aura of a room. There is a whole world of beautiful art pieces that could work well in your home office; be sure to find the one that brings you happiness to view it. Even the basic addition of art can feel like a breath of fresh air.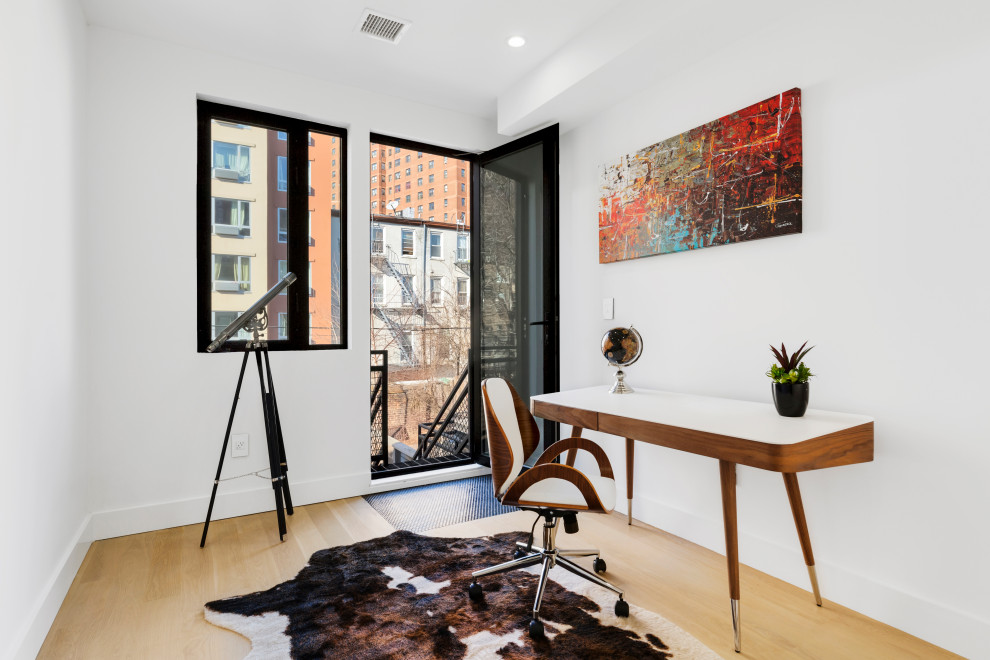 Photo by Imperial Home Development LLC
Hide Your Cords
A simple way to create a peaceful home office environment is to hide any sign of unsightly cables and wires. Use a sleek cable organizer box to remove any anxiety that may be caused by the sight of tangled wires. It's a good way to open the space up and give the illusion of wireless appliances.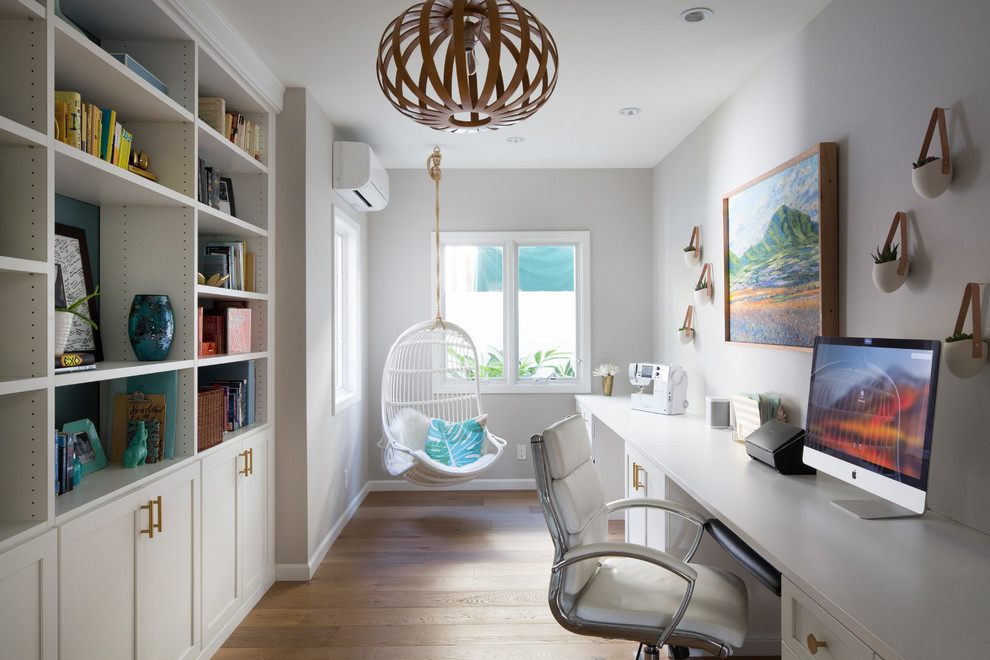 For the All-Nighters
If your work keeps you up in the office later than you'd like, then you deserve to make the most out of the situation. Especially when you're working long hours, it's important to have a home office space that feels like a comfortable living space, too. Here are suggestions on how to bring some joy to your long days.
Own a Professional Pet
It's one reason to stick to the daily routine. Investing in a little responsibility can be more helpful than you think. Similar to getting indoor plants, caring for aquarium fish can provide a serotonin boost. These low-maintenance pets can provide comfort during long work sessions and give you a reason to return the next day.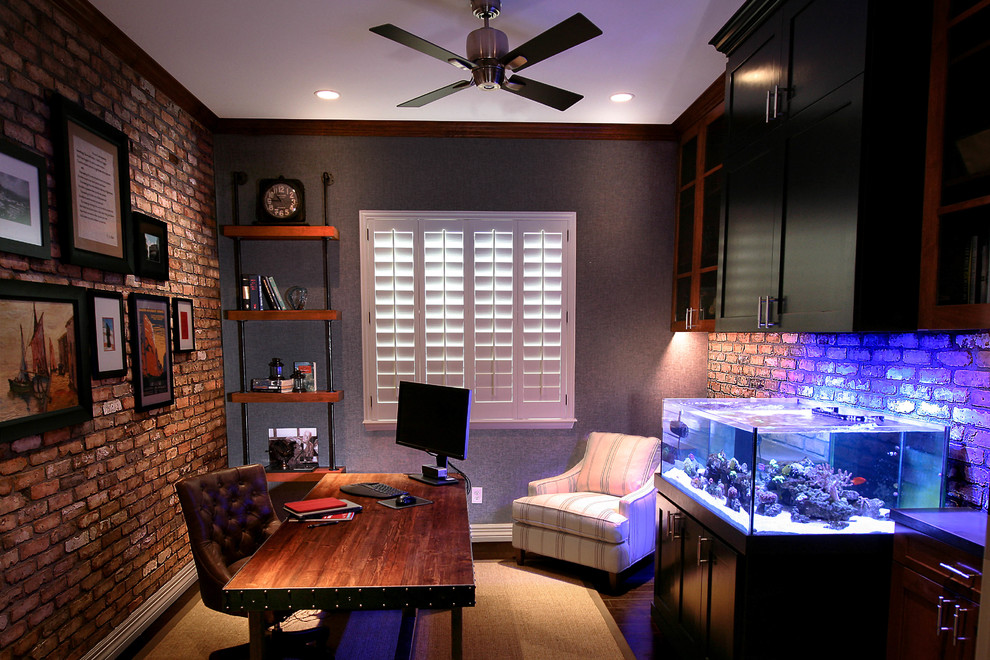 Photo by Steph Nash Decor + Interior Design
Find Your Comfy Seat
Working from your home office means you deserve to invest in the best furniture for you. Sitting in a basic chair can cause aches and pains, so we encourage hard workers to find the perfect office chair. It should provide you with total comfort even if your work schedule entails a late night every night.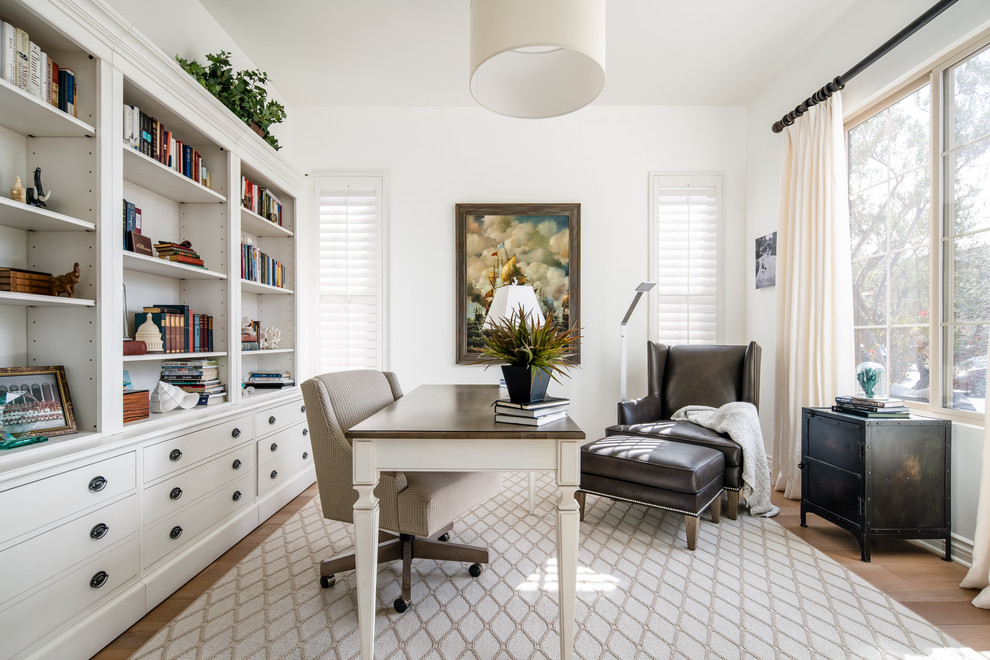 Pot Some Plants
When you're spending so much time isolated in your home office, it can be easy to feel disconnected from everything. A large plant creates an incredible earthy environment that will actively affect your mood. Indoor plants enhance any space with lush shades of green. Get your work done while your indoor plant naturally purifies the air beside you. It's a great way to feel like your space is a better representation of yourself.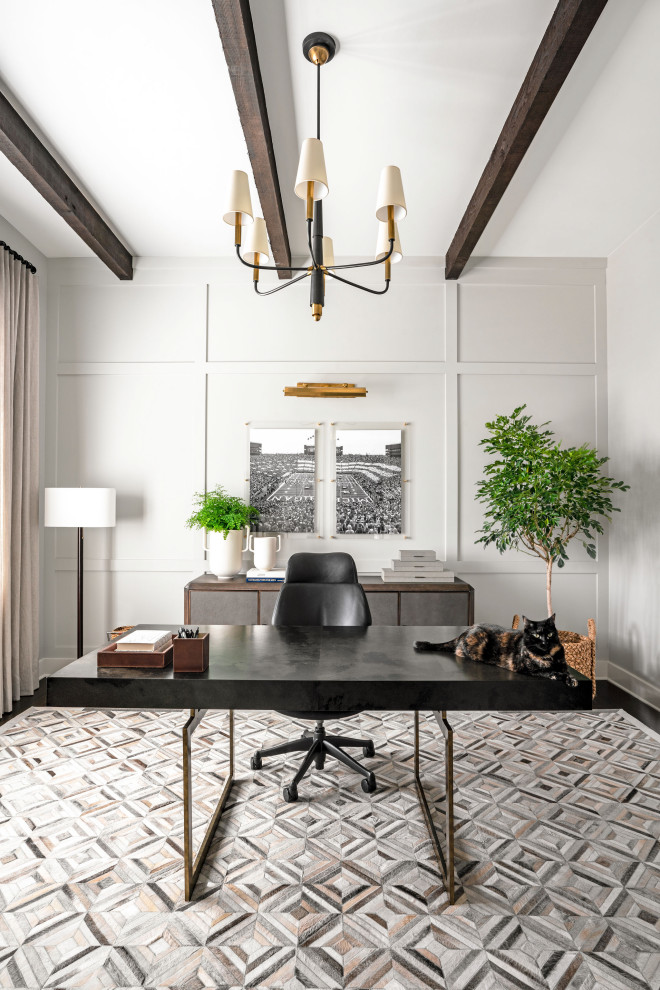 Photo by Jamie Naugle Interiors
For Those Seeking Creative Inspiration
If your home office space needs a major energy change, then curating a room with fun decor is a great place to start. Bring your office together with pieces of furniture that speak to your soul and your creative mind. Here are some of our favorite out-of-the-box ideas that can give your home office some pizazz.
Make Your Rug a Statement
If you're looking for a way to bring some casual color to your home office, then a statement rug is right for you. There are so many options of varying lengths that can shift the vibe of a room. You can use a beautifully woven rug to create a lounge environment or a Persian one for a more royal ambiance. A rug can be a unique upgrade to your home office, especially when you don't want to rearrange furniture too much.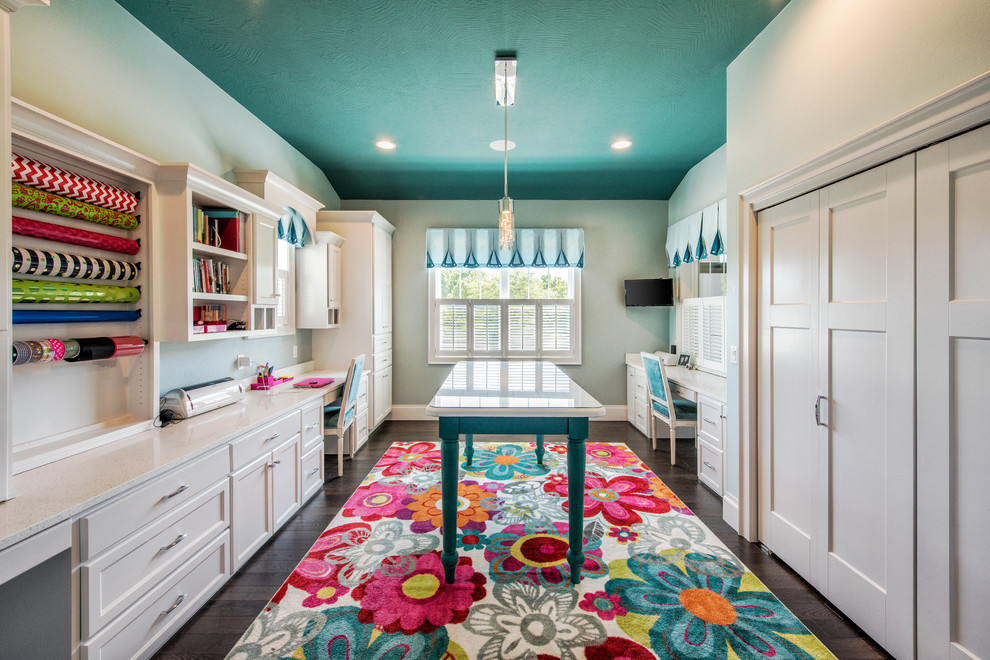 Photo by Cabinet Concepts by Design
Find Your Theme
Make your home office revamp easier by sticking to a theme. It can be a television show, an historical era of a sports team, or any other interest you may have. Create a home office theme that can carry you through your furniture and accessory hunting. Finding memorabilia or collectibles worth putting on display can be a creative way to completely transform your home office. Enjoy a home office as unique as you.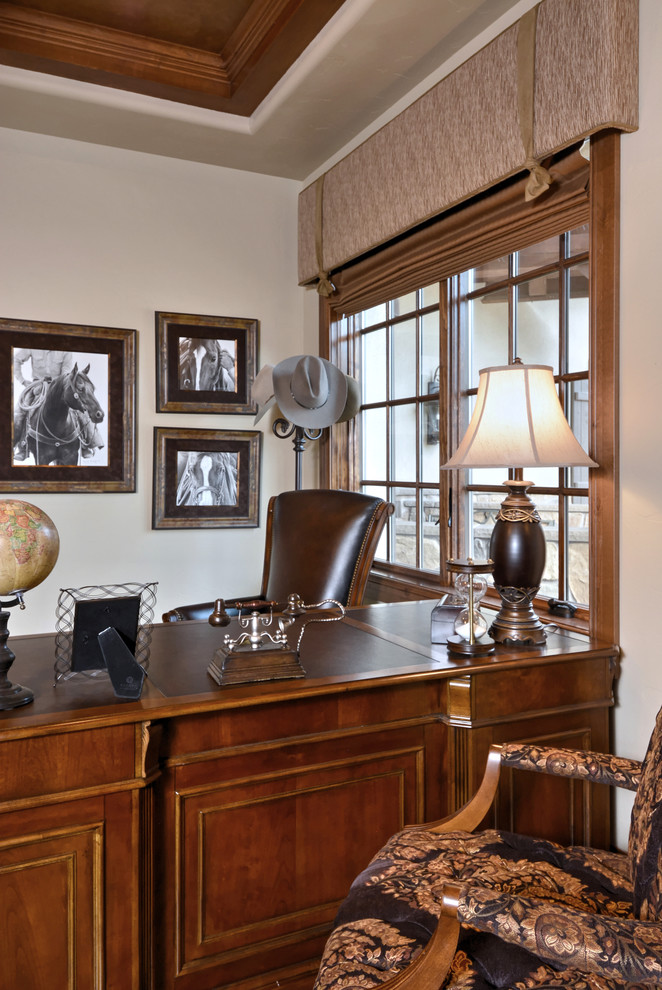 Upgrade Your Desk Lamp
Even a swap as small as your office lamp can completely change the way you feel in a room. Pick your favorite style, whether it's vintage or contemporary, and you can create your dream desk situation. Find the unique desk lamp that speaks to you and your style. As thrifting and secondhand purchases continue to remain trendy, a good place to look for antique lamps would be a yard sale. Even if you're not working at night, you deserve to be able to bask in the glow of a well-decorated home office.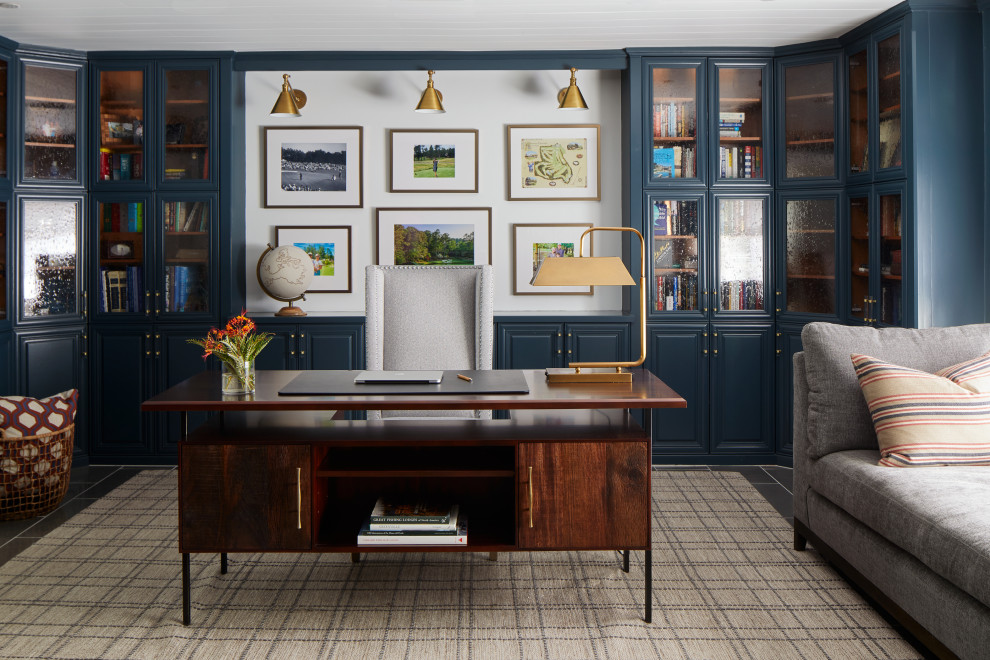 It's in Your Power to Design Your Dream Home Office
With a series of small tweaks to the space, you can create your dream office space. You just need to figure out what style direction speaks to you, and then you can decorate accordingly. A home office should alleviate the stresses of work, not add to them. These convenient design trends are meant to lift anxiety off your shoulders. At the end of the day, even a small improvement like clearing out all unnecessary belongings is an improvement to an office's design. Create the space that brings you the most joy.
2013 © YourAmazingPlaces.com
All materials, unless otherwise noted, were taken from the Internet and are assumed to be in the public domain. In the event that there is still a problem or error with copyrighted material, the break of the copyright is unintentional and noncommercial and the material will be removed immediately upon presented proof.
Back to Top ↑